printer friendly version
The little estate that could
Residential Estate Security Handbook 2016 - Vol 2 Editor's Choice, Security Services & Risk Management, Residential Estate (Industry)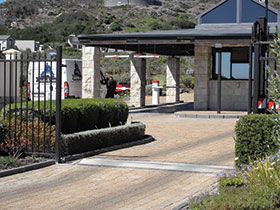 A picturesque residential estate in the Cape was uncomfortable with the existing level of security and was looking for a world class solution. Comprising about 150 exclusive units, the property was relatively smaller than those with which Xone Integrated Security typically partners, nevertheless our meetings with the chairman of the committee, the security subcommittee head, and the estate manager soon revealed that these role players shared an innate understanding of the importance of people and technology working together to provide a seamless security solution.
We extended an invitation to tour one of our existing sites: a 900-unit exclusive retirement estate on which we had installed a 48 core industrial Ethernet network infrastructure with over 100 cameras linked into a control room running multiple disciplines (which included video analytics, system management, access control, incident management, onsite tactical response with first level medical response, and maintenance). They liked what they saw and were determined to translate this sense of excellence back into their own context.
Initial challenges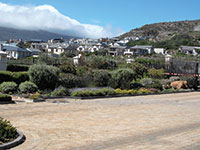 It was evident that decisions taken at development stage had left a legacy for our new customer to resolve. Varied security related input in the years that followed had resulted in a disconnect, and well-intentioned cost saving decisions based on that advice had simply compounded matters. Further, from the outset, our customer emphasised that we could expect a low level of participation by residents – themselves understandably jaded by consistently poor service delivery on all security fronts.
The property itself was tucked away beyond mountain peaks and built up against steep hills which blended into a national park. Homes were contemporary and upmarket, and the heartbeat of the estate was to passionately safeguard the environment. This meant that Xone would be faced with the challenges associated with any typical eco estate.
The undulating topography presented further need for thought in terms of foot and vehicular patrols. Although the perimeter itself was relatively small at just under 4 km, foot patrols required strenuous and time-consuming walks and vehicular patrolling was almost impossible. Fires were also common, with the estate playing an active co-ordinating role within the greater community.
Furthermore, the estate was bordered by neighbouring estates with little to no security at all. A mere 9 km away was a township of well over 40 000 residents, frequently the scene of rioting over service delivery and xenophobic attacks.
Due to this unrest, tempers were high following the arrest on murder charges of a community leader at the time that we took over the risk, safety and security profile. Therefore of grave concern was the intimidation of township residents trying to get to work which would impact Xone's recruitment efforts and put the estate's guard force at risk.
Security officers manning the gate before our take over were pleasant, but not sufficiently rigorous in their tasks. Uncompromising processes with well-trained and vetted officers who took on gate ambassadorial roles with a high level of firm immediacy would need to be implemented. A team leader would also need to be put in place.
The estate had not yet implemented rigorous pre-enrolment for contractors and domestic employees and the gate area itself was congested and lacked adequate traffic flow, which would need attention.
Similarly, patrols were not only inefficient due to the nature of the topography, but our customer reported frequent episodes where guards had been found sleeping and patrols not carried out at all. Although there was a guard tracking system in place, this did not operate in real time and reporting was not geared toward efficient and immediate patrols management.
The estate had been making use of a local armed response provider, but due to distances travelled, response time was too slow for real emergencies. As it happened, criminals in the area had been using a branded armed response vehicle to gain entry and commit crimes on many estates. Our customer was concerned.
Addressing the challenges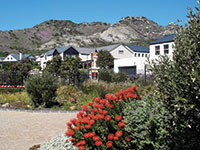 With all of the above in mind, and prior to our arrival onsite, there had been perimeter breaches and it was clear that criminals were first scoping and then making their attempts.
Our first step therefore was to bed down an efficient guard force and implement rigorous and detailed processes. These were developed over weeks of intense onsite exercises by our quality control manager together with the Xone area manager appointed to the estate and his team of 24/7 inspectors.
In the immediate term, Xone implemented:
• Good onsite supervision in the form of an efficient contract supervisor.
• Rigorous procedures.
• Good calibre gate ambassadors and patrolling officers.
• Contractor pre-enrolment.
• Remote site audits via video and audio by Xone's hosted command centre, which conducted regular auditing exercises of the guardhouse.
• Frequent patrols with real-time guard tracking and alerts to our hosted command centre.
• Monthly training simulations and ISO audits.
In addition, the use of deterrent signage conveyed that Xone meant business and communication soon came back to the estate that the word was out. These initial measures would be the springboard upon which we would build further. Good security is never a quick fix. A variety of complex methodologies were going to need to be continually applied to cater for a journey from the current scenario to the ideal.
For our customer, the deciding factor to contract with us had been due to our experience in bringing both manpower and technology together through process – as a complete turnkey solution. "We were looking for a holistic approach, advice as to how to implement it all, and a true partnership. We would discover that Xone would absolutely deliver," noted the chair of the Trustees.
Getting everyone involved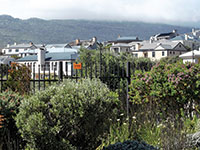 In order to resolve the challenge of the somewhat remote geographical location, good macro area involvement was needed. It was crucial that our area manager and his inspectors involve relevant parties such as community services, fire prevention bodies, neighbouring estates, social development organisations and so on. We began a process of talking to relevant authorities in order to be able to address an encroaching vagrant issue connected to a vacant section of land adjacent. Further, because within the nearby township tensions remained volatile, we implemented a contingency plan for our guard force, setting up accommodation and transport facilities to and from our head office, and arranging for meals to be delivered should the need arise.
Regular customer meetings were put in place and we steadily began to see improvements. Residents began to understand that we were on site to provide a professional benchmark service which would make a measureable difference, and that though problems might arise, we would tackle those with a determined focus.
Because most residences had already been constructed, contractors were primarily domestic workers and of an ad hoc nature. These folk needed to be given rigorous background checks and monitored, to ensure that they worked within specific areas of the estate. We implemented a coding and tracking system to ensure this.
Visitors could no longer gain access without valid driver's licences and authorisation which initially caused some reaction from on the estate. However, it was not long before positive comments from residents found their way back to our chairman.
Perimeter security
Many estates ignore their gates and look to their perimeter first. This is inevitably a more costly exercise and should typically be looked to after rigorous gate control. Therefore, now that we had established a solid presence at the gate, we turned our attention to the perimeter.
Patrolling and response was proposed which would allow for an onsite tactical vehicle, to deliver patrolling officers to specific sections of their routes, as well as to high site observation stations from which handheld thermal cameras could be used. This would also serve as an onsite first response vehicle, ably manned by excellent calibre officers trained in emergency first level response, including medical response. This offering would see the estate able to reduce its manpower numbers, while increasing efficiency. Real-time guard tracking was also implemented.
Every domestic alarm system would be assessed to SAIDSA specifications, and linked to the guardhouse. We also have a link to our hosted command centre which provides offsite monitoring of these alarms, incident management, call centre facilities, and concierge services.
Because the customer had a long-term plan to build a fully-fledged onsite control room which would serve not only the estate but also local community efforts such as firefighting, our technical architect put the guard house design together with this in mind. At the same time, the estate had plans drawn up for a complete renovation of the existing estate management workshop into an onsite control room and community service hub.
We had also conducted a technology survey of the estate. We wished to produce a roadmap document for the committee which would be aimed at simplifying decision making going forward.
This survey had revealed that the perimeter fence would be of particular concern. A palisade structure with electrified strands at the top, the fence bordered resident properties in some sections, making full electrification impossible. The eco nature of the estate had prevented anti-dig from the outset. The fence had numerous weak spots. The estate manager had confirmed that maintaining the fence had been continually problematic and that it had been monitored by cursory overview from within the guardhouse only.
Many other challenges had come to the fore: This being an eco estate, adequate lighting was not an option, although IR lighting had been added to some of the perimeter cameras – which was in turn placing a significant load on power. A combination of analogue and IP cameras was onsite but some were proving problematic. This included PTZs which had been set to tours of duty but which were not operator driven.
Of significant concern was the fact that no maintenance programme was in place.
So we began with a wiring rectification programme within the guardhouse, followed by an electric fence and communications upgrade, tying this all together with the implementation of a solid maintenance contract.
Our team together with the customer further developed our initial roadmap, which including a weekend workshop, to discuss long term perimeter and other protection. Together we designed a site-specific system which would afford the estate a full network, with thermal/analytic protection within a workable budget. Part of the roadmap is to establish the stand alone control centre onsite, more rigorous biometric access control, and visitor scanning in the near future.
For more information contact Xone Integrated Security, +27 (0)21 816 1200, [email protected], www.xone.co.za
Credit(s)
Further reading:
Numerous challenges for transport and logistics
Transport (Industry) CCTV, Surveillance & Remote Monitoring Security Services & Risk Management Logistics (Industry)
Operators are making significant investments in automation and digitalisation in order to address security concerns, improve loss prevention as well as efficiency, and reduce unit order costs.
Read more...
---
Defining the resilience of cybersecurity
Cyber Security Security Services & Risk Management
Cyber resilience is less buzzword and more critical business strategy as the cybercrime landscape grows in intent and intensity.
Read more...
---
Hikvision aims for solutions
Technews Publishing Hikvision South Africa Editor's Choice CCTV, Surveillance & Remote Monitoring News Integrated Solutions Conferences & Events
Hikvision recently held a roadshow titled Industry X, where the company highlighted its latest products and solutions, supported by partners and distributors.
Read more...
---
Reliable, low-maintenance video appliances
Technews Publishing Editor's Choice CCTV, Surveillance & Remote Monitoring News IT infrastructure Products
Symetrix, part of the Agera Group, has added the AES range of video recording servers, storage appliances and workstations to its portfolio.
Read more...
---
Technology and the future of security installation in South Africa
Editor's Choice Integrated Solutions Security Services & Risk Management
What are the technologies and trends shaping installation, service and maintenance teams globally, and how will they shape South African businesses today and in the future?
Read more...
---
Upgraded security and AI monitoring at upmarket estate
Watcher Surveillance Solutions Editor's Choice CCTV, Surveillance & Remote Monitoring Integrated Solutions Residential Estate (Industry)
Estate upgrades and enhances its security through a partnership between surveillance specialist Watcher and the incumbent guarding company.
Read more...
---
The technology wave implications for staff mismatches in control rooms
Leaderware Editor's Choice Security Services & Risk Management
An industry habit of looking at control rooms through a physical security lens has increasingly left clients and staff at a disadvantage in keeping up with control room technology and demands.
Read more...
---
Resilience is a collaborative effort
Technews Publishing Editor's Choice
Cyber resilience is not an 'IT thing'; Wayne Olsen says it is an enterprise-wide risk strategy that involves collaboration, lots of collaboration.
Read more...
---
The challenge of data safety and availability
Technews Publishing Editor's Choice Cyber Security
Veeam offers backup and recovery software that presents the user with one interface to manage backups to and from almost any platform.
Read more...
---
Cold chain integrity in real time
Technews Publishing Editor's Choice Asset Management, EAS, RFID IT infrastructure Transport (Industry) Logistics (Industry)
DeltaTrak offers real-time farm-to-fork IoT monitoring of the cold chain to ensure every step of the journey is recorded and verifiable via the cloud.
Read more...
---