printer friendly version
Biometrics for upmarket estate
Residential Estate Security Handbook 2016 - Vol 2 Editor's Choice, Access Control & Identity Management, Residential Estate (Industry)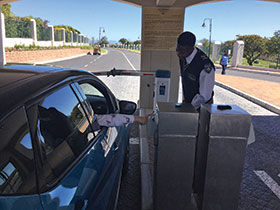 Situated against the backdrop of the impressive Helderberg Mountain, in Somerset West, Helderberg Village is considered the prime living destination for 1200 residents, many of whom have retired to the village from other provinces and countries. While the village is a haven for its upper LSM residents, it also attracts the attention of criminals intent on gaining access to the possessions of its occupants.
Vagn Nielsen, CEO of the Helderberg Village Master Homeowners Association NPC, explains that residents pay a premium to live in such idyllic and upmarket surroundings, and rely on the Master Homeowners Association to institute appropriate security measures. In 2014, as part of an extensive holistic security upgrade project, the access control elements of Helderberg Village were addressed.
"The original system, if it could be called that, comprised a paper log book that visitors were supposed to complete in order to gain entry into the village. The entries were ridiculous to say the least and obviously could not be verified. In a nutshell, there was no control with respect to security and access control," Nielsen says.
Access and visitor management
After issuing a tender for the access control component of the upgrade, Helderberg Village Master Homeowners Association NPC awarded the contract to Powell Tronics, via onsite contractors Zone, to provide access control hardware and software at all three of the estate's entrance/exit points. Since many of the residents on the estate are retired, the problems associated with increasing degradation of fingerprints with advancing age needed to be addressed. Zone and Powell Tronics worked closely with management and fine-tuned the sensitivity of the biometric fingerprint readers to ensure that the majority of residents on the estate could be enrolled on the system.
Biometric tuning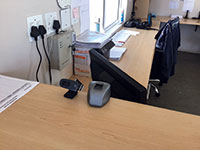 Nielsen says that in addition to controlling the movement of people into Helderberg Village, the new access control system needed to provide management information on who is on estate at any one time. The fully biometric solution, comprising Morpho Sagem fingerprint readers and Powell Tronics' PT-Guest visitor management software running on an Impro access control backbone, together with keypads utilising personal access codes (PACs), effectively manages the access of villagers, village staff, visitors, contractors and private workers with a high degree of accuracy.
The system is configurable, a necessary requirement since the estate plays host to a large number of casual and once-off visitors to the golf course, sporting facilities, clubhouse, restaurant and conference facilities. Management are able to define time zones for the various categories of non-residents that include family of residents (24/7 access after registration approval by a resident), contractors and private workers typically between regular working hours on specific days, as well as the 300 village staff.
PoPI compliant
Fully PoPI compliant, the system provides assurance to any visitors or contractors that Helderberg Village captures and uses only the required information. Once a year, the entire database is deleted, in accordance with the PoPI Act. All personal information captured is secured and restricted and no personal information is shared or accessible.
The access control system is integrated with the extensive surveillance camera presence through a fibre optic ring linked to the onsite control room, ensuring that all entrance and exit activities are fully monitored and managed.
Nielsen points out that management interacts on a weekly basis with local community policing forums and the neighbourhood watch, with the common consensus being that the estate is considered to be a fortress. Since the inception of the new security system, the estate has experienced only two incidents, both of which were related to internal staff. This is a clear indication that external crime elements have been excluded from the equation.
"This security solution is the culmination of what we have seen on other luxury estates and as a result, it provides a solid example of best practice in access control," he concludes.
For more information contact Powell Tronics, 0861 787 2537, marketing@powelltronics.com, www.p-tron.com
Further reading:
Off-grid power solution for residential estate
Editor's Choice Security Services & Risk Management Residential Estate (Industry) Products
Coral Beach Estate, an upmarket residential estate based in East London, has been struggling with load shedding and power outages due to South Africa's energy crisis, as well as the vandalism of its power infrastructure.
Read more...
---
Eleven steps to an effective ransomware response checklist
Editor's Choice Cyber Security
Anyone is a viable target for ransomware attacks and should have a plan in place to deal with a worst-case scenario. Fortinet offers this ransomware attack response checklist to effectively deal with an active ransomware attack.
Read more...
---
Zero Trust to dominate 2023
Cyber Security Access Control & Identity Management
Traditional ways of safeguarding data are no longer sufficient in 2023. Zero Trust has emerged as a more proactive way for businesses to keep their systems, data, and networks protected against compromise.
Read more...
---
Top seven trends for the security industry
Hikvision South Africa Editor's Choice
Expect security systems to become even more deeply integrated and comprehensive, expanding with capabilities that are now shouldering tasks that are more intelligent, to improve efficiency in security as well as other operational functions.
Read more...
---
Turnstar opens an office in the UK
Turnstar Systems News Access Control & Identity Management
Turnstar Systems recently established an office in the Greater Manchester borough in the North East of England, as part of the company's ongoing expansion strategy.
Read more...
---
AI's take on physical security trends
Technews Publishing Editor's Choice
In Issue 1 every year, Hi-Tech Security Solutions looks at expected trends in the security industry, incorporating views from different sources. This year is no different, except we have a new contributor, ChatGPT from OpenAI.
Read more...
---
Enkulu Technologies to distribute Brazil's Control iD
News Access Control & Identity Management Products
Enkulu Technologies has been appointed as the first South African distributor of Control iD products; a Brazilian company offering a T&A range of solutions based on its range of biometric products.
Read more...
---
HID Technology Seminar
Technews Publishing HID Global News Access Control & Identity Management Products
HID Global's technology seminar introduced partners and distributors to the company's new Signo range of readers and highlighted the benefits and global growth of mobile access credentials.
Read more...
---
Celebrating a successful year
Gallagher Technews Publishing News Access Control & Identity Management Products
Gallagher Security hosted an end-of year event at the Steyn City Equestrian Centre in which it thanked its partners for another successful year and provided a glimpse into what the company will be releasing in 2023.
Read more...
---
Developing an effective CCTV control room culture
Leaderware Editor's Choice CCTV, Surveillance & Remote Monitoring Training & Education
Organisational culture in organisations can be seen as the set of values, practices, focus, standards and behaviours, and ways of interacting with others that are accepted and subscribed to by the people who work there.
Read more...
---