printer friendly version
Access to luxury simplified
Residential Estate Security Handbook 2016 - Vol 2 Editor's Choice, Access Control & Identity Management, Residential Estate (Industry)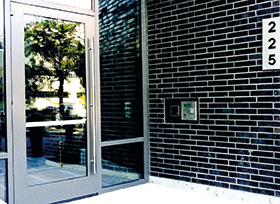 TPS Technologies is a full-service low-voltage integration contractor that specialises in access control, surveillance, structured cabling, and audio video system design, installation, repair and service. It was hired by Wood Partners, a leading American residential developer, as the design/build contractor for access control, surveillance and digital signage for Dimension by Alta, a new luxury high-rise apartment complex in Seattle.
The residents of this high-end rental property are sophisticated urbanites with busy, fast-paced lives. Wood Partners' vision was to develop, build and manage residences that 'improve people's lives by creating better communities,' and to that end, they wanted to ensure residents are able to move freely throughout the property without the need for keys, fobs, cards, etc.
TPS was tasked to find a hip, modern access technology that would meet their expectations for ease of use and a premium experience, and would allow them to move naturally throughout the community, completely unencumbered. The system also had to integrate with phone entry for visitor access.
Suprema solution

After thorough research of the property's access control requirements, TPS Technologies presented Wood Partners with the solution that would fulfil all its needs: BioConnect partnered with Suprema.
"BioConnect was able to provide the hardware and software that enabled us to best satisfy Wood Partners' needs," said Jason Fuller, president at TPS Technologies. "The decentralised nature of the Suprema system allowed for a timely and cost-effective installation process."
Wood Partners also required a system for tenant access that could integrate with telephone entry for visitors.
"We couldn't find an interconnected telephone entry function with any other biometric supplier, but through our partnership with BioConnect we were able to successfully fulfil the client's need on this specific requirement," said Fuller.
BioConnect and Suprema definitely delivered on the cool factor for Dimension by Alta," said William Leahy, Wood Partners VP of construction for the western region. "With the new system, Dimension truly lives up to the standards of a luxury high-rise residential complex – modern, clean lines and state-of-the-art technologies like biometric access make our residents' daily lives organic and effortless."
Elevator access control
Suprema's elevator access control I/O module, Lift I/O, is the perfect tool for restricted access to specific floors. All it needs is a Suprema reader, BioStar SE and Lift I/O.
Each module can control access to up to 12 floors, using an RS-485 port to provide secure communication with the readers. Each reader can connect via daisy chain with up to 10 Lift I/Os, which allows for the potential control of up to 120 floors.
Access to each floor is highly customisable. Using BioStar SE software, each Lift I/O can be configured to control access to specific floors and assign access rights by user or group.
Credit(s)
Further reading:
Axis gives a brighter future for children
Issue 1 2020, Axis Communications SA , Editor's Choice
Fully networked camera solution provides visibility and accountability, letting orphanage focus on what's important – its children.
Read more...
---
SFP Security & Fire becomes ISF SFP
Issue 1 2020, ISF SFP , Editor's Choice
SFP Security & Fire was sold to ISF in 2019, becoming ISF SFP and attaining Level-1 BEE status.
Read more...
---
Janu-worry or Twenty-Plenty?
Issue 1 2020 , Editor's Choice
If the available security spend right now is somewhere between limited and non-existent, here are just a few suggestions.
Read more...
---
CCTV surveillance needs are critical in defining types of camera deployment
Issue 1 2020, Leaderware , Editor's Choice
Cameras by themselves do not reduce crime; they need to be implemented as part of a considered strategy of crime prevention and detection.
Read more...
---
Identity lifestyle
Issue 1 2020, Suprema , Access Control & Identity Management
Once the technology of the future, biometrics has quietly snuck into our daily lives through smartphones and access controls into our places of work.
Read more...
---
Trends 2020
Issue 1 2020, Technews Publishing , Editor's Choice
Hi-Tech Security Solutions asked a few people from diverse companies to join us in a round-table discussion about what they expect to see happening in their environments in the coming year.
Read more...
---
Seven key trends for 2020
Issue 1 2020, Hikvision South Africa , Editor's Choice
Hikvision looks at a few trends that will affect the security industry in 2020 and beyond.
Read more...
---
Hundreds of millions to reskill
Issue 1 2020 , Editor's Choice
By 2022 alone, 75 million jobs will probably be displaced across 20 major economies, while 133 million new ones will spring up in industries that are only just gaining traction.
Read more...
---
Slow and steady wins the access race
Issue 1 2020, ZKTeco, Technews Publishing , Editor's Choice, Commercial (Industry)
The commercial sector is slow in migrating to new access control technologies, with the majority of companies remaining with card and fingerprint solutions.
Read more...
---
Client property access integrity
Issue 1 2020 , Editor's Choice
Blind or unquestioned trust is something that we all seem to willingly and unconditionally give our security service providers and their reaction officers.
Read more...
---