printer friendly version
Access to luxury simplified
Residential Estate Security Handbook 2016 - Vol 2 Editor's Choice, Access Control & Identity Management, Residential Estate (Industry)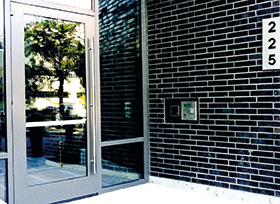 TPS Technologies is a full-service low-voltage integration contractor that specialises in access control, surveillance, structured cabling, and audio video system design, installation, repair and service. It was hired by Wood Partners, a leading American residential developer, as the design/build contractor for access control, surveillance and digital signage for Dimension by Alta, a new luxury high-rise apartment complex in Seattle.
The residents of this high-end rental property are sophisticated urbanites with busy, fast-paced lives. Wood Partners' vision was to develop, build and manage residences that 'improve people's lives by creating better communities,' and to that end, they wanted to ensure residents are able to move freely throughout the property without the need for keys, fobs, cards, etc.
TPS was tasked to find a hip, modern access technology that would meet their expectations for ease of use and a premium experience, and would allow them to move naturally throughout the community, completely unencumbered. The system also had to integrate with phone entry for visitor access.
Suprema solution

After thorough research of the property's access control requirements, TPS Technologies presented Wood Partners with the solution that would fulfil all its needs: BioConnect partnered with Suprema.
"BioConnect was able to provide the hardware and software that enabled us to best satisfy Wood Partners' needs," said Jason Fuller, president at TPS Technologies. "The decentralised nature of the Suprema system allowed for a timely and cost-effective installation process."
Wood Partners also required a system for tenant access that could integrate with telephone entry for visitors.
"We couldn't find an interconnected telephone entry function with any other biometric supplier, but through our partnership with BioConnect we were able to successfully fulfil the client's need on this specific requirement," said Fuller.
BioConnect and Suprema definitely delivered on the cool factor for Dimension by Alta," said William Leahy, Wood Partners VP of construction for the western region. "With the new system, Dimension truly lives up to the standards of a luxury high-rise residential complex – modern, clean lines and state-of-the-art technologies like biometric access make our residents' daily lives organic and effortless."
Elevator access control
Suprema's elevator access control I/O module, Lift I/O, is the perfect tool for restricted access to specific floors. All it needs is a Suprema reader, BioStar SE and Lift I/O.
Each module can control access to up to 12 floors, using an RS-485 port to provide secure communication with the readers. Each reader can connect via daisy chain with up to 10 Lift I/Os, which allows for the potential control of up to 120 floors.
Access to each floor is highly customisable. Using BioStar SE software, each Lift I/O can be configured to control access to specific floors and assign access rights by user or group.
Credit(s)
Further reading:
Off-grid power solution for residential estate
Editor's Choice Security Services & Risk Management Residential Estate (Industry) Products
Coral Beach Estate, an upmarket residential estate based in East London, has been struggling with load shedding and power outages due to South Africa's energy crisis, as well as the vandalism of its power infrastructure.
Read more...
---
Eleven steps to an effective ransomware response checklist
Editor's Choice Cyber Security
Anyone is a viable target for ransomware attacks and should have a plan in place to deal with a worst-case scenario. Fortinet offers this ransomware attack response checklist to effectively deal with an active ransomware attack.
Read more...
---
Zero Trust to dominate 2023
Cyber Security Access Control & Identity Management
Traditional ways of safeguarding data are no longer sufficient in 2023. Zero Trust has emerged as a more proactive way for businesses to keep their systems, data, and networks protected against compromise.
Read more...
---
Top seven trends for the security industry
Hikvision South Africa Editor's Choice
Expect security systems to become even more deeply integrated and comprehensive, expanding with capabilities that are now shouldering tasks that are more intelligent, to improve efficiency in security as well as other operational functions.
Read more...
---
Turnstar opens an office in the UK
Turnstar Systems News Access Control & Identity Management
Turnstar Systems recently established an office in the Greater Manchester borough in the North East of England, as part of the company's ongoing expansion strategy.
Read more...
---
AI's take on physical security trends
Technews Publishing Editor's Choice
In Issue 1 every year, Hi-Tech Security Solutions looks at expected trends in the security industry, incorporating views from different sources. This year is no different, except we have a new contributor, ChatGPT from OpenAI.
Read more...
---
Enkulu Technologies to distribute Brazil's Control iD
News Access Control & Identity Management Products
Enkulu Technologies has been appointed as the first South African distributor of Control iD products; a Brazilian company offering a T&A range of solutions based on its range of biometric products.
Read more...
---
HID Technology Seminar
Technews Publishing HID Global News Access Control & Identity Management Products
HID Global's technology seminar introduced partners and distributors to the company's new Signo range of readers and highlighted the benefits and global growth of mobile access credentials.
Read more...
---
Celebrating a successful year
Gallagher Technews Publishing News Access Control & Identity Management Products
Gallagher Security hosted an end-of year event at the Steyn City Equestrian Centre in which it thanked its partners for another successful year and provided a glimpse into what the company will be releasing in 2023.
Read more...
---
Developing an effective CCTV control room culture
Leaderware Editor's Choice CCTV, Surveillance & Remote Monitoring Training & Education
Organisational culture in organisations can be seen as the set of values, practices, focus, standards and behaviours, and ways of interacting with others that are accepted and subscribed to by the people who work there.
Read more...
---