printer friendly version
No cables, high bandwidth
Residential Estate Security Handbook 2016 - Vol 2 Residential Estate (Industry), IT infrastructure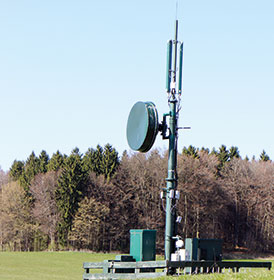 With crime remaining one of South Africa's key challenges, both communities and corporations across the country are set to continue investing in the very latest high-tech safety and security devices in the medium to long term.
"From maintaining integrated identity management systems to installing CCTV cameras across gated communities, security companies are finding themselves having to diversify their services, and becoming increasingly reliant on ISPs (Internet service providers) in order to deliver on their mandates," says Nick Ehrke, sales director, Radwin Southern Africa. "This has made the role and function of wireless and other technologies critical in terms of guaranteeing the uptime required for various security applications."
Ehrke noted that wireless in particular is catching the attention of both the local and international community in terms of enabling basic as well as more complex applications. "Because this technology in itself is very secure, and quick and easy to deploy, it's ideally suited to security applications where robust, continuous transmission is required. One doesn't need to dig up roads to lay copper or fibre or obtain municipal permission to establish a wireless network for example. It's also able to overcome some of the challenges seen when using other technologies such as 3G or LTE, providing inherent support for high speed IP (Internet protocol).
"This makes it able to support the new generation IP-based high-quality security cameras on the market. We're seeing many security companies increasing their own private networks using wireless as a result."
With security all about instantaneous action and visibility, he explains that turnkey security and surveillance solutions can be designed using links that transmit video and data even from remote sites tens of kilometres away. "This enables customers to monitor remote buildings, equipment and livestock via continuous streaming, giving them complete peace of mind."
Depending on the type of wireless equipment installed, these systems can then be used as either the primary or secondary (back-up) communications link of choice by the security company. If Telco grade wireless equipment is used, these systems can deliver the 99.999% uptime required for any security application, providing high throughput, quality video transmission and advanced network management capabilities.
Products like RADWIN's 2000 D-series for example, can operate in both symmetric mode and in adaptive asymmetric mode. This allows capacity to be dynamically allocated between uplink and downlink based on traffic loads and air-interface conditions, including in near/non-line-of-site scenarios, interference-ridden environments and extreme temperatures.
With reliability and cost-effectiveness of systems crucial considerations for both security companies and the communities they protect, Ehrke believes that wireless will remain a compelling enabler the private spaces. "When it comes to security operations, equipment must perform flawlessly as required, when required. Much of this is, in turn, dependent on the technology supporting the system. As such, security companies and their clients need to carefully consider the functionality of the network technology in place, ensuring that it delivers when it's needed most," he concludes.
For more information contact Radwin, +27 (0)74 114 2805, [email protected]
Further reading:
SAN market set for growth
Technews Publishing News IT infrastructure
Storage-area network (SAN) market to hit US$ 26,86 billion in revenue by the end of 2029 due to factors like widespread adoption of Hybrid SAN-NAS solutions.
Read more...
---
Advanced server performance and energy efficient design
Editor's Choice IT infrastructure Products
Dell PowerEdge server portfolio expansion offers more performance, including up to 2.9x greater AI inferencing while Dell Smart Flow design and Dell Power Manager software advancements deliver greater energy efficiency.
Read more...
---
Fast, reliable and secure cloud services
Technews Publishing Editor's Choice Cyber Security IT infrastructure
Security and speed are critical components of today's cloud-based services infrastructure. Cloudflare offers a range of services supporting these goals beyond what most people think it does.
Read more...
---
Fire-fighting force at Vergelegen
Editor's Choice Fire & Safety Residential Estate (Industry)
Vergelegen wine estate in Somerset West, and its neighbours, are set to enjoy greater peace of mind this summer, thanks to the delivery of a brand new fire truck .
Read more...
---
Cyber resilience is more than cybersecurity
Technews Publishing Editor's Choice Cyber Security Integrated Solutions IT infrastructure
Hi-Tech Security Solutions held a round-table discussion focusing on cyber resilience and found that while the resilience discipline includes cybersecurity, it also goes much further.
Read more...
---
Keeping devices in check
Cyber Security Asset Management, EAS, RFID IT infrastructure
Kaspersky patents new technology for analysing relationships between electronic devices to counter cyberattacks launched through connected IoT devices.
Read more...
---
Considering cloud downtime insurance?
Arcserve Southern Africa Cyber Security IT infrastructure Security Services & Risk Management
Byron Horn-Botha, business unit head, Arcserve Southern Africa, reveals three vital steps that you must consider to ensure business continuity before you buy insurance.
Read more...
---
A robust OT cybersecurity strategy
Editor's Choice Cyber Security IT infrastructure Industrial (Industry)
Cyber experts are still struggling to convince senior management to spend money to protect their control system assets, resulting in a lack of even basic measures to protect control systems.
Read more...
---
IT security at the core of smart cities
Cyber Security IT infrastructure Government and Parastatal (Industry)
The success of service delivery and public access to universal Wi-Fi, home automation and smart sensors is based on increased IT security.
Read more...
---
Cloud can cut your security risks
Cyber Security IT infrastructure
Todd Schoeman, BT client business director in South Africa, explores the ways that organisations can reduce security risk by using the cloud.
Read more...
---