printer friendly version
No cables, high bandwidth
October 2016 Residential Estate (Industry), IT infrastructure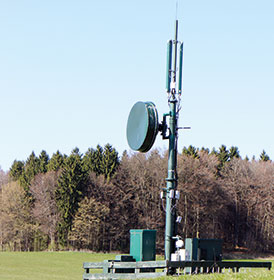 With crime remaining one of South Africa's key challenges, both communities and corporations across the country are set to continue investing in the very latest high-tech safety and security devices in the medium to long term.
"From maintaining integrated identity management systems to installing CCTV cameras across gated communities, security companies are finding themselves having to diversify their services, and becoming increasingly reliant on ISPs (Internet service providers) in order to deliver on their mandates," says Nick Ehrke, sales director, Radwin Southern Africa. "This has made the role and function of wireless and other technologies critical in terms of guaranteeing the uptime required for various security applications."
Ehrke noted that wireless in particular is catching the attention of both the local and international community in terms of enabling basic as well as more complex applications. "Because this technology in itself is very secure, and quick and easy to deploy, it's ideally suited to security applications where robust, continuous transmission is required. One doesn't need to dig up roads to lay copper or fibre or obtain municipal permission to establish a wireless network for example. It's also able to overcome some of the challenges seen when using other technologies such as 3G or LTE, providing inherent support for high speed IP (Internet protocol).
"This makes it able to support the new generation IP-based high-quality security cameras on the market. We're seeing many security companies increasing their own private networks using wireless as a result."
With security all about instantaneous action and visibility, he explains that turnkey security and surveillance solutions can be designed using links that transmit video and data even from remote sites tens of kilometres away. "This enables customers to monitor remote buildings, equipment and livestock via continuous streaming, giving them complete peace of mind."
Depending on the type of wireless equipment installed, these systems can then be used as either the primary or secondary (back-up) communications link of choice by the security company. If Telco grade wireless equipment is used, these systems can deliver the 99.999% uptime required for any security application, providing high throughput, quality video transmission and advanced network management capabilities.
Products like RADWIN's 2000 D-series for example, can operate in both symmetric mode and in adaptive asymmetric mode. This allows capacity to be dynamically allocated between uplink and downlink based on traffic loads and air-interface conditions, including in near/non-line-of-site scenarios, interference-ridden environments and extreme temperatures.
With reliability and cost-effectiveness of systems crucial considerations for both security companies and the communities they protect, Ehrke believes that wireless will remain a compelling enabler the private spaces. "When it comes to security operations, equipment must perform flawlessly as required, when required. Much of this is, in turn, dependent on the technology supporting the system. As such, security companies and their clients need to carefully consider the functionality of the network technology in place, ensuring that it delivers when it's needed most," he concludes.
For more information contact Radwin, +27 (0)74 114 2805, nick_ehrke@radwin.com
Credit(s)
Further reading:
Directory of Suppliers
August 2019 , Residential Estate (Industry)
Read more...
---
Double dose of storage security
August 2019 , Products, IT infrastructure
The integration of InfiniBox and SafeNet KeySecure platforms brings data-at-rest encryption together with centralised logging, auditing capability.
Read more...
---
The importance of real security risk assessments
August 2019, Sentinel Risk Management , Editor's Choice, Security Services & Risk Management, Residential Estate (Industry)
Andy Lawler, MD, Sentinel Risk Management, says a security risk assessment is an onerous task, but is not something estates can consider optional or a luxury item anymore.
Read more...
---
Risk assessment or product placement?
August 2019, Technews Publishing, Alwinco, SMC - Security Management Consultants , Editor's Choice, Security Services & Risk Management, Residential Estate (Industry)
Hi-tech security solutions asked a couple of experts to provide estate managers and security managers with some insights into what a 'real' risk assessment includes.
Read more...
---
How far are we really at with artificial intelligence?
August 2019, Axis Communications SA , Editor's Choice, CCTV, Surveillance & Remote Monitoring, IT infrastructure, Residential Estate (Industry)
Justin Ludik unpacks exactly how far AI has come and what it potentially can do for society and more importantly, surveillance.
Read more...
---
More than simply a camera
August 2019, Forbatt SA, Secutel Technologies , CCTV, Surveillance & Remote Monitoring, Residential Estate (Industry)
With the human element being the weakest link in all security solutions, Hi-Tech Security Solutions looks at the pros and cons of using body-worn cameras in estates.
Read more...
---
The importance of effective perimeter security
August 2019, Elf Rentals - Electronic Security Solutions, Stafix , Editor's Choice, CCTV, Surveillance & Remote Monitoring, Residential Estate (Industry)
Protecting the perimeter is critical for any residential estate; how does one go about making sure your perimeter is as secure as possible?
Read more...
---
Security playing speedcop
August 2019, Axis Communications SA, Hikvision South Africa , CCTV, Surveillance & Remote Monitoring, Residential Estate (Industry)
Estates now have a legal precedent to manage their traffic and fine people in the estate for violations of the rules; all they need do is find solutions that will support them.
Read more...
---
Residential estates: Just how secure are they?
August 2019 , Security Services & Risk Management, Residential Estate (Industry)
While estates may seem a refuge from the criminal threat lurking in the suburbs, crime may be rife here, too.
Read more...
---
The benefits of electronic visitor management
August 2019, Powell Tronics , Access Control & Identity Management, Residential Estate (Industry)
Access control is a critical aspect of estate security as it represents the controls put in place to restrict entry (and possibly exit) along the outer boundary of the location.
Read more...
---