printer friendly version
Communications the basis for security
October 2016 Residential Estate (Industry), Integrated Solutions, IT infrastructure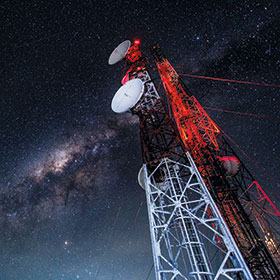 Effective security depends on the ability to communicate, whether it's communicating with guards, the control room, residents or the outside world. The growth of communications options in South Africa has made it fairly easy to link to various communications infrastructures, be it cellular, copper (ADSL and voice lines), and now fibre. But what about internally?
Should estates have their own infrastructure or should they rely on the services of the various infrastructure providers available to the public? We asked three communications experts for their opinions on the sticky subject of communications in and external to estates.
Our questions were answered by:
• Nick Ehrke, sales director, Radwin Southern Africa.
• Rex Pennefather, head of business development, IDS.
• Brent Andreka, MD, RDC.
Hi-Tech Security Solutions: For a secure estate, what options are there to ensure your security and management personnel keep in touch? Are traditional radios still a valid option?
Pennefather: Clear and reliable communication is critical when used by personnel that need to be able to communicate in the event of emergencies or making situation reports. Security personal on an estate require a reliable source of communication, as they will need to communicate from a distance back to their control room.
Radio communication is instant compared to push to talk on a GSM network and more robust than a wireless network. With GSM you are dependent on the service provider. If their network goes down you won't have communication. Then there is a cost from the networks for push to talk service.
However with digital you can offer more solutions using wireless or GPS devices.
Ehrke: Traditional 2-way radios are essential as part of a robust security solution.
Andreka: While RDC doesn't focus on voice communications, digital radio is a good option for communications for cost-conscious environments. At the same time Push-to-Talk is growing, as are similar solutions for use as panic buttons.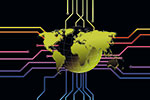 Hi-Tech Security Solutions: There are many networks available to us today, but they do not all offer the same levels of service. From a security perspective, what do estates require, given that they may have video and other systems wanting to use their networks?
Pennefather: It is important that the estate runs its LAN independently for security and connects to the Internet via managed switches.
Video utilises huge amount of bandwidth and ideally the security system should be on a fibre ring around the estate. Fibre is more stable and is able to handle more bandwidth than other types of data transfer.
Wireless transmission can be used where it is difficult to lay fibre, although this transmission is less reliable as the transmitters are more prone to lightning damage and other environmental factors.
Ehrke: Each network has its own advantages and disadvantages. It's important to consider that each operator offers different technologies to address different requirements. Whether it's 2 G for voice, 3 G for voice and data, or LTE for VoLTE and data (it's important to note that LTE is not a voice service), through to copper wire, satellite, fibre and fixed wireless, all these technologies have their pros and cons and need to be evaluated against the specific security need and requirements. It is important to consider that for a network to be truly secure, it needs to have as many redundancy and failsafes as possible.
Hi-Tech Security Solutions: When considering video, what options are there to ensure video is reliably transferred over large distances?
Pennefather: First prize for any transmission over 1 km is fibre. Fibre would be able to transmit more data over a longer distance than any other type of transmission. Although it can be more costly, it gives you peace of mind for the installation. You could also use wireless, as this might be a less costly option, as long as the environment assessment is done.
Ehrke: Video is very demanding and data intensive when considering a large network. Certainly traditional operator networks (2/3 G and LTE) were not designed for video, and as such the associated costs are prohibitively expensive. Wi-Fi, which in most cases is the lowest cost, like 3 G/4 G, was not designed for video transmission and so should not be considered even for short distances.
Fibre is a great option, but has additional challenges of lengthy and expensive deployment. Usually it needs to be underground to avoid theft or cutting the line, which can prove very disruptive in established estates. Fixed wireless is a great option as it is easy to install, works immediately upon installation and can be a backup to the fibre when it arrives, if it arrives. With Radwin fixed wireless, distances even in excess of 10 km can be considered for reliable video transmission in mission critical applications.
Hi-Tech Security Solutions: What are the options for non-video transmissions – such as alarms or access violations? Which transmission solution offers what benefits?
Pennefather: From an historic perspective the options for non-video transmissions have generally been radio, GSM or IP.
Radio is generally regarded as the cheapest solution but does require significant initial set up costs and ICASA licensing fees. For a small estate or control room these are often prohibitive with these units then being connected to a public backbone provided by one of our radio network providers.
IP, while becoming more and more prevalent, is still not the default transmission method due to the challenges of multiple IP options like routers, backbones, providers, battery backup and installation. An IP install requires a technician with considerable IT or computer skills and the ability to manage IP requirements like port forwarding, PSS and DynDNS.
GPRS is currently one of the more widely accepted transmission options. GPRS radios provide a wealth of benefits over the above, which include:
1. Simple low costs installs in line with Radio (RF).
2. Infrastructural charges and upkeep sit with the service providers rather than estate.
3. Most transmissions are secured and directed through portals and switches for validation and verifications.
4. Base station and outstations can be checked at intervals as low as 1 minute.
5. Transmitters are secured alongside panels and on same battery backup ensuring proper security.
Ehrke: Radio is still a great option for alarms and thousands of homes and business's today rely on radio transmission when a security event occurs. If a robust fixed wireless network is installed, then this may be an alternative to radio only as the infrastructure would already be in place. In very harsh environments, fixed wireless may be the best option when you consider, for example, a mine that is doing timed detonations, seismic data becomes critical for safety and security as well as for the data sent to the control room.
Andreka: RDC specialises in transmitting data in case of an event, be it a panic, alarm or some other user-defined exception. The network one chooses for these events is critical to ensure effective communications. Not only must the network be secure to prevent any intrusion from outside sources, it must also be intelligent enough to recognise when it is being jammed and automatically switch to another method of communicating.
The most secure transmission mechanism is VHS radio. These networks are completely independent and allow the customer to have their own control over their systems. It's also simple to use, meaning most customers can replace faulty equipment themselves. The benefit of VHS is security and low initial and recurring costs.
If you are using GPRS, you require specialised technology to ensure your alarm communications are secure, setting up a separate APN and keeping alarm communications separate from general voice and data. A secure VPN is also advisable to ensure your communications remain secure.
Hi-Tech Security Solutions: What solutions do you sell?
Pennefather: IDS currently offers the HYYP GPRS solution. We have chosen this route not only for the attractive annuity it offers but more so as a means or securing proprietary communications from homeowners to our customers. Data integrity and secure communications are the cornerstone of every response company globally and with continued copper theft challenges and the inherent limitations of radio and PSTN communications, we are being pushed to consider and look into new technologies.
IDS now offers a full featured GPRS monitoring solution called HYYP designed specifically to enhance and secure your current communications platform. Through a specifically designed network structure HYYP also is able to offer you unparalleled visibility of your operations, through tailored device management, outages notification tools and full remote access viewing of all your base station and transmitters via our proprietary Smart Platform. Control rooms are now also able to remotely access approved panels for event pulling, control and device management.
Ehrke: At Radwin, we manufacture proprietary fixed and mobile wireless telecommunications equipment that is used extensively in over 150 countries by mobile operators, armed forces, security companies, leading mining houses and some of the safest housing estates in the world. Simply, if the consideration is "loss of revenue, loss of reputation, or in extreme cases, loss of life", RADWIN is the right network.
Andreka: RDC's Jam Action detects when RDC's devices are jammed. Then, when it is unable to communicate, the Jam Action process triggers and internal relay and sends an output signal to another destination. This could be to a siren, a VHF transmitter, or any other output. This means the signal will still be sent via an alternative mechanism. Jam Action is a patented technology RDC developed.
RDC also offers SMS communications which can be used to alert people of events and report on the conclusion of events etc. It can also be used for home automation as a less costly option. RDC has also developed an in-car monitoring solution that sends alarm signals to a patrol car, allowing reaction officers to respond immediately to an alarm.
Finally, RDC also offers customised training at its head office as well as at customers' premises. The training includes product-specific training, but covers the basics of communications as well to educate homeowners and the HOA, for example, on how these systems work.
For more information contact:
IDS, +27 (0)31 705 1373, marketing@idsprotect.com, www.idsprotect.com
RDC, +27 (0)11 452 1471, brent.a@radiodata.co.za, www.radiodata.co.za
Radwin, +27 (0)74 114 2805, nick_ehrke@radwin.com, www.radwin.com
Credit(s)
Further reading:
Directory of Suppliers
August 2019 , Residential Estate (Industry)
Read more...
---
A customised solution for backup power
August 2019, Specialised Battery Systems , News, Integrated Solutions
Specialised Battery Systems designed and implemented a bespoke solution for Stallion Security Electronics to deploy at almost any site.
Read more...
---
Double dose of storage security
August 2019 , Products, IT infrastructure
The integration of InfiniBox and SafeNet KeySecure platforms brings data-at-rest encryption together with centralised logging, auditing capability.
Read more...
---
Augmented security with drones
August 2019, Drone Guards , Editor's Choice, Integrated Solutions
Drone Guards is moving into an untapped market of using drones to secure residential estates and other high-value assets such as mines, farms and commercial properties.
Read more...
---
The importance of real security risk assessments
August 2019, Sentinel Risk Management , Editor's Choice, Security Services & Risk Management, Residential Estate (Industry)
Andy Lawler, MD, Sentinel Risk Management, says a security risk assessment is an onerous task, but is not something estates can consider optional or a luxury item anymore.
Read more...
---
Risk assessment or product placement?
August 2019, Technews Publishing, Alwinco, SMC - Security Management Consultants , Editor's Choice, Security Services & Risk Management, Residential Estate (Industry)
Hi-tech security solutions asked a couple of experts to provide estate managers and security managers with some insights into what a 'real' risk assessment includes.
Read more...
---
10 things to consider when shopping for a VMS
August 2019, Genetec , CCTV, Surveillance & Remote Monitoring, Integrated Solutions
Today's video management systems (VMS) provide a wide range of tools and capabilities that help make security personnel more efficient by allowing them to focus on what really matters.
Read more...
---
How far are we really at with artificial intelligence?
August 2019, Axis Communications SA , Editor's Choice, CCTV, Surveillance & Remote Monitoring, IT infrastructure, Residential Estate (Industry)
Justin Ludik unpacks exactly how far AI has come and what it potentially can do for society and more importantly, surveillance.
Read more...
---
More than simply a camera
August 2019, Forbatt SA, Secutel Technologies , CCTV, Surveillance & Remote Monitoring, Residential Estate (Industry)
With the human element being the weakest link in all security solutions, Hi-Tech Security Solutions looks at the pros and cons of using body-worn cameras in estates.
Read more...
---
The importance of effective perimeter security
August 2019, Elf Rentals - Electronic Security Solutions, Stafix , Editor's Choice, CCTV, Surveillance & Remote Monitoring, Residential Estate (Industry)
Protecting the perimeter is critical for any residential estate; how does one go about making sure your perimeter is as secure as possible?
Read more...
---