printer friendly version
Field-hardened Ethernet
Residential Estate Security Handbook 2016 - Vol 2 Residential Estate (Industry), IT infrastructure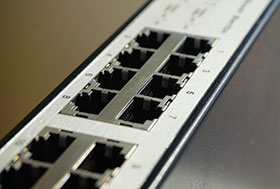 For many security-system integrators the choice of which network switch to use in an application is often not as carefully chosen as the camera or access control reader they have selected. Given the wide range of available network switches in the market, and across an equally wide price range, this should not be surprising. Most often, the source for network switches comes from the traditional IT market space, where the term 'field-hardened' or 'industrial rated' is not often encountered.
Aside from natural electrical phenomena, it's rare to find a CCTV camera of reputable make failing in the field (or even indoors) due to environmental conditions, especially temperature related. So therefore a network switch should survive in the same space, not so?
Unlike a standard off-the-shelf network switch, the electronic components within standard CCTV cameras can tolerate a fairly wide temperature range, and even a wide voltage range in most cases. Commercial network switches are primarily designed to operate within system racks, and within an air-conditioned environment, whereas CCTV cameras and associated field equipment are to be found 'in the field', on mounting poles, along fence perimeters, inside field enclosures and so on.
These are obviously industrial field conditions (outdoors in the sun and rain), and where the necessary network switches need to be placed in field-enclosures. You only have to imagine how hot a motor vehicle gets inside when left in the sun to get an understanding of what temperatures are experienced in field-enclosures. With all the other electronic equipment inside, it gets hot.
The field-hardened or industrial rated switch
It would be prudent to state at this point that these network switch types are going to cost a little more than what you would get off-the-shelf at ABC IT Supplies, but they are going to be application specific and they are going to last. Most importantly, your system integrity is assured.
Here are some of the typical features that are found in these products:
• Wide operating average temperatures of between -40°C and 70°C with passive cooling.
• Designed for optimum and efficient transmission of video Ethernet data.
• Designed for Power Over Ethernet (POE) requirements (in some cases up to 60 W).
• Power redundancy allowance for backup systems.
• Various standard industrial mounting options (DIN-rail, wall-mount etc.).
• Vibration hardened.
• Surge protection and EMI shielded.
• Utility rated design (power and transport utility approved).
• Simple field configuration using DIP switches instead of a laptop.
• Extended warranty and support.
There are many more features to be found on these products, and it varies between manufacturers, but they are all designed to be purpose specific to the application and to last in the field for the lifespan of the system.
For more information contact C-Video Concepts, +27 (0)31 309 1048, [email protected], www.cvideoconcepts.co.za
Further reading:
SAN market set for growth
Technews Publishing News IT infrastructure
Storage-area network (SAN) market to hit US$ 26,86 billion in revenue by the end of 2029 due to factors like widespread adoption of Hybrid SAN-NAS solutions.
Read more...
---
Advanced server performance and energy efficient design
Editor's Choice IT infrastructure Products
Dell PowerEdge server portfolio expansion offers more performance, including up to 2.9x greater AI inferencing while Dell Smart Flow design and Dell Power Manager software advancements deliver greater energy efficiency.
Read more...
---
Fast, reliable and secure cloud services
Technews Publishing Editor's Choice Cyber Security IT infrastructure
Security and speed are critical components of today's cloud-based services infrastructure. Cloudflare offers a range of services supporting these goals beyond what most people think it does.
Read more...
---
Fire-fighting force at Vergelegen
Editor's Choice Fire & Safety Residential Estate (Industry)
Vergelegen wine estate in Somerset West, and its neighbours, are set to enjoy greater peace of mind this summer, thanks to the delivery of a brand new fire truck .
Read more...
---
Cyber resilience is more than cybersecurity
Technews Publishing Editor's Choice Cyber Security Integrated Solutions IT infrastructure
Hi-Tech Security Solutions held a round-table discussion focusing on cyber resilience and found that while the resilience discipline includes cybersecurity, it also goes much further.
Read more...
---
Keeping devices in check
Cyber Security Asset Management, EAS, RFID IT infrastructure
Kaspersky patents new technology for analysing relationships between electronic devices to counter cyberattacks launched through connected IoT devices.
Read more...
---
Considering cloud downtime insurance?
Arcserve Southern Africa Cyber Security IT infrastructure Security Services & Risk Management
Byron Horn-Botha, business unit head, Arcserve Southern Africa, reveals three vital steps that you must consider to ensure business continuity before you buy insurance.
Read more...
---
A robust OT cybersecurity strategy
Editor's Choice Cyber Security IT infrastructure Industrial (Industry)
Cyber experts are still struggling to convince senior management to spend money to protect their control system assets, resulting in a lack of even basic measures to protect control systems.
Read more...
---
IT security at the core of smart cities
Cyber Security IT infrastructure Government and Parastatal (Industry)
The success of service delivery and public access to universal Wi-Fi, home automation and smart sensors is based on increased IT security.
Read more...
---
Cloud can cut your security risks
Cyber Security IT infrastructure
Todd Schoeman, BT client business director in South Africa, explores the ways that organisations can reduce security risk by using the cloud.
Read more...
---