printer friendly version
Communication on residential estates
Residential Estate Security Handbook 2016 - Vol 2 Residential Estate (Industry), Integrated Solutions, IT infrastructure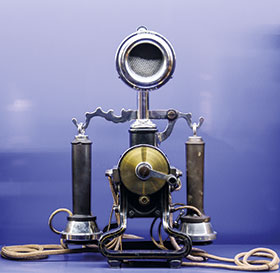 We are continually reminded that in many cases the reason for failure in business or in our work environment is due to the lack of, or bad communication.
Communication, whether in business, estate living or any other aspect of our day-to-day lives, is what gives us the information we need to live effectively every day.
How communication takes place, whether between the multitude of devices available these days, or between people is of absolutely vital importance. Lack of communication and bad communication can make things go horribly wrong, and more often than not, things do go wrong.
So why do we need to consider communication on estates? In all cases, estates are closed communities that, in the first instance, want security, then quality of life and finally increasing property values. It is interesting that the quality of the communication offering has an impact on all three needs.
• The security company must have good radio and telephone communication amongst their staff to be able to operate effectively. We have seen this technology move from analogue too digital, with big advantage. Analogue is the technology that has been with us for over a hundred years. The digital age has changed this so that it not only gives much clearer voice communication, but provides location information as well.
• The ability to contact any resident from the security control room and vice versa is a big advantage.
• The security equipment requires a communication infrastructure to be able to transfer video and data.
• Everybody needs to be on the Internet and be able to receive and send emails.
• Consumers, in particular the homeowners, are looking for fast Internet connectivity to watch movies, play games, interconnected sports training and much more.
• Research has clearly shown that the residential homes that are connected to fast fibre Internet have higher value than those that don't.
• And then there is the increasing talk of the Internet of Things (IoT). This new term is about everything being interconnected. Even motor cars are connecting to the Internet.
• The requirement for VOIP (Voice over IP) telephone solutions is increasing.
And I am sure the list will get longer as you think about the need for fast reliable communication in our everyday lives.
The estates are therefore being pressed to make decisions that will impact on their success in this field for many years, in a difficult market. It is probably best to summarise the requirements as follows:
• A flexible solution that will always allow for changes in technology and services, often called 'Future Proofing'.
• A financial model that is market related and results in a fair outcome for all parties. If it is not, the solution will be short lived. It's no good having a free installation with a high cost of service delivery.
• Clear understanding of whom, HOA/service provider/ network owner/homeowner and so on, owns what part of the network.
• A position that ensures that the estate can never be held to ransom by one provider, as well as some sort of protection for the provider selected, while they are performing. You don't want to have the service provider change with every change of HOA board of directors.
• A clear understanding of the legal position of all the parties involved in the communication solutions. This could be a fibre network or a radio network that requires licences to operate. There should be a document to ensure that there is no misunderstanding.
• Have a clear picture of the solutions chosen so that all parties can see the advantages of the chosen systems.
As a final point it is particularly difficult to evaluate the offerings, when the technical marketing is often presented to make products look better than they really are. There is no doubt that the way forward in making choices in all the modern communication decisions needs to be supported by solid technical and legal support to protect the estates into the future.
The following from Steve Burnett just may be appropriate: "Regardless of the changes in technology, the market for well-crafted messages will always have an audience."
Credit(s)
Further reading:
SAN market set for growth
Technews Publishing News IT infrastructure
Storage-area network (SAN) market to hit US$ 26,86 billion in revenue by the end of 2029 due to factors like widespread adoption of Hybrid SAN-NAS solutions.
Read more...
---
Advanced server performance and energy efficient design
Editor's Choice IT infrastructure Products
Dell PowerEdge server portfolio expansion offers more performance, including up to 2.9x greater AI inferencing while Dell Smart Flow design and Dell Power Manager software advancements deliver greater energy efficiency.
Read more...
---
31 percent of all IoT SIMs managed with third-party IoT CMPs
News Integrated Solutions
Berg Insight recently released new findings about the market for IoT connectivity management platforms (CMPs), a standard component in the value proposition from mobile operators and IoT MVNOs around the world.
Read more...
---
Fast, reliable and secure cloud services
Technews Publishing Editor's Choice Cyber Security IT infrastructure
Security and speed are critical components of today's cloud-based services infrastructure. Cloudflare offers a range of services supporting these goals beyond what most people think it does.
Read more...
---
Smart car parking solution eases traffic flow
Dahua Technology South Africa CCTV, Surveillance & Remote Monitoring Integrated Solutions Products
Ethiopia's first smart parking lot, designed to improve traffic flow and management efficiency, has been built and installed using Dahua Technology's smart parking solutions.
Read more...
---
Fire-fighting force at Vergelegen
Editor's Choice Fire & Safety Residential Estate (Industry)
Vergelegen wine estate in Somerset West, and its neighbours, are set to enjoy greater peace of mind this summer, thanks to the delivery of a brand new fire truck .
Read more...
---
VMS 7.2 supports the investigation process and adds cloud capabilities
CCTV, Surveillance & Remote Monitoring Integrated Solutions Products
Qognify has launched the second release of its VMS, including extended support for body-worn video, additional functionalities to support investigations, and a new web client architecture. VMS 7.2 addresses the increasing use of body-worn video (BWV) across many sectors.
Read more...
---
Hytera and KZN Police Service roll out digital call handling system
Government and Parastatal (Industry) Asset Management, EAS, RFID Integrated Solutions
Hytera Communications announced that the municipality of Ray Nkonyeni in the KwaZulu-Natal province of South Africa is now using its digital call handling system for the reporting and recording of crimes.
Read more...
---
Cyber resilience is more than cybersecurity
Technews Publishing Editor's Choice Cyber Security Integrated Solutions IT infrastructure
Hi-Tech Security Solutions held a round-table discussion focusing on cyber resilience and found that while the resilience discipline includes cybersecurity, it also goes much further.
Read more...
---
Keeping devices in check
Cyber Security Asset Management, EAS, RFID IT infrastructure
Kaspersky patents new technology for analysing relationships between electronic devices to counter cyberattacks launched through connected IoT devices.
Read more...
---