printer friendly version
Defending the perimeter
Residential Estate Security Handbook 2016 - Vol 2 Editor's Choice, CCTV, Surveillance & Remote Monitoring, Perimeter Security, Alarms & Intruder Detection, Residential Estate (Industry)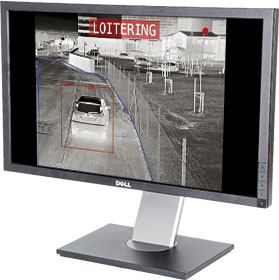 "Prevailing crime continues to have a negative impact on the lives of all South Africans, often on a daily basis," says Roy Alves, business development manager, MEA, Axis Communications. However, during Axis' recent 20th celebration of the world's first network camera, he noted, "Technology is creating the platform for an even higher level of intelligent surveillance."
Heralding a significant shift in the deployment of analytical surveillance, Axis Perimeter Defender is a scalable and flexible video analytics application for perimeter surveillance and protection. An application, easily installed on the camera itself, it allows for the deployment of analytics directly on the device, providing for a much more sophisticated result with accurate detection capabilities and simultaneous support for multiple scenarios, including intrusion and loitering.
The last few years have seen Axis take enormous strides in pioneering its ability to load applications (aka apps) directly onto its cameras, in much the same manner as today's smartphones. Developed by Axis, the i-LIDS approved Perimeter Defender application is able to be deployed across a number of its products, safeguarding a customer's investment whilst enabling the next step in surveillance. "As with smartphones, the customer is not tied into using only this specific application," says Alves. As requirements change, additional applications can be installed for a number of other purposes, from heat mapping through to people counting or even sound intelligence.
"Previously, field network cameras required the accompanying analytical software to be housed offsite, in a server room or elsewhere," continues Alves. "By treating the analytic component as an application on the device itself, a whole new world of surveillance opens up." Gone are the days of needing to dispatch security personnel every time an alarm is triggered by a camera on a perimeter wall. Devices housing analytics allow for the transmission of key events only, picking up authentic security breaches as opposed to those caused by animals, wind or other elements. Compatible across both thermal and normal optic cameras, it is saving time, it is saving money, but most importantly it is heightening security.
Prevention better than cure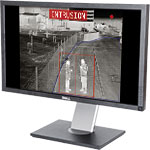 While prevention is almost always better than cure, the same can be said for the world of security. "It is often too late to detect the intruder once he has already gained access," says Alves. Key to effective safety and security lies in the ability to detect suspicious behaviour, vehicles or persons on the outside of one's perimeter wall or boundary prior to entry.
"We work with many housing estates. By placing a camera down the fence line, one can create very distinct digital lines across the area. Instead of picking up traditional video motion detection, analytics from video sensors inside the perimeter is able to detect intrusion at the earliest possible phase, helping to pre-empt potential crime.
Ideally suited to the South African environment with its large number of residential housing estates, it is as relevant for local business parks, mining facilities or any other commercial property with a large perimeter wall. In most of these cases, entrances are manned by security personnel requiring every entrant to sign in or produce pre-approved access. "While essential, what about the perimeter wall or boundary at the back of the complex?" asks Alves. Axis's Perimeter Defender application is providing an added advantage to those situations where the physical access control system needs to be reinforced with reliable intrusion detection.
Thermal solution
Thermal cameras, increasingly used in the commercial sector as opposed to the military, is further aiding surveillance and early detection while reducing the need for costly 24/7 lighting. Superior quality allows for detection in even the darkest situations, right down to footprints in wet grass. But it doesn't end there. "Picture a parking lot with 20 cars," says Alves. "Those parked for a number of hours will all emit the same heat signature, while a more recently parked car will emit a warmer heat signature, allowing for the analysis of relevant movements if needed."
Following its launch earlier this year, Alves is encouraged by both the positive response and traction gained. "We have quite a number of business parks and commercial customers currently deploying Perimeter Defender," says Alves, including one of Cape Town's premium residential estates that comprises an area of 134 hectares.
"South Africa presents its own set of unique challenges, particularly with regards to climate," continues Alves. "Extreme heat and sunlight can often complicate effective analytics making regular changes on optic imaging, requiring solutions to further reduce false alarms essential."
When looking to the future, Alves reiterates the importance of constant innovation. "Technology is evolving daily," he says. "The concept of a smarter, safer world is no longer a fallacy, but a reality."
For more information contact Axis Communications, +27 (0)11 548 6780, [email protected], www.axis.com
Credit(s)
Further reading:
A closed security concept for test halls and perimeter
Dallmeier Electronic Southern Africa Editor's Choice
At its factory facilities in Vilsbiburg, Germany, Flottweg SE relies on tailored video security technology from Dallmeier for perimeter security and workplace safety.
Read more...
---
Two all-in-one pendant speakers
Axis Communications SA Products
Axis Communications has announced the AXIS C1510 and AXIS C1511 network pendant all-in-one speakers, which make audio announcements smart and easy.
Read more...
---
Advanced server performance and energy efficient design
Editor's Choice IT infrastructure Products
Dell PowerEdge server portfolio expansion offers more performance, including up to 2.9x greater AI inferencing while Dell Smart Flow design and Dell Power Manager software advancements deliver greater energy efficiency.
Read more...
---
Free-to-use solar score for South African homes
Technews Publishing Editor's Choice
The LookSee Solar Score is one of the first of its kind to provide insight into the potential of solar power for South Africa's residential properties.
Read more...
---
Best practices for cybersecurity and network health in 2023
Axis Communications SA IT infrastructure
Securing a network from outside threats while making it easily accessible to employees can be challenging. What are the tell-tale signs of poor network security, and what should organisations do to secure their networks?
Read more...
---
Fast, reliable and secure cloud services
Technews Publishing Editor's Choice Cyber Security IT infrastructure
Security and speed are critical components of today's cloud-based services infrastructure. Cloudflare offers a range of services supporting these goals beyond what most people think it does.
Read more...
---
Axis launches P3265-LVE dome camera
Axis Communications SA Products CCTV, Surveillance & Remote Monitoring
Based on ARTPEC-8 — the latest Axis system-on-chip (SoC) — Axis' latest dome high-performance camera includes a deep learning processing unit (DLPU), and cybersecurity features.
Read more...
---
Smart home security
Olarm Smart Home Automation Perimeter Security, Alarms & Intruder Detection Products
The applied use of smart technology within the Olarm ecosystem, through smart features coupled with existing systems, extends the benefits of technology into different spheres.
Read more...
---
Fire-fighting force at Vergelegen
Editor's Choice Fire & Safety Residential Estate (Industry)
Vergelegen wine estate in Somerset West, and its neighbours, are set to enjoy greater peace of mind this summer, thanks to the delivery of a brand new fire truck .
Read more...
---
The future of AIoT
Hikvision South Africa News CCTV, Surveillance & Remote Monitoring
Hikvision hosted its 2022 Shaping Intelligence Summit in Bali, Indonesia, on 29-30 November, where the company, its customers, and technology and solution partners, looked into the future of AIoT and explored paths to shared success.
Read more...
---