printer friendly version
Mobile devices provide convenience and security
Residential Estate Security Handbook 2016 - Vol 2 Residential Estate (Industry), Access Control & Identity Management
By Wikipedia's definition, a gated community is a form of residential community or housing estate with strictly controlled entrances for pedestrians and vehicles, and often characterised by a closed perimeter of walls and fences. South Africa is believed to have over 6000 gated communities, according to www.gatedestates.co.za. This market is estimated to be worth over R600-billion and comprises almost 320 000 households, all who have a common desire in mind – enhanced safety and security.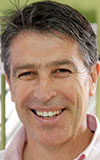 John Powell, MD of Powell Tronics.
While this is the main driving force behind the rapid increase of security villages in recent years, the allure of living on a prestigious estate is fast becoming a trend driving homeowners associations to offer more than just simply a guarded estate. According to John Powell, managing director of Powell Tronics, access control and visitor management form an integral component in securing these residential estates, but with the recent advancements in mobile technology, estates will be able to boast numerous high-end security features.
The mobile generation
Estate managers are unanimous in their need for an access control and visitor management solution that has the ability to speed up throughput of traffic through entry and exit points, with the added value of increasing security through the accurate capturing of visitor information using modern and accessible technology.
Powell explains that the choice of static versus mobile devices, including those that incorporate RFID and biometric readers is often dictated by the immediate requirements of the estate. In most cases, a hybrid system that uses both static and mobile devices offers the widest range of benefits in terms of cost effectiveness, security features and ease of use.
An example of such a system would be fixed UHF (remote receivers), proximity or biometric readers for residents and estate staff. Using mobile devices for visitors and short-term contractors offers estates the versatility of technology that can work on wireless, GSM or Bluetooth connections, scan identity and vehicle barcodes for accurate information capture, touch screen capabilities for signing terms and conditions associated with visiting the estate and immediate push notifications that will alert guarding personnel of any issues relating to that particular guest.
An effective visitor solution needs to ensure that the correct and necessary information is being gathered as opposed to incorrect data. Typically, the details of a person's registered identity, the relevant vehicle details as contained on the vehicle registration disc and the destination point, should be a standard feature. It is due to this that there is a growing trend in moving away from the manual paper visitor logs to solutions that cater for information capturing mobile devices.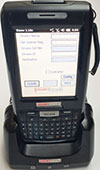 Portable driver's license scanner.
In order to protect the estate from litigious legal claims, it is advisable that the device is able to display disclaimers and rights of entries, for perusal by visitors and contractors on entry. When the correct information is captured, estate management have a more accurate record of residents, visitors and contractors movements and the access control system becomes more effective, while at the same time providing statistical information that can be used for site expansion planning or for marketing purposes.
While mobile biometric devices have many advantages, estates need to be aware that it is necessary to have a redundancy procedure to accommodate for guests with low-quality fingerprint templates. In general, there is a resistance from the public to voluntarily provide their biometric information, due to the perception that their fingerprint templates can be extracted and used maliciously, so it is important to have a process in place should the estate need to enforce their right of admission policy.
Accuracy and ease of use
Powell points out that any app running on the mobile device should be designed with ease of navigation in mind and geared to cater for use primarily by security guards and porters. In addition, the false rejection rate on scanning data such as vehicle registration discs and driver's licences, should be minimal. Adequate storage capacity and battery power should be prerequisites to ensure the system is able to seamlessly and faultlessly capture all data, and the device is operational for reasonable periods of time.
Powell advises that the following points need to be taken into consideration when developing software for mobile solutions:
• Secure and encrypted data transfer from the mobile devices to the systems database.
• Multiple operating systems (OS), platforms and development languages. When developing across platforms, it is important for the product to have the same functionality, look and feel across all devices.
• Using resources (CPU, RAM) sparingly, as these devices usually have fewer processing resources than a desktop or server machine.
• Constrained real estate on smaller devices. This is a challenging aspect of mobile app development as it is important to make the GUI (graphical user interface) as user friendly as possible while at the same time having the ability to display all relevant information on what can sometimes be a very small screen. Therefore the need to keep the GUI uncluttered.
• Network connectivity. When and where uploads and downloads must take place on a device that may not always be connected to a network. (Wi-Fi or LAN via a cradle, for instance).
• Easy app upgradeability to keep in line with OS upgrades on mobile devices as well as market trends and estate requirements.
Suppliers of mobile access control technology should be able to provide customisation and a high level of support, as each site has different unique procedures and management criteria. The technology used should be tried and tested in terms of its reliability, durability, user friendliness and portability.
With 2015 having been an exciting development year for mobile and mobile Web browsing technology, suppliers are making major moves to adapt their mobile applications to benefit from the new technologies and tools available, such as app-based push notifications or WhatsApp messaging rather than the costly SMS messaging. Embedded visitor management integration to estate portals are also on the rise with more estates establishing their own mobile apps accessible to their residents for estate news, events, booking systems and general estate information.
Again Powell recommends that estate managers should make use of security contractors/installers who have extensive experience in deploying mobile access control and visitor management solutions on similar estates. Contractors should seek service providers that are able to customise and support these intricate solutions.
Further reading:
Fire-fighting force at Vergelegen
Editor's Choice Fire & Safety Residential Estate (Industry)
Vergelegen wine estate in Somerset West, and its neighbours, are set to enjoy greater peace of mind this summer, thanks to the delivery of a brand new fire truck .
Read more...
---
Suprema renews international privacy and security standard certifications
Suprema News Access Control & Identity Management
Suprema has simultaneously renewed two important international standard certifications regarding information security management (ISO/IEC 27001) and privacy information management (ISO/IEC 27701).
Read more...
---
SuperVision biometric access control
Integrated Solutions Access Control & Identity Management Products
SuperVision is a time & attendance (T&A) biometric access control system Fourier IT has been developing and enhancing for 18 years.
Read more...
---
Residential Estate Security Conference 2022
Technews Publishing Residential Estate (Industry) Conferences & Events
The first Residential Estate Security Conference since March 2020 discussed the people, technology and processes involved in mitigating risks to deliver smart, secure living.
Read more...
---
Safety first, aesthetics a close second
Allbro Industries Residential Estate (Industry)
Residential estates are constantly upgrading as the needs of the estate outgrow the existing infrastructure.
Read more...
---
Provide a strong, integrated security solution
Arteco Global Residential Estate (Industry)
Through the Omnia VMS, Arteco offers a unique, intuitive and friendly interface that focuses on events to centralise all security alarms.
Read more...
---
Successful show for body-worn tech
Elvey Security Technologies Residential Estate (Industry)
Moving beyond products to full cybersecurity service for residential estates.
Read more...
---
The benefits of contactless biometrics
IDEMIA Residential Estate (Industry)
IDEMIA displayed its biometric fingerprint and facial readers, focusing on touchless technologies for estate security.
Read more...
---
Access Portal from Impro Technologies
Impro Technologies Residential Estate (Industry)
Impro Technologies offers the Access Portal suite, which provides powerful features wrapped in a simple and easy-to-use interface.
Read more...
---
MiRO provides end-to-end security solutions
MiRO Residential Estate (Industry)
Residential estate security solutions perfected for South African homes.
Read more...
---