printer friendly version
Is card access outdated?
Residential Estate Security Handbook 2016 - Vol 2 Residential Estate (Industry), Access Control & Identity Management, Products
All estates have a form of access control that starts the day the project starts. It evolves over time as new technologies become available or affordable, or as the conditions change in the area. Secure access to an estate does not eliminate the criminal element as they too evolve with time and sophistication.
The purpose becomes to up the barrier to entry in order to make it less attractive for the criminal to target an estate. Taking the barrier to entry higher continually comes at extra cost and frustration to dweller, worker and visitor alike.
What we have learned over the 18 years in this environment is that an ID card is still by far the most common and cost effective way to secure access to buildings, estates, gyms, universities and many other areas. It is not outdated or extinct and there are many reasons for this:
• People are used to carrying cards, they have a wallet full of them. They trust the card to protect their money.
• People have an affinity with an ID card as it allows them to feel in control.
• It is inexpensive and easy to maintain as well as versatile to adapt for purpose.
• The use of a card is relatively un-invasive and un-intimidating.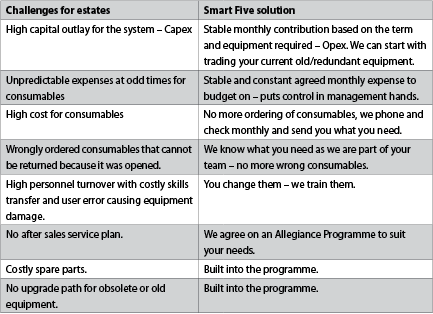 Is an ID card system expensive?
Historically the only option available to an estate was to purchase all the equipment upfront. This practise drained the funds from the estate account and led to estates buying cheaper equipment from suppliers that do not offer support or after sales service. With the nomadic nature of management, these cheap options caused problems down the line and normally land in the lap of the next manager or body corporate.
In this way, many a rand has been wasted that could have been applied elsewhere. The Smart Five Allegiance Programme allows an estate to buy into a stable company with an international acclaimed brand and footprint for service. The cost of the system is basically limited to the agreed unit cost of the card.
In our experience a basic estate requirement is:
• Printer – single sided or double sided, entry-level or mid-production based on cards per annum.
• Good versatile and easy to use software to manage multiple designs with database functionality.
• Cards – use what you have – stick to your supplier or source it through the programme for optimal benefit.
• HD webcam for photos – or facility to import user selected photo for use on card.
• Training to use the software, maintain the printer and do basic troubleshoot.
• Support and backing of Smart Five certified guru for assistance when needed.
For more information contact Smart Five, +27 (0)11 391 4693, [email protected], www.smartfive.co.za
Further reading:
Texecom launches the Midnight Black Collection
Technews Publishing Perimeter Security, Alarms & Intruder Detection Products
Working in harmony with darker environments, the Midnight Black Collection has been created for businesses and sites that require or prefer a security solution which offers discreet protection that compliments their surroundings.
Read more...
---
Optimising remote technical support
Technews Publishing Asset Management, EAS, RFID Products
Sanden Intercool Kenya improves efficiency, removes manual processes with FIELDForce from MACmobile, making its technical backup and support staff more productive, while also optimising record keeping.
Read more...
---
Advanced server performance and energy efficient design
Editor's Choice IT infrastructure Products
Dell PowerEdge server portfolio expansion offers more performance, including up to 2.9x greater AI inferencing while Dell Smart Flow design and Dell Power Manager software advancements deliver greater energy efficiency.
Read more...
---
Gallagher to showcase new Controller 7000 single door
Technews Publishing Access Control & Identity Management Products
Gallagher will be showcasing its latest access control innovation, the Controller 7000 Single Door on its stand at Intersec Dubai from 17-19 January 2023.
Read more...
---
Batteries creating false alarms due to load shedding
Uniross Batteries Smart Home Automation Products
A local security company has solved the problem of receiving false alarms during loadshedding by replacing its customers' 12 V lead batteries with lithium batteries.
Read more...
---
Minimising fire risks in automotive logistics
Hikvision South Africa CCTV, Surveillance & Remote Monitoring Products Logistics (Industry)
Automotive logistics company uses thermal imaging solution from Hikvision to ensure its stores of lithium batteries for electric vehicles never overheat and cause a fire.
Read more...
---
Olarm product highlights for 2022
Olarm Perimeter Security, Alarms & Intruder Detection Products
Olarm rapidly expanded its ecosystem in 2022 with several new products, the launch of its training academy, and a presence in Gauteng.
Read more...
---
Smart home security
Olarm Smart Home Automation Perimeter Security, Alarms & Intruder Detection Products
The applied use of smart technology within the Olarm ecosystem, through smart features coupled with existing systems, extends the benefits of technology into different spheres.
Read more...
---
Smart car parking solution eases traffic flow
Dahua Technology South Africa CCTV, Surveillance & Remote Monitoring Integrated Solutions Products
Ethiopia's first smart parking lot, designed to improve traffic flow and management efficiency, has been built and installed using Dahua Technology's smart parking solutions.
Read more...
---
Fire-fighting force at Vergelegen
Editor's Choice Fire & Safety Residential Estate (Industry)
Vergelegen wine estate in Somerset West, and its neighbours, are set to enjoy greater peace of mind this summer, thanks to the delivery of a brand new fire truck .
Read more...
---