printer friendly version
Command and control with Command Centre
October 2016 Residential Estate (Industry), Security Services & Risk Management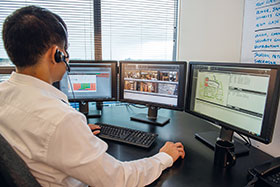 One of the critical functions in securing an estate is to have all your security systems and processes integrated into a single control system. Ideally, the system should allow for the estate's processes and standard operating procedures (SOPs) to be built in, allowing the system to streamline and automate security enabling security personnel to react appropriately when something happens.
There are a variety of management packages available today, however, care must be taken in deciding which system best suits the estate's needs as there are a number of systems to understand including VMS (video management system) and C&C (command and control).
The control centre of an estate will need to integrate video feeds into its dashboard, but also all other security systems, from access control to alarms and perimeter solutions. Moreover, given the nature of the environment we live in, these control centres need to incorporate additional systems, including electricity metering, generator status and more.
Command Centre is a C&C management system from Gallagher, known in South Africa and globally for its perimeter security products and solutions. Command Centre provides the centralised functionality to monitor and control an entire estate using one platform. Hi-Tech Security Solutions spoke to Morne Grobler, sales manager – security, at Gallagher SA to find out more about the platform.
Grobler notes that Command Centre is a C&C platform, which can integrate a variety of products and solutions into one central dashboard to allow for simplified management of a business or an estate.
Integrated alarms and response
When using Command Centre for an estate, the system will monitor all your security systems. In the event of a security breach, the system will bring up the relevant information to the operator's screen(s) enabling the security officer to resolve the issue.
For example, an alert on the perimeter will immediately highlight the zone where the event is occurring, and if the estate has perimeter cameras, these can give the operator visual insight into what is happening at the fence line. Command Centre will also bring up the estate's SOPs to ensure the operator follows through on all the necessary procedures to resolve the issue, from alerting an armed response company or the estate manager and so on. This can also be automated through Command Centre's broadcast notification feature allowing for a faster response.
The operator can also enter notes on the event stating what occurred, how it was responded to and the outcome. These notes cannot be deleted, ensuring a full audit trail of any event the estate wants monitored. An event can also be escalated to a supervisor or the estate manager if not addressed within a specified time.
Grobler says a site map can be loaded into the software to pinpoint the exact location of an alarm, even if inside a resident's home. This will allow the operator to dispatch security officers to the location easily, or even direct PTZ cameras in the vicinity to monitor the house and surrounding area.
The operator can also manage alarms from their mobile phone via the Gallagher app which is linked to Command Centre, allowing security to be monitored from anywhere and not just from inside the control room.
Command Centre is equipped to send automatically generated reports by email to the appropriate people, such as estate managers, with an overview of the security system over the course of a week or month, or even daily if required. This is not a feature of all C&C systems and can save an operator hours if not days of work.
Integrated access
For controlling access to the estate, whether for residents, visitors or contractors, Command Centre integrates with a variety of solutions, from smart cards to RFID and biometrics. Gallagher also integrates with Nedap long range RFID readers to recognise residents' vehicles and allow them access without having to stop.
Gallagher has also developed a visitor management system that allows residents to preregister their guests. A QR code is then issued to the visitors who scan it on arrival and are granted access. For unregistered guests, the officers at the gate use a mobile device to scan the driver's licence, after which the system will require the guard to enter additional information, such as how many people are in the vehicle to ensure the same number leave – especially important when dealing with onsite contractors. The system can also ask for information such as whether the driver has a firearm and can blacklist vehicles or people by their identity number or number plate. (See the article in this issue on Smart Protect's integration with Gallagher for more on this functionality.)
General management
In terms of general estate management, Command Centre is able to manage other systems, such as lighting that can be set to operate on motion detection and generators, alerting operators whenever they need to be inspected or serviced.
With over one hundred developers, Gallagher is continually integrating new products and brands into the system, and it can currently handle over 20 CCTV brands. Each year Gallagher releases two new software updates, improving the functionality and integrations within the system.
Grobler explains that Command Centre is designed to deliver a single platform that people in different markets can use either 'off the shelf' or tailored to their specific needs.
For more information contact Gallagher Security, +27 (0)11 974 4740, sales.africa@security.gallagher.com, security.gallagher.com/command-centre
Credit(s)
Further reading:
Directory of Suppliers
August 2019 , Residential Estate (Industry)
Read more...
---
24-hour emergency response for staff
August 2019 , News, Security Services & Risk Management
The FirstRand Group has partnered with PanicGuard to create a 24-hour emergency response programme for staff.
Read more...
---
Keeping our changing environment secure
August 2019 , Editor's Choice, Security Services & Risk Management
For a crime to take place there needs to be a victim and a criminal who sees an opportunity. For a cybercrime to take place we need the same set of circumstances.
Read more...
---
The importance of real security risk assessments
August 2019, Sentinel Risk Management , Editor's Choice, Security Services & Risk Management, Residential Estate (Industry)
Andy Lawler, MD, Sentinel Risk Management, says a security risk assessment is an onerous task, but is not something estates can consider optional or a luxury item anymore.
Read more...
---
Risk assessment or product placement?
August 2019, Technews Publishing, Alwinco, SMC - Security Management Consultants , Editor's Choice, Security Services & Risk Management, Residential Estate (Industry)
Hi-tech security solutions asked a couple of experts to provide estate managers and security managers with some insights into what a 'real' risk assessment includes.
Read more...
---
How far are we really at with artificial intelligence?
August 2019, Axis Communications SA , Editor's Choice, CCTV, Surveillance & Remote Monitoring, IT infrastructure, Residential Estate (Industry)
Justin Ludik unpacks exactly how far AI has come and what it potentially can do for society and more importantly, surveillance.
Read more...
---
More than simply a camera
August 2019, Forbatt SA, Secutel Technologies , CCTV, Surveillance & Remote Monitoring, Residential Estate (Industry)
With the human element being the weakest link in all security solutions, Hi-Tech Security Solutions looks at the pros and cons of using body-worn cameras in estates.
Read more...
---
Residential security – caveat emptor
August 2019, Stafix , Integrated Solutions, Security Services & Risk Management
When it comes to improving your property's security, make sure you take all the options into account as you build a layered approach to keeping people safe and assets secured.
Read more...
---
The importance of effective perimeter security
August 2019, Elf Rentals - Electronic Security Solutions, Stafix , Editor's Choice, CCTV, Surveillance & Remote Monitoring, Residential Estate (Industry)
Protecting the perimeter is critical for any residential estate; how does one go about making sure your perimeter is as secure as possible?
Read more...
---
Security playing speedcop
August 2019, Axis Communications SA, Hikvision South Africa , CCTV, Surveillance & Remote Monitoring, Residential Estate (Industry)
Estates now have a legal precedent to manage their traffic and fine people in the estate for violations of the rules; all they need do is find solutions that will support them.
Read more...
---