printer friendly version
Command and control with Command Centre
Residential Estate Security Handbook 2016 - Vol 2 Residential Estate (Industry), Security Services & Risk Management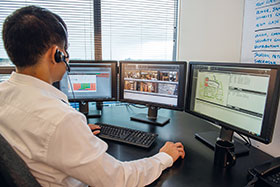 One of the critical functions in securing an estate is to have all your security systems and processes integrated into a single control system. Ideally, the system should allow for the estate's processes and standard operating procedures (SOPs) to be built in, allowing the system to streamline and automate security enabling security personnel to react appropriately when something happens.
There are a variety of management packages available today, however, care must be taken in deciding which system best suits the estate's needs as there are a number of systems to understand including VMS (video management system) and C&C (command and control).
The control centre of an estate will need to integrate video feeds into its dashboard, but also all other security systems, from access control to alarms and perimeter solutions. Moreover, given the nature of the environment we live in, these control centres need to incorporate additional systems, including electricity metering, generator status and more.
Command Centre is a C&C management system from Gallagher, known in South Africa and globally for its perimeter security products and solutions. Command Centre provides the centralised functionality to monitor and control an entire estate using one platform. Hi-Tech Security Solutions spoke to Morne Grobler, sales manager – security, at Gallagher SA to find out more about the platform.
Grobler notes that Command Centre is a C&C platform, which can integrate a variety of products and solutions into one central dashboard to allow for simplified management of a business or an estate.
Integrated alarms and response
When using Command Centre for an estate, the system will monitor all your security systems. In the event of a security breach, the system will bring up the relevant information to the operator's screen(s) enabling the security officer to resolve the issue.
For example, an alert on the perimeter will immediately highlight the zone where the event is occurring, and if the estate has perimeter cameras, these can give the operator visual insight into what is happening at the fence line. Command Centre will also bring up the estate's SOPs to ensure the operator follows through on all the necessary procedures to resolve the issue, from alerting an armed response company or the estate manager and so on. This can also be automated through Command Centre's broadcast notification feature allowing for a faster response.
The operator can also enter notes on the event stating what occurred, how it was responded to and the outcome. These notes cannot be deleted, ensuring a full audit trail of any event the estate wants monitored. An event can also be escalated to a supervisor or the estate manager if not addressed within a specified time.
Grobler says a site map can be loaded into the software to pinpoint the exact location of an alarm, even if inside a resident's home. This will allow the operator to dispatch security officers to the location easily, or even direct PTZ cameras in the vicinity to monitor the house and surrounding area.
The operator can also manage alarms from their mobile phone via the Gallagher app which is linked to Command Centre, allowing security to be monitored from anywhere and not just from inside the control room.
Command Centre is equipped to send automatically generated reports by email to the appropriate people, such as estate managers, with an overview of the security system over the course of a week or month, or even daily if required. This is not a feature of all C&C systems and can save an operator hours if not days of work.
Integrated access
For controlling access to the estate, whether for residents, visitors or contractors, Command Centre integrates with a variety of solutions, from smart cards to RFID and biometrics. Gallagher also integrates with Nedap long range RFID readers to recognise residents' vehicles and allow them access without having to stop.
Gallagher has also developed a visitor management system that allows residents to preregister their guests. A QR code is then issued to the visitors who scan it on arrival and are granted access. For unregistered guests, the officers at the gate use a mobile device to scan the driver's licence, after which the system will require the guard to enter additional information, such as how many people are in the vehicle to ensure the same number leave – especially important when dealing with onsite contractors. The system can also ask for information such as whether the driver has a firearm and can blacklist vehicles or people by their identity number or number plate. (See the article in this issue on Smart Protect's integration with Gallagher for more on this functionality.)
General management
In terms of general estate management, Command Centre is able to manage other systems, such as lighting that can be set to operate on motion detection and generators, alerting operators whenever they need to be inspected or serviced.
With over one hundred developers, Gallagher is continually integrating new products and brands into the system, and it can currently handle over 20 CCTV brands. Each year Gallagher releases two new software updates, improving the functionality and integrations within the system.
Grobler explains that Command Centre is designed to deliver a single platform that people in different markets can use either 'off the shelf' or tailored to their specific needs.
For more information contact Gallagher Security, +27 (0)11 974 4740, [email protected], security.gallagher.com/command-centre
Credit(s)
Further reading:
What to do in the face of growing ransomware attacks
Technews Publishing Cyber Security Security Services & Risk Management
Ransomware attacks are proliferating, with attackers becoming more sophisticated and aggressive, and often hitting the same victims more than once, in more than one way.
Read more...
---
Where does SA logistics stand as far as cybersecurity is concerned?
Logistics (Industry) Security Services & Risk Management
Lesiba Sebola, director of information technology at Bidvest International Logistics, says it is paramount to safeguard IT infrastructure given how central it has become to operations.
Read more...
---
Fire-fighting force at Vergelegen
Editor's Choice Fire & Safety Residential Estate (Industry)
Vergelegen wine estate in Somerset West, and its neighbours, are set to enjoy greater peace of mind this summer, thanks to the delivery of a brand new fire truck .
Read more...
---
Top fraud trends to watch in 2023
News Security Services & Risk Management
Even though financial concerns remain a significant obstacle for companies in implementing new anti-fraud technologies, 60% of businesses expect an increase in their anti-fraud technology budgets in the next two years.
Read more...
---
Be cautious when receiving deliveries at home
News Perimeter Security, Alarms & Intruder Detection Security Services & Risk Management
Community reports of residents being held up at their gate when collecting fast food deliveries at home are once again surfacing.
Read more...
---
Sasol ensures Zero Trust for SAP financials with bioLock
Technews Publishing Editor's Choice Cyber Security Security Services & Risk Management
Multi-factor authentication, including biometrics, for SAP Financials from realtime North America prevents financial compliance avoidance for Sasol.
Read more...
---
Protecting yourself from DDoS attacks
Cyber Security Security Services & Risk Management
A DDoS attack, when an attacker floods a server or network with Internet traffic to prevent users from accessing connected online services, can be costly in both earnings and reputation.
Read more...
---
Crossing the chasm
Editor's Choice News Security Services & Risk Management Training & Education
Industry reports suggest that in the next ten years, millions of jobs could go unfilled because there simply are not enough people to fill them.
Read more...
---
Records in place now, not later
Editor's Choice Security Services & Risk Management
It is important, after an incident, to have records in place as soon as possible. Too often the matter is left for the day when the company is going to court, or a disciplinary hearing is scheduled.
Read more...
---
Considering cloud downtime insurance?
Arcserve Southern Africa Cyber Security IT infrastructure Security Services & Risk Management
Byron Horn-Botha, business unit head, Arcserve Southern Africa, reveals three vital steps that you must consider to ensure business continuity before you buy insurance.
Read more...
---