printer friendly version
The right people
Residential Estate Security Handbook 2016 - Vol 2 Residential Estate (Industry), Security Services & Risk Management, Conferences & Events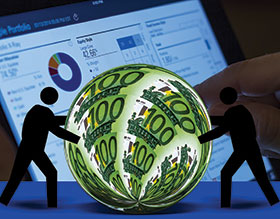 As more large estates make the decision to build their own control rooms on site, the question of who they should employ to operate these centres often raises concerns. Since the control room is a security function, or at least a large part of it is focused on security, some opt for the same people who may be patrolling their estate or managing their gates.
When talking to control room experts, their opinion is that you need a totally different person working as an operator. Hi-Tech Security Solutions decided to ask two experts (actually three but two of them worked together) for their opinions on how to select the best operators. To start with, we asked them what skills or aptitude operators require. (While we refer to operators, two of our interviewees refer to them as controllers. And while we refer to control rooms, others may use control centres or even contact centres. We use these words interchangeably.)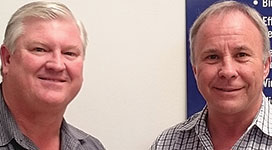 Andy Lawler (left) and Gary Swart (right).
Andy Lawler, MD of Sentinel Risk Management and Gary Swart, director of Rhyco Risk Projects joined forces for this topic. They say that, due to the urgency and nature of estate security control rooms, as in all security control rooms, constant concentration on surveillance functions places very unique demands on controllers. Controllers are expected to perform effectively on a sustained basis for the duration of a shift, which could last anything from eight to 12 hours.
"One has to understand that there is no single ideal personality profile for an estate security controller; however, we can logically ascertain certain key characteristics and personality traits which could be linked to an ideal candidate, which could in turn produce successful performance," say Lawler and Swart. "Candidates should, ideally, be selected and tested before employment against measurable and auditable criteria."
The main criteria for employment as a security officer, whether on foot patrol or as a control room controller is trust. The candidate needs to be evaluated on the following: firstly, his/her past criminal history, connections to persons within organised crime circles and the evaluator's gut impression as to the candidate's discretion and trustworthiness.
Looking at the ideal candidate, one can divide his/her characteristics in two distinctly separate categories, namely, general characteristics and finer vocational characteristics.
Characteristics
Under general characteristics, emotional stability and the ability to remain composed in urgent circumstances are two of the most important tools in the arsenal of the ideal security control room controller, Lawler and Swart say. Add to that, the controller's tolerance for routine and his ability to persevere in what could potentially be a long and boring shift. His ability to be conscientious and take his responsibilities seriously, while functioning in a structured environment where responsibilities are vitally clear and deviations from standards and procedures are not tolerated, is a deal-breaker for long-term success.
Furthermore, the controller's ability to adapt to, and uphold the social dynamics within the small confined area of the typical control room would also be a key indicator of the ideal candidate. To elaborate on this, look at his respect towards his fellow controllers in terms of his hygiene and general behaviour. For example, the controller who neglects to shower, use deodorant regularly, or use a breath-mint after smoking could cause discomfort amongst his fellow controllers. In terms of behaviour, non-stop idle chatter, constant sniffing or grunting and hand/foot tapping could adversely affect the vigilance of his fellow controllers.
It is obvious, the person who is highly energetic and outgoing, with the need for continual social interaction, would find the control room environment highly frustrating. So too, would those controllers seeking continual excitement and action. It is for this reason that one of the most important questions to be asked when interviewing a control room candidate would be regarding his/her long-term plans for their future.
Lawler and Swart continue that the vocational characteristics ideally portrayed by controllers include situational and special awareness, vigilance, his/her ability to recognise criminal activity and mind-sets, his/her ability to analyse situations and make correct decisions in terms of direct corrective action. Furthermore, he/she needs to be able to make use of the control room security equipment in order to monitor, control, detect, recognise and identify security risks.
Thus, the controller's ability to use and adapt to security technology is very important. For this, you do not need years of experience or a professional body grading, merely an aptitude. (Not that experience and registration would not be an advantage, they definitely are.)
The ideal controller would also have the ability to communicate effectively on all levels as well as over all types of communication media available and he/she should have a firm grasp of the business language used in the business and wider community in which he/she serves.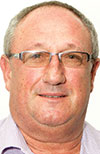 Andre Eckard, GM ORS Training Academy.
Andre Eckard, GM ORS Training Academy, adds that profiling skills should also be taught. "I am of the opinion that all controllers at different sites should receive the same basic training, but localised, specific training is essential to differentiate between sites. The potential candidate must have at least a grade 12 qualification with knowledge of computers and be administratively strong."
He says the following skills are important:
• Good communicator.
• Writing skills.
• Problem solving.
• Good listener.
• Monitoring and analysing skills.
Location specific or general skills
The question of what skills an operator needs also depends on the environment they are in. As noted above, there are certain basic skills required and certain abilities that are essential. However, as each estate has some unique characteristics, each control room will have specific requirements of its various employees.
Eckard agrees that location-specific training is essential to ensure operators meet their client's needs. For one thing, systems in control rooms differ as well as the technology used, therefore specific training is always necessary. "Induction training in terms of processes is very important and is sometimes neglected."
No new candidate will ever walk into a new position knowing everything, although laws, regulations and vocation-specific rules stay the same, control room policy, procedure and guidelines for response will differ from control room to control room, note Lawler and Swart.
"With this in mind, it is always advisable to put time aside for in-house training with regard to the control room policies, procedures and culture. This would assist the new controller in his/her integration into the team as an equal. Job shadowing and time-based supervision of the new candidate would also be a handy indicator as to his/her ability to respond effectively to all situations and thereby giving control room managers comfort as to the controller's individual ability to be independently effective."
They confirm that, although the anatomy of control rooms are similar, each control room is actually a unique entity, merely based upon common standards. We also need to remember that there are three categories of control room and thus their experience will be in either one or a combination of the following:
1. Alarm monitoring control room.
2. Alarm and CCTV incident or event monitoring (this type of control room makes use of an alarm or incident signal where the system alerts the controller. The controller then acts according to a pre-defined action plan or standard operating procedures).
3. CCTV live-stream monitoring (this type of control room requires controllers who can concentrate and monitor a screen vigilantly, and is generally used for shopping centres, retail areas and residential estates).
Controllers with experiences in all the above control rooms are available on the open job market and should, by rights, be able to be integrated into the team with little or no effort.
Security and technology
A control room is not just a bunch of operators operating in isolation. Their actions and decisions impact and are impacted by others, from their supervisors, through to the guards on patrol and the homeowners themselves. Effective security operations will therefore require constant interaction with these other people, who should also be up to speed on the rules and processes that apply in their environment.
In today's environment, this requires more than a radio or a telephone. Being able to use technology effectively is, some would say, a critical requirement to do the job correctly. Eckard believes it is important that personnel with computer literacy skills are recruited. "With that as background, technology training should be included in the induction programme of any new security officer. Refresher training should be done at least once a year to ensure that the security officer is efficient in the use of technology."
"Given the fact that the education system in this country is poor, especially in the disadvantaged communities, control room trainers need to understand that theory-rich training may be the incorrect path to take," note Lawler and Swart. "Most people learn by example and constant repetition, thus, it is vitally important that the training of security officials within the control room environment is done on a constant basis.
"The harsh reality for control room owners is that simply purchasing the latest technology can never increase your level of security. Control rooms rely on human intervention, manipulation and observation, thus, all control room personnel need training on how to appropriately use the hardware and software used by their control room; this prevents the technology from becoming a wasted investment."
Making it stick
A final question when it comes to training is: how does one make sure the training you provide is remembered and applied after people leave the classroom. There is, of course, no simple answer, but Eckard says managers at all levels must ensure that the staff practise what they learned on courses.
He also believes that site knowledge tests, on-the-job training as well as refresher training is an integral part of security operations and should be enforced by all estate managers. "Quality assurance audits should be conducted at least once a year to determine the standard of operations. By doing audits, deficiencies of security officers can be easily identified and rectified by means of proper training. Most important is what the Omega Training Academy focuses on: Training for impact rather than training for activity."
Lawler and Swart believe controllers need to be conversant with the SAIDSA specifications regarding control rooms and the rules and regulations surrounding security issues within the republic.
Furthermore, continual in-house training is still the most favoured and cost-effective method, and includes methods for honing perception, observation skills and knowledge of standard working procedures. This can be achieved by means of bench test scenarios, videos and tests."
For more information, contact:
ORS Training Academy: www.omegasol.com
Rhyco Risk Projects: www.rhms.co.za
Sentinel Risk Management: www.sentinelriskmanagement.com
Credit(s)
Further reading:
What to do in the face of growing ransomware attacks
Technews Publishing Cyber Security Security Services & Risk Management
Ransomware attacks are proliferating, with attackers becoming more sophisticated and aggressive, and often hitting the same victims more than once, in more than one way.
Read more...
---
Where does SA logistics stand as far as cybersecurity is concerned?
Logistics (Industry) Security Services & Risk Management
Lesiba Sebola, director of information technology at Bidvest International Logistics, says it is paramount to safeguard IT infrastructure given how central it has become to operations.
Read more...
---
Fire-fighting force at Vergelegen
Editor's Choice Fire & Safety Residential Estate (Industry)
Vergelegen wine estate in Somerset West, and its neighbours, are set to enjoy greater peace of mind this summer, thanks to the delivery of a brand new fire truck .
Read more...
---
Top fraud trends to watch in 2023
News Security Services & Risk Management
Even though financial concerns remain a significant obstacle for companies in implementing new anti-fraud technologies, 60% of businesses expect an increase in their anti-fraud technology budgets in the next two years.
Read more...
---
Be cautious when receiving deliveries at home
News Perimeter Security, Alarms & Intruder Detection Security Services & Risk Management
Community reports of residents being held up at their gate when collecting fast food deliveries at home are once again surfacing.
Read more...
---
Sasol ensures Zero Trust for SAP financials with bioLock
Technews Publishing Editor's Choice Cyber Security Security Services & Risk Management
Multi-factor authentication, including biometrics, for SAP Financials from realtime North America prevents financial compliance avoidance for Sasol.
Read more...
---
Protecting yourself from DDoS attacks
Cyber Security Security Services & Risk Management
A DDoS attack, when an attacker floods a server or network with Internet traffic to prevent users from accessing connected online services, can be costly in both earnings and reputation.
Read more...
---
Crossing the chasm
Editor's Choice News Security Services & Risk Management Training & Education
Industry reports suggest that in the next ten years, millions of jobs could go unfilled because there simply are not enough people to fill them.
Read more...
---
Records in place now, not later
Editor's Choice Security Services & Risk Management
It is important, after an incident, to have records in place as soon as possible. Too often the matter is left for the day when the company is going to court, or a disciplinary hearing is scheduled.
Read more...
---
Considering cloud downtime insurance?
Arcserve Southern Africa Cyber Security IT infrastructure Security Services & Risk Management
Byron Horn-Botha, business unit head, Arcserve Southern Africa, reveals three vital steps that you must consider to ensure business continuity before you buy insurance.
Read more...
---