printer friendly version
Guarding control with one device
Residential Estate Security Handbook 2016 - Vol 2 Security Services & Risk Management, Residential Estate (Industry)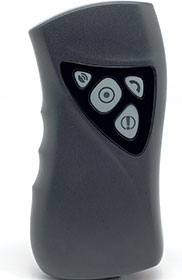 The Active Track is a handheld device engineered to improve the effectiveness of, and control over, internal and outsourced security services. The device offers RFID, GPS and GSM functionalities; panic and silent call functions; and is supported via an online portal and 24-hour call centre.
The device makes life easier and safer for guards on the ground, while providing reporting to the end user who can then effectively make informative decisions in real time. The Active Track unit creates assurance to the user, manager and client as an empowerment tool. The device is tamper-proof and waterproof, with a 24-hour battery life.
Active Track monitors the guard's whereabouts in realtime, and automatically alerts the user and support centre in the event of a missed patrol. In reaction to the alert, the guard will be contacted through the device's silent call function. This allows one to determine why the patrol was missed – namely whether the guard was asleep, carrying out patrols incorrectly, or in a distress situation – and to take the appropriate remedial action.
In addition, various alarm functions are available to the guard to ensure that assistance is provided in the event that safety of life and/or property is threatened or compromised.
From a reporting perspective, automated reports can be generated from the data captured by the device, based on KPIs set by the user. These reports, as well as all patrols and data, can be accessed in realtime through the online portal, making it effortless to monitor guards remotely, at all times.
For more information contact Active Track, +27 (0)11 551 1687, [email protected], www.activetrack.co.za
Credit(s)
Further reading:
South African business readies for a journey to the cloud
Security Services & Risk Management
There is an increasing demand for cloud services in the country, driven by the need to use advanced technologies such as AI while also providing hybrid workers access to data, regardless of their location.
Read more...
---
What to do in the face of growing ransomware attacks
Technews Publishing Cyber Security Security Services & Risk Management
Ransomware attacks are proliferating, with attackers becoming more sophisticated and aggressive, and often hitting the same victims more than once, in more than one way.
Read more...
---
South Africa can accelerate its move to smart cities
Security Services & Risk Management
What global smart city leaders have in common is that they have built on, and developed existing infrastructure, transforming it iteratively; South Africa is well positioned to adopt this approach.
Read more...
---
Where does SA logistics stand as far as cybersecurity is concerned?
Logistics (Industry) Security Services & Risk Management
Lesiba Sebola, director of information technology at Bidvest International Logistics, says it is paramount to safeguard IT infrastructure given how central it has become to operations.
Read more...
---
The Deposita Protector 3000 d-s1
Deposita Security Services & Risk Management
The Protector 3000 d-s1, designed for medium-sized enterprises, improves the level of security at the business and helps optimise resources by streamlining cash-handling processes.
Read more...
---
Fire-fighting force at Vergelegen
Editor's Choice Fire & Safety Residential Estate (Industry)
Vergelegen wine estate in Somerset West, and its neighbours, are set to enjoy greater peace of mind this summer, thanks to the delivery of a brand new fire truck .
Read more...
---
Top fraud trends to watch in 2023
News Security Services & Risk Management
Even though financial concerns remain a significant obstacle for companies in implementing new anti-fraud technologies, 60% of businesses expect an increase in their anti-fraud technology budgets in the next two years.
Read more...
---
Be cautious when receiving deliveries at home
News Perimeter Security, Alarms & Intruder Detection Security Services & Risk Management
Community reports of residents being held up at their gate when collecting fast food deliveries at home are once again surfacing.
Read more...
---
Sasol ensures Zero Trust for SAP financials with bioLock
Technews Publishing Editor's Choice Cyber Security Security Services & Risk Management
Multi-factor authentication, including biometrics, for SAP Financials from realtime North America prevents financial compliance avoidance for Sasol.
Read more...
---
Protecting yourself from DDoS attacks
Cyber Security Security Services & Risk Management
A DDoS attack, when an attacker floods a server or network with Internet traffic to prevent users from accessing connected online services, can be costly in both earnings and reputation.
Read more...
---