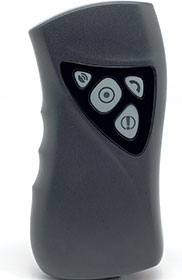 Guarding control with one device
October 2016, Security Services & Risk Management, Residential Estate (Industry)
The Active Track is a handheld device engineered to improve the effectiveness of, and control over, internal and outsourced security services. The device offers RFID, GPS and GSM functionalities; panic and silent call functions; and is supported via an online portal and 24-hour call centre.
The device makes life easier and safer for guards on the ground, while providing reporting to the end user who can then effectively make informative decisions in real time. The Active Track unit creates assurance to the user, manager and client as an empowerment tool. The device is tamper-proof and waterproof, with a 24-hour battery life.
Active Track monitors the guard's whereabouts in realtime, and automatically alerts the user and support centre in the event of a missed patrol. In reaction to the alert, the guard will be contacted through the device's silent call function. This allows one to determine why the patrol was missed – namely whether the guard was asleep, carrying out patrols incorrectly, or in a distress situation – and to take the appropriate remedial action.
In addition, various alarm functions are available to the guard to ensure that assistance is provided in the event that safety of life and/or property is threatened or compromised.
From a reporting perspective, automated reports can be generated from the data captured by the device, based on KPIs set by the user. These reports, as well as all patrols and data, can be accessed in realtime through the online portal, making it effortless to monitor guards remotely, at all times.
For more information contact Active Track, +27 (0)11 551 1687, info@activetrack.co.za, www.activetrack.co.za