printer friendly version
Tools maketh the guard
Residential Estate Security Handbook 2016 - Vol 2 Security Services & Risk Management, Residential Estate (Industry)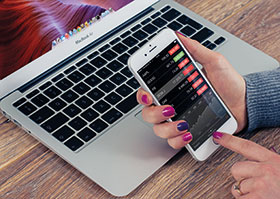 As the role of the guard has changed over the past few years, so too have the tools companies have available to manage and support their guards. These tools are not simply to track guards on their patrols to make sure they go where they are supposed, they also help assure customers their security company is doing its job, and they provide various means of support for the guards.
The simplest tool around that supports guards in their jobs is the panic button. This has been around for years, but today we see its functionality being incorporated into smart devices which have a host of additional functions built in. Hi-Tech Security Solutions spoke to two companies providing tools for guards and other mobile job functions about what their tools do.
Keith Lawrence, CEO of BetaTrac Telematic Solutions believes that technology can certainly assist in better guarding, but workflows and work processes have to be aligned with the technology. It's not a matter of buying a solution and everything then just works.
"The best technology does not help, if the benefits and information provided by the technology are ignored or loopholes are left for management structures to bypass the benefits of said technology," explains Lawrence. "The AIMSS system, for example, has a three-tier notification and reporting schedule, if lower management ignores it the system escalates until it reaches top management."
"By using technology such as GPS tracking on mobile devices, the control room and subsequently management may track guards and show their routes and positions in real time," says Bette Kun, marcoms manager, Econz Wireless. "This applies to patrol officers in cars as well, showing they are in the right places, on time, how long they are stationary and that they are following the required routes.
"This functionality can be extended beyond tracking to provide distance routes taken to ensure there is no misuse of vehicles, and companies will see a subsequently saving on fuel costs. In addition, clock-in and out are standard functions on Econz-enabled mobile devices, including integration into payroll systems, thus eliminating checking hours worked, location etc."
The solutions
Lawrence continues that the AIMSS (Analytical Intelligent Mobile Security Systems) are body-worn systems – which is the current trend in body wearables in the mobile technology space. From armbands to light-weight vests, to composite jackets packed with the likes of GPS and miniature cameras, these are user friendly and become part of the guard's uniform. They also assist with the intelligence gathering function for management reporting systems as the data is constantly being processed on a real-time basis.
AIMSS comes packaged with control room software for onsite monitoring and managing. There are numerous violations plus vital key performance indicators (KPIs), such as low battery, off-line, panic and fallen operator etc.) that the system generates and instantly dispatches an alert. The system also caters for the smaller players that do not have control room facilities, as it communicates via SMS and emails for the necessary support in, for example, a panic situation or when any rules are broken.
"This technology also benefits the guards and their management teams," Lawrence adds. "It creates shared situational analysis and awareness, removing the need for guesswork and speculation. This often assists the guard who has been entrusted with securing and patrolling valuable assets. The ability to easily request external assistance during crisis events adds to the security of the guarding personnel."
With Econz Wireless Timecard solutions, the whole estate can be captured on your customised system. Kun says this then allows the estate supervisor to track guards on their rounds, check if they are in the right place at the right time, and show estate management nearly 30 different management reports relating to time and attendance, breadcrumb trails, smart fencing, team clock in for up to 45 guards per team. Photo and signature ID comes standard with Timecard GPS, and customer customisation is offered."
She adds that an additional benefit is that labour disputes over pay, hours worked, location and so forth have already been used in the Labour Court and the clear and undeniable proof from Econz systems have resulted in findings in favour of the employer.
These are only two of the tools available for estates (and a variety of other markets) that are used to manage and support guards and management, ensuring the guarding processes is carried out in adherence to the customer's requirements.
For more information, contact:
Keith Lawrence, BetaTrac Telematic Solutions, +27 (0)11 782 5335, [email protected], www.betatrac.com
Bette Kun, Econz Wireless, +27 (0)82 576 9739, [email protected], www.econz.co.za
Credit(s)
Further reading:
Employee screening trends
iFacts Security Services & Risk Management
Criminal record checks still the most popular background check conducted around the world, but global employee screening trends are changing according to iFacts.
Read more...
---
South African business readies for a journey to the cloud
Security Services & Risk Management
There is an increasing demand for cloud services in the country, driven by the need to use advanced technologies such as AI while also providing hybrid workers access to data, regardless of their location.
Read more...
---
What to do in the face of growing ransomware attacks
Technews Publishing Cyber Security Security Services & Risk Management
Ransomware attacks are proliferating, with attackers becoming more sophisticated and aggressive, and often hitting the same victims more than once, in more than one way.
Read more...
---
South Africa can accelerate its move to smart cities
Security Services & Risk Management
What global smart city leaders have in common is that they have built on, and developed existing infrastructure, transforming it iteratively; South Africa is well positioned to adopt this approach.
Read more...
---
Where does SA logistics stand as far as cybersecurity is concerned?
Logistics (Industry) Security Services & Risk Management
Lesiba Sebola, director of information technology at Bidvest International Logistics, says it is paramount to safeguard IT infrastructure given how central it has become to operations.
Read more...
---
The Deposita Protector 3000 d-s1
Deposita Security Services & Risk Management
The Protector 3000 d-s1, designed for medium-sized enterprises, improves the level of security at the business and helps optimise resources by streamlining cash-handling processes.
Read more...
---
Fire-fighting force at Vergelegen
Editor's Choice Fire & Safety Residential Estate (Industry)
Vergelegen wine estate in Somerset West, and its neighbours, are set to enjoy greater peace of mind this summer, thanks to the delivery of a brand new fire truck .
Read more...
---
Top fraud trends to watch in 2023
News Security Services & Risk Management
Even though financial concerns remain a significant obstacle for companies in implementing new anti-fraud technologies, 60% of businesses expect an increase in their anti-fraud technology budgets in the next two years.
Read more...
---
Be cautious when receiving deliveries at home
News Perimeter Security, Alarms & Intruder Detection Security Services & Risk Management
Community reports of residents being held up at their gate when collecting fast food deliveries at home are once again surfacing.
Read more...
---
Sasol ensures Zero Trust for SAP financials with bioLock
Technews Publishing Editor's Choice Cyber Security Security Services & Risk Management
Multi-factor authentication, including biometrics, for SAP Financials from realtime North America prevents financial compliance avoidance for Sasol.
Read more...
---