printer friendly version
Tools maketh the guard
Residential Estate Security Handbook 2016 - Vol 2 Security Services & Risk Management, Residential Estate (Industry)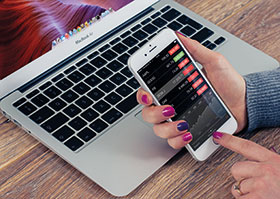 As the role of the guard has changed over the past few years, so too have the tools companies have available to manage and support their guards. These tools are not simply to track guards on their patrols to make sure they go where they are supposed, they also help assure customers their security company is doing its job, and they provide various means of support for the guards.
The simplest tool around that supports guards in their jobs is the panic button. This has been around for years, but today we see its functionality being incorporated into smart devices which have a host of additional functions built in. Hi-Tech Security Solutions spoke to two companies providing tools for guards and other mobile job functions about what their tools do.
Keith Lawrence, CEO of BetaTrac Telematic Solutions believes that technology can certainly assist in better guarding, but workflows and work processes have to be aligned with the technology. It's not a matter of buying a solution and everything then just works.
"The best technology does not help, if the benefits and information provided by the technology are ignored or loopholes are left for management structures to bypass the benefits of said technology," explains Lawrence. "The AIMSS system, for example, has a three-tier notification and reporting schedule, if lower management ignores it the system escalates until it reaches top management."
"By using technology such as GPS tracking on mobile devices, the control room and subsequently management may track guards and show their routes and positions in real time," says Bette Kun, marcoms manager, Econz Wireless. "This applies to patrol officers in cars as well, showing they are in the right places, on time, how long they are stationary and that they are following the required routes.
"This functionality can be extended beyond tracking to provide distance routes taken to ensure there is no misuse of vehicles, and companies will see a subsequently saving on fuel costs. In addition, clock-in and out are standard functions on Econz-enabled mobile devices, including integration into payroll systems, thus eliminating checking hours worked, location etc."
The solutions
Lawrence continues that the AIMSS (Analytical Intelligent Mobile Security Systems) are body-worn systems – which is the current trend in body wearables in the mobile technology space. From armbands to light-weight vests, to composite jackets packed with the likes of GPS and miniature cameras, these are user friendly and become part of the guard's uniform. They also assist with the intelligence gathering function for management reporting systems as the data is constantly being processed on a real-time basis.
AIMSS comes packaged with control room software for onsite monitoring and managing. There are numerous violations plus vital key performance indicators (KPIs), such as low battery, off-line, panic and fallen operator etc.) that the system generates and instantly dispatches an alert. The system also caters for the smaller players that do not have control room facilities, as it communicates via SMS and emails for the necessary support in, for example, a panic situation or when any rules are broken.
"This technology also benefits the guards and their management teams," Lawrence adds. "It creates shared situational analysis and awareness, removing the need for guesswork and speculation. This often assists the guard who has been entrusted with securing and patrolling valuable assets. The ability to easily request external assistance during crisis events adds to the security of the guarding personnel."
With Econz Wireless Timecard solutions, the whole estate can be captured on your customised system. Kun says this then allows the estate supervisor to track guards on their rounds, check if they are in the right place at the right time, and show estate management nearly 30 different management reports relating to time and attendance, breadcrumb trails, smart fencing, team clock in for up to 45 guards per team. Photo and signature ID comes standard with Timecard GPS, and customer customisation is offered."
She adds that an additional benefit is that labour disputes over pay, hours worked, location and so forth have already been used in the Labour Court and the clear and undeniable proof from Econz systems have resulted in findings in favour of the employer.
These are only two of the tools available for estates (and a variety of other markets) that are used to manage and support guards and management, ensuring the guarding processes is carried out in adherence to the customer's requirements.
For more information, contact:
Keith Lawrence, BetaTrac Telematic Solutions, +27 (0)11 782 5335, keith.lawrence@betatrac.com, www.betatrac.com
Bette Kun, Econz Wireless, +27 (0)82 576 9739, bette@econz.com, www.econz.co.za
Credit(s)
Further reading:
Three new portable power stations to ease load shedding
News Security Services & Risk Management Products
EcoFlow has launched three portable power stations that provide sufficient power for consumers wherever they are; the DELTA 2 and RIVER 2 Series are feature-filled power solutions to the volatile electricity supply.
Read more...
---
You cannot bribe a computer
Access Control & Identity Management Security Services & Risk Management
Corruption is a cancer that destroys the prospects and stability of countries and businesses. It widens wealth gaps and punishes the poor. It costs countries many billions in lost revenue.
Read more...
---
How much protection does cyber insurance really give businesses?
Cyber Security Security Services & Risk Management
If organisations don't meet even the minimum requirements of security and data protection, insurance will do them little good. Instead, it needs to be just one part of the digital resiliency toolbox.
Read more...
---
Off-grid power solution for residential estate
Editor's Choice Security Services & Risk Management Residential Estate (Industry) Products
Coral Beach Estate, an upmarket residential estate based in East London, has been struggling with load shedding and power outages due to South Africa's energy crisis, as well as the vandalism of its power infrastructure.
Read more...
---
SafeCity Guarding rolls out across 14 suburbs in Johannesburg
News Security Services & Risk Management
In a major drive to provide communities across Johannesburg with additional safety, Vumacam, in partnership with Fidelity ADT and other security providers across the region, rolled out the innovative SafeCity Guarding initiative in 14 suburbs.
Read more...
---
FleetDomain underpins Afrirent's value proposition
Logistics (Industry) Security Services & Risk Management
Afrirent, a 100% female black-owned fleet management company, has been relying on FleetDomain software for a number of years to help it deliver outstanding service to a growing number of clients.
Read more...
---
Choosing an inferior lithium battery can be detrimental and unsafe
Uniross Batteries Security Services & Risk Management Products
South Africans looking to mitigate the impact of load shedding by installing a solar system for their home must do so through an accredited installer or electrician to avoid insurance claims being rejected.
Read more...
---
Employee screening, a hiring necessity or an invasion of privacy?
Security Services & Risk Management
There is a fine line between checking a potential employee's qualifications and references, and investigating aspects of their lives that have nothing to do with their job application.
Read more...
---
Keeping students, staff and communities safe
Vumacam News CCTV, Surveillance & Remote Monitoring Security Services & Risk Management
South African schools are facing increasing security challenges, making effective surveillance systems more important than ever. To address this issue, Vumacam is offering advanced security solutions with security partners, aimed at keeping students, staff, and the community safe.
Read more...
---
Technology is key to securing physical and cybersecurity
Education (Industry) Security Services & Risk Management
The interpretation of security in educational institutions depends on whom you are talking to and whether their focus is on the physical security of the institution, its assets and its people, or its information and communication technology perspective.
Read more...
---