printer friendly version
Tools maketh the guard
Residential Estate Security Handbook 2016 - Vol 2 Security Services & Risk Management, Residential Estate (Industry)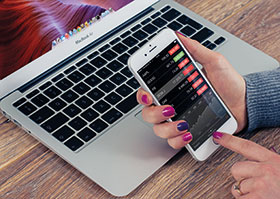 As the role of the guard has changed over the past few years, so too have the tools companies have available to manage and support their guards. These tools are not simply to track guards on their patrols to make sure they go where they are supposed, they also help assure customers their security company is doing its job, and they provide various means of support for the guards.
The simplest tool around that supports guards in their jobs is the panic button. This has been around for years, but today we see its functionality being incorporated into smart devices which have a host of additional functions built in. Hi-Tech Security Solutions spoke to two companies providing tools for guards and other mobile job functions about what their tools do.
Keith Lawrence, CEO of BetaTrac Telematic Solutions believes that technology can certainly assist in better guarding, but workflows and work processes have to be aligned with the technology. It's not a matter of buying a solution and everything then just works.
"The best technology does not help, if the benefits and information provided by the technology are ignored or loopholes are left for management structures to bypass the benefits of said technology," explains Lawrence. "The AIMSS system, for example, has a three-tier notification and reporting schedule, if lower management ignores it the system escalates until it reaches top management."
"By using technology such as GPS tracking on mobile devices, the control room and subsequently management may track guards and show their routes and positions in real time," says Bette Kun, marcoms manager, Econz Wireless. "This applies to patrol officers in cars as well, showing they are in the right places, on time, how long they are stationary and that they are following the required routes.
"This functionality can be extended beyond tracking to provide distance routes taken to ensure there is no misuse of vehicles, and companies will see a subsequently saving on fuel costs. In addition, clock-in and out are standard functions on Econz-enabled mobile devices, including integration into payroll systems, thus eliminating checking hours worked, location etc."
The solutions
Lawrence continues that the AIMSS (Analytical Intelligent Mobile Security Systems) are body-worn systems – which is the current trend in body wearables in the mobile technology space. From armbands to light-weight vests, to composite jackets packed with the likes of GPS and miniature cameras, these are user friendly and become part of the guard's uniform. They also assist with the intelligence gathering function for management reporting systems as the data is constantly being processed on a real-time basis.
AIMSS comes packaged with control room software for onsite monitoring and managing. There are numerous violations plus vital key performance indicators (KPIs), such as low battery, off-line, panic and fallen operator etc.) that the system generates and instantly dispatches an alert. The system also caters for the smaller players that do not have control room facilities, as it communicates via SMS and emails for the necessary support in, for example, a panic situation or when any rules are broken.
"This technology also benefits the guards and their management teams," Lawrence adds. "It creates shared situational analysis and awareness, removing the need for guesswork and speculation. This often assists the guard who has been entrusted with securing and patrolling valuable assets. The ability to easily request external assistance during crisis events adds to the security of the guarding personnel."
With Econz Wireless Timecard solutions, the whole estate can be captured on your customised system. Kun says this then allows the estate supervisor to track guards on their rounds, check if they are in the right place at the right time, and show estate management nearly 30 different management reports relating to time and attendance, breadcrumb trails, smart fencing, team clock in for up to 45 guards per team. Photo and signature ID comes standard with Timecard GPS, and customer customisation is offered."
She adds that an additional benefit is that labour disputes over pay, hours worked, location and so forth have already been used in the Labour Court and the clear and undeniable proof from Econz systems have resulted in findings in favour of the employer.
These are only two of the tools available for estates (and a variety of other markets) that are used to manage and support guards and management, ensuring the guarding processes is carried out in adherence to the customer's requirements.
For more information, contact:
Keith Lawrence, BetaTrac Telematic Solutions, +27 (0)11 782 5335, keith.lawrence@betatrac.com, www.betatrac.com
Bette Kun, Econz Wireless, +27 (0)82 576 9739, bette@econz.com, www.econz.co.za
Credit(s)
Further reading:
Ransomware predictions
Issue 1 2020 , Security Services & Risk Management
As we enter a new decade, Simon Jelley, VP of product management at Veritas, explores how ransomware is likely to continue evolving in the year ahead.
Read more...
---
The HR environment in 2020
Issue 1 2020, iFacts , Security Services & Risk Management
As 2020 grabs hold of every one of us with great intent, we need to know what to be aware of when employing people or appointing vendors for our business.
Read more...
---
The instruments for investigation
Issue 1 2020, Technews Publishing , Security Services & Risk Management
Regardless of the reason for investigation, the investigation is only as good as the investigators.
Read more...
---
Nothing holds Eudricht back
Issue 1 2020, Sensor Security Systems , Security Services & Risk Management
In this personality profile, Eudricht Kotze talks of his journey overcoming adversity in the security industry.
Read more...
---
Leaders in risk and security: You have to know it to manage it
Issue 1 2020, Technews Publishing , Security Services & Risk Management
Hi-Tech Security Solutions profiles Nash Lutchman, Senior Vice President and Head of Protection Services at Sibanye-Stillwater.
Read more...
---
Track and trace vehicles in estates
Issue 1 2020, Betatrac Telematic Solutions , Commercial (Industry)
eTrac provides a solution to tracking courier, contractor and visitor vehicles within housing and commercial estates using live real-time monitoring software and AI.
Read more...
---
Drilling deeper into essential building management systems
Issue 1 2020 , Security Services & Risk Management
As the demand for the automation of security and other systems in buildings and large construction sites around the world grows, we are seeing an increase in the demand for building management systems.
Read more...
---
From physical security to cybersecurity
Access & Identity Management Handbook 2020, Genetec , Cyber Security, Security Services & Risk Management
Genetec discusses the security-of-security concept as a means to protect cameras, door controllers and other physical security devices and systems against cybercriminal activity.
Read more...
---
Biometrics in identity
Access & Identity Management Handbook 2020 , Access Control & Identity Management, Security Services & Risk Management
With multiple identity providers offering to manage digital identities for the general public, the root identity – the single sovereign trusted identity upon which all others are based – must start with government.
Read more...
---
Success lies in planning
November 2019, Vox Telecom , Security Services & Risk Management
A safe and smart city will only be successful if it is planned properly, if there is buy-in from all the stakeholders and if it is managed efficiently.
Read more...
---