printer friendly version
Tools maketh the guard
October 2016 Security Services & Risk Management, Residential Estate (Industry)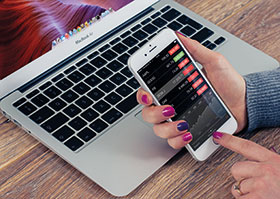 As the role of the guard has changed over the past few years, so too have the tools companies have available to manage and support their guards. These tools are not simply to track guards on their patrols to make sure they go where they are supposed, they also help assure customers their security company is doing its job, and they provide various means of support for the guards.
The simplest tool around that supports guards in their jobs is the panic button. This has been around for years, but today we see its functionality being incorporated into smart devices which have a host of additional functions built in. Hi-Tech Security Solutions spoke to two companies providing tools for guards and other mobile job functions about what their tools do.
Keith Lawrence, CEO of BetaTrac Telematic Solutions believes that technology can certainly assist in better guarding, but workflows and work processes have to be aligned with the technology. It's not a matter of buying a solution and everything then just works.
"The best technology does not help, if the benefits and information provided by the technology are ignored or loopholes are left for management structures to bypass the benefits of said technology," explains Lawrence. "The AIMSS system, for example, has a three-tier notification and reporting schedule, if lower management ignores it the system escalates until it reaches top management."
"By using technology such as GPS tracking on mobile devices, the control room and subsequently management may track guards and show their routes and positions in real time," says Bette Kun, marcoms manager, Econz Wireless. "This applies to patrol officers in cars as well, showing they are in the right places, on time, how long they are stationary and that they are following the required routes.
"This functionality can be extended beyond tracking to provide distance routes taken to ensure there is no misuse of vehicles, and companies will see a subsequently saving on fuel costs. In addition, clock-in and out are standard functions on Econz-enabled mobile devices, including integration into payroll systems, thus eliminating checking hours worked, location etc."
The solutions
Lawrence continues that the AIMSS (Analytical Intelligent Mobile Security Systems) are body-worn systems – which is the current trend in body wearables in the mobile technology space. From armbands to light-weight vests, to composite jackets packed with the likes of GPS and miniature cameras, these are user friendly and become part of the guard's uniform. They also assist with the intelligence gathering function for management reporting systems as the data is constantly being processed on a real-time basis.
AIMSS comes packaged with control room software for onsite monitoring and managing. There are numerous violations plus vital key performance indicators (KPIs), such as low battery, off-line, panic and fallen operator etc.) that the system generates and instantly dispatches an alert. The system also caters for the smaller players that do not have control room facilities, as it communicates via SMS and emails for the necessary support in, for example, a panic situation or when any rules are broken.
"This technology also benefits the guards and their management teams," Lawrence adds. "It creates shared situational analysis and awareness, removing the need for guesswork and speculation. This often assists the guard who has been entrusted with securing and patrolling valuable assets. The ability to easily request external assistance during crisis events adds to the security of the guarding personnel."
With Econz Wireless Timecard solutions, the whole estate can be captured on your customised system. Kun says this then allows the estate supervisor to track guards on their rounds, check if they are in the right place at the right time, and show estate management nearly 30 different management reports relating to time and attendance, breadcrumb trails, smart fencing, team clock in for up to 45 guards per team. Photo and signature ID comes standard with Timecard GPS, and customer customisation is offered."
She adds that an additional benefit is that labour disputes over pay, hours worked, location and so forth have already been used in the Labour Court and the clear and undeniable proof from Econz systems have resulted in findings in favour of the employer.
These are only two of the tools available for estates (and a variety of other markets) that are used to manage and support guards and management, ensuring the guarding processes is carried out in adherence to the customer's requirements.
For more information, contact:
Keith Lawrence, BetaTrac Telematic Solutions, +27 (0)11 782 5335, keith.lawrence@betatrac.com, www.betatrac.com
Bette Kun, Econz Wireless, +27 (0)82 576 9739, bette@econz.com, www.econz.co.za
Credit(s)
Further reading:
Why rehearsals and drills for crises and evacuation are so important
August 2019, Leaderware , CCTV, Surveillance & Remote Monitoring, Security Services & Risk Management
The rehearsal of concept (ROC) drill has been used extensively in the military, but is just as important when facing risks in organisations and institutions to protect people on the ground.
Read more...
---
24-hour emergency response for staff
August 2019 , News, Security Services & Risk Management
The FirstRand Group has partnered with PanicGuard to create a 24-hour emergency response programme for staff.
Read more...
---
Keeping our changing environment secure
August 2019 , Editor's Choice, Security Services & Risk Management
For a crime to take place there needs to be a victim and a criminal who sees an opportunity. For a cybercrime to take place we need the same set of circumstances.
Read more...
---
The importance of real security risk assessments
August 2019, Sentinel Risk Management , Editor's Choice, Security Services & Risk Management, Residential Estate (Industry)
Andy Lawler, MD, Sentinel Risk Management, says a security risk assessment is an onerous task, but is not something estates can consider optional or a luxury item anymore.
Read more...
---
Risk assessment or product placement?
August 2019, Technews Publishing, Alwinco, SMC - Security Management Consultants , Editor's Choice, Security Services & Risk Management, Residential Estate (Industry)
Hi-tech security solutions asked a couple of experts to provide estate managers and security managers with some insights into what a 'real' risk assessment includes.
Read more...
---
How far are we really at with artificial intelligence?
August 2019, Axis Communications SA , Editor's Choice, CCTV, Surveillance & Remote Monitoring, IT infrastructure, Residential Estate (Industry)
Justin Ludik unpacks exactly how far AI has come and what it potentially can do for society and more importantly, surveillance.
Read more...
---
More than simply a camera
August 2019, Forbatt SA, Secutel Technologies , CCTV, Surveillance & Remote Monitoring, Residential Estate (Industry)
With the human element being the weakest link in all security solutions, Hi-Tech Security Solutions looks at the pros and cons of using body-worn cameras in estates.
Read more...
---
Residential security – caveat emptor
August 2019, Stafix , Integrated Solutions, Security Services & Risk Management
When it comes to improving your property's security, make sure you take all the options into account as you build a layered approach to keeping people safe and assets secured.
Read more...
---
The importance of effective perimeter security
August 2019, Elf Rentals - Electronic Security Solutions, Stafix , Editor's Choice, CCTV, Surveillance & Remote Monitoring, Residential Estate (Industry)
Protecting the perimeter is critical for any residential estate; how does one go about making sure your perimeter is as secure as possible?
Read more...
---
Security playing speedcop
August 2019, Axis Communications SA, Hikvision South Africa , CCTV, Surveillance & Remote Monitoring, Residential Estate (Industry)
Estates now have a legal precedent to manage their traffic and fine people in the estate for violations of the rules; all they need do is find solutions that will support them.
Read more...
---