printer friendly version
Pooches on patrol
Residential Estate Security Handbook 2016 - Vol 2 Residential Estate (Industry), Security Services & Risk Management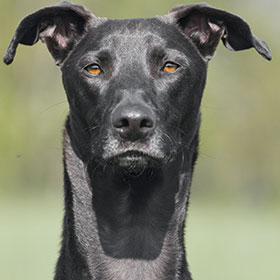 While most estates look to technology and security officers to deliver the security they desire, there is a growing trend to using dogs as a support to the much-maligned guard on patrol. Having a trained guard dog to accompany and assist security officers in their duties has been shown to reduce crime even more than having guards patrolling on their own.
The reason is logical. A dog's senses are far more acute than humans and are able to pick up people hiding away easier than a person would, even in the dark of night. Dogs are therefore more proactive as a security deterrent than people or technology. According to Annette van Rensburg, a trainer and provider of security dogs, the dogs also support their guarding humans by providing a companion when they go into areas they may otherwise be fearful of.
With a dog on site, any activity happening in the vicinity will be noticed, most often before anyone else is aware that anything is wrong. Of course, putting dogs on patrol is not simply a matter of making a trip to the pet shop and buying a few cute mutts.
Security dogs need to be trained properly for their jobs, and the security officers who will be taking care of them also need to be trained in how to handle and take care of their companions. This includes feeding, attention and kennelling, as well as working together while on the beat.
Profiling pooch personalities
Van Rensburg started training security dogs in 1985 as a hobby and has seen her hobby become a business that grows every year as more organisations and estates realise the benefits of adding dogs to their security operations. The business of training and providing security dogs is not that easy, however, one must carefully select dogs suitable for the task and ensure they have the right profile to be guards.
Due to the lack of skills with respect to training and looking after dogs, Van Rensburg rents dogs to security operations over a number of years. She says organisations that only need a few dogs, between one and five for example, will find it easier and more cost effective to rent them. Part of the rental process in Van Rensburg's company is training guards to care for their dogs, and her team visits the dogs regularly to check their kennels, health and to bring them food.
The rental option also supports the high staff turnover in the South African security industry, it allows dogs to be teamed with more than one person over their working life. This turnover is different to other countries, in Europe for example, where humans and dogs are paired for many years as both see their security role as a career rather than a stepping-stone.
This also restricts the type of dogs Van Rensburg trains, as some dogs bond with only one person (such as Boerbulls), while others can switch allegiance to a new companion (such as Rottweilers or German Sheppards).
Dogs are a cost-effective way to increase your security officers' situational awareness as well as their effectiveness in securing an estate, and they provide support to their human companions while out on patrol. An ever-growing number of estates are opting to add canine guards to their payroll as an additional preventative measure that is alert and aware of things, and able to raise the alarm long before humans are able to realise anything may be out of the ordinary.
For more information contact Annette van Rensburg, Security Dogs, +27 (0)11 804 1976, [email protected]
Further reading:
What to do in the face of growing ransomware attacks
Technews Publishing Cyber Security Security Services & Risk Management
Ransomware attacks are proliferating, with attackers becoming more sophisticated and aggressive, and often hitting the same victims more than once, in more than one way.
Read more...
---
Where does SA logistics stand as far as cybersecurity is concerned?
Logistics (Industry) Security Services & Risk Management
Lesiba Sebola, director of information technology at Bidvest International Logistics, says it is paramount to safeguard IT infrastructure given how central it has become to operations.
Read more...
---
Fire-fighting force at Vergelegen
Editor's Choice Fire & Safety Residential Estate (Industry)
Vergelegen wine estate in Somerset West, and its neighbours, are set to enjoy greater peace of mind this summer, thanks to the delivery of a brand new fire truck .
Read more...
---
Top fraud trends to watch in 2023
News Security Services & Risk Management
Even though financial concerns remain a significant obstacle for companies in implementing new anti-fraud technologies, 60% of businesses expect an increase in their anti-fraud technology budgets in the next two years.
Read more...
---
Be cautious when receiving deliveries at home
News Perimeter Security, Alarms & Intruder Detection Security Services & Risk Management
Community reports of residents being held up at their gate when collecting fast food deliveries at home are once again surfacing.
Read more...
---
Sasol ensures Zero Trust for SAP financials with bioLock
Technews Publishing Editor's Choice Cyber Security Security Services & Risk Management
Multi-factor authentication, including biometrics, for SAP Financials from realtime North America prevents financial compliance avoidance for Sasol.
Read more...
---
Protecting yourself from DDoS attacks
Cyber Security Security Services & Risk Management
A DDoS attack, when an attacker floods a server or network with Internet traffic to prevent users from accessing connected online services, can be costly in both earnings and reputation.
Read more...
---
Crossing the chasm
Editor's Choice News Security Services & Risk Management Training & Education
Industry reports suggest that in the next ten years, millions of jobs could go unfilled because there simply are not enough people to fill them.
Read more...
---
Records in place now, not later
Editor's Choice Security Services & Risk Management
It is important, after an incident, to have records in place as soon as possible. Too often the matter is left for the day when the company is going to court, or a disciplinary hearing is scheduled.
Read more...
---
Considering cloud downtime insurance?
Arcserve Southern Africa Cyber Security IT infrastructure Security Services & Risk Management
Byron Horn-Botha, business unit head, Arcserve Southern Africa, reveals three vital steps that you must consider to ensure business continuity before you buy insurance.
Read more...
---