printer friendly version
Doing city surveillance right
February 2013
CCTV, Surveillance & Remote Monitoring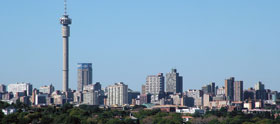 CBD and city surveillance often provides the route map for residential security installations. By modelling the design of these large systems, successful elements are adapted to suit the needs of residential estates. So what makes these installations so successful? Hi-Tech Security Solutions spoke to four industry players to uncover what they consider best practice.
Gary Cowper-Johnson, MD of Afrisec, said that four requirements are necessary for a successful CBD and city surveillance system. "Foremost is the physical design and installation of cameras, followed by the process to be followed for their installation and commissioning. This involves designing a dedicated security (CCTV and access control) network, with dedicated switches just for security, that has the capacity to expand as the system grows. SANS 10222-5-1-4 is the stipulated standard for the installation of all surveillance cameras in South Africa and provides the guidelines for the objective testing of the cameras, using Rotakin as an accepted performance standard. Together with the end-user, one needs to define the operational requirements for individual cameras for day and night-time monitoring and clearly indicate to the service provider and operator exactly what is required from each camera.
"Secondly, one should ensure that the service provider is PSIRA registered and accredited in the technology to be installed. The control room needs to be reliant on statistical analysis of footage through data mining of events and licence plate recognition.
"Finally, the service provider should provide the end-user with a proper code of practice for the control room. "
Matching the camera to the requirement
Roy Alves, country manager for Axis Communications SA, highlighted the importance of matching the camera to the specific installation, location and need. "Wireless cameras are ideal for strategic placement in less accessible areas. A fixed day/night camera that operates in low-light conditions with infrared cut-out filters and a wide dynamic range, coupled with a zoom camera, provides perfect coverage for hotspots and parking lots."
Pasco Lattuca, a director of Security Warehouse, said that it is important to adopt different approaches for city centre and perimeter surveillance. "With regard to city surveillance it is important to monitor the movement of people and gain an understanding of syndicates that may be operating in the area.
"Licence plate recognition (LPR) cameras are fast gaining popularity and are useful not only to identify stolen vehicles, but to also assist metropolitan traffic divisions with tracking vehicles on which fines are outstanding," added Lattuca.
He said video analytics will play an important role in determining when people have been loitering in an area or if the volume of people in an area is simply too high.
"Currently, surveillance is the primary mode of security within CBDs and city centres, but access control will become more popular in the future. This will allow control rooms not only to monitor the movement of loiterers, but also to restrict the flow of specific people and traffic into the area," he said.
Access control
"Access control can be seen as a confirmation of surveillance and can be used to effectively cordon off specific areas for business or pleasure, in the process eliminating the influx of vagrants or loiterers. By integrating these two modes, with the inclusion of beams, biometrics and electric fencing, one would achieve the definitive CBD/city security," Lattuca continued. "Ultimately, the sophistication and functionality of a system is determined by the competency and understanding of the people proposing the installation."
Alves is of the opinion that the best technology to use in CBD and city surveillance is high-definition at full frame rate, for high-quality image capturing. "The camera should ideally be able to store data directly, providing full redundancy if there is a problem in the control room. In addition, it is preferable to have the cameras equipped with an alarm system which will be activated, with a relay to the control room, should a criminal try to tamper with or damage the camera."
Cowper-Johnson, on the other hand, believes that one can still effectively use PTZ analogue cameras converted onto an IP network. "These cameras are great for outdoor light conditions day/night-time use. We have very successfully deployed a number of thermal cameras on the Port Elizabeth beachfront, where they are used to monitor distress events at sea and to provide footage on perlemoen poaching operations."
Lattuca said that a new trend is the deployment of LADAR (laser radar) technology, which uses laser beams to scan and process the signal echoed from targets, to create a virtual picture of the area. Popularly used for weapons technology, the LADAR processor looks for familiar patterns in the scenes then continuously compares these patterns with 3D targets files stored in the weapon's (or camera's) memory. Due to its ability to scan large areas with very high precision, and its ability to gradually build a detailed picture of the area under surveillance, LADAR sensors are usually employed on loitering systems, which can look at the target from different angles.
Alves summarised the important points to consider when adopting city or CBD surveillance. "Better image quality is important and can be achieved using facial recognition and licence plate recognition for irrefutable evidence in court. One needs to use reliable products, which may cost more than the substandard cheapies, but which will reduce maintenance costs.
"One needs a mechanism that automatically alerts the control room as to whether the camera has focusing or other technical issues. Together with an investment in the maintenance and upkeep of equipment, this will provide the end user with seamless and sustainable operation over many years. Finally, it is critical to use suitably qualified and accredited installers and to train your operators to react appropriately and quickly to events," he concluded.
Cases in point
Alves said that Axis has been involved in supplying product to a number of municipal districts to monitor the movements of loiterers. "Using the system as a proactive mechanism, they are able to trigger an alarm, which then results in the deployment of an armed response team.
"In Port Elizabeth we have added further value to the system by using mobile surveillance trailers and a mobile surveillance vehicle fitted with thermal and day/night cameras, which are very effective for copper and stock theft. In addition, they were used to relay footage during recent flooding and they have been very effective in helping the authorities to apprehend people involved in illegal toxic waste material dumping activities.
"The uptake of technology, that is, licence plate recognition for traffic monitoring in Port Elizabeth, has been so positive that we will be extending it to residential areas, both affluent and in the townships, to help counter criminal activities," Cowper-Johnson added.
Lattuca said that the company had been involved in the CBD and highway periphery at Mohale City in Krugersdorp. "We installed a number of thermal cameras which are used to identify people sleeping in the vicinity. We have found that utilising a thermal imaging camera mounted on a vehicle has proved to be optimal from the perspective of faster deployment and cost effectiveness.
"We were also involved in providing a security system, comprising electric fencing and three high-speed thermal imaging cameras for a residential surveillance system at Meyersdal in Gauteng. Our project for the inner areas of Rustenburg comprised high-speed dome cameras, which were required to provide good imaging around the clock. The cameras are used to provide demographics on the pedestrians and vehicles within the area. We subcontract data analysis to a specialist company that provides behavioural studies, which help to identify syndicates operating in the area," Lattuca explained.
Dean Sichelschmidt, technical director at Natech Universal Technology, said that Italy's largest metro system, located in Rome, was concerned with potentially harmful abandoned objects at its individual stations similar to those used in the attacks in London in 2005. "The major concern was that even the most effective guard may become distracted and miss an abandoned object left in a critical zone."
It was determined that many of the existing cameras and CCTV infrastructure could be preserved and used with Arteco IVS. Its background calibration parameter allows the Arteco IVS to accurately detect abandoned objects in the presence of heavy interference (movement) and objects that may be partially blocked by permanent structures (rubbish bins, benches, pillars). The system is currently installed in 15 different stations of the Rome Metro, each with 16 cameras.
Credit(s)
Further reading:
AI technology to empower vertical markets
Dahua Technology South Africa Mining (Industry) CCTV, Surveillance & Remote Monitoring Products
Dahua WizMind is a full portfolio of solutions comprising project-oriented products that use deep learning algorithms to provide more business value to its global customers and deliver reliable and comprehensive AI solutions for vertical markets.
Read more...
---
From the editor's desk: Get Smart
Technews Publishing News
Welcome to the fourth issue of Hi-Tech Security Solutions for 2023, which is also the first issue of Smart Security Solutions. As noted in previous issues, Hi-Tech Security Solutions has been rebranded to Smart Security Solutions.
Read more...
---
Elvey partners with HALO
Elvey Security Technologies News CCTV, Surveillance & Remote Monitoring
Elvey Group has partnered with HALO Europe to provide Africa's first body-worn solution with zero upfront costs. This includes an IP68-certified body camera and a 4G-connected device.
Read more...
---
Success in business process best practices
Technews Publishing Kleyn Change Management Editor's Choice Integrated Solutions Security Services & Risk Management
This month we commandeer time with the woman who is spearheading our national conversation on Women in Security, Lesley-Anne Kleyn, to get to know the lady herself a little better.
Read more...
---
Regal announces new partnership
Regal Distributors SA CCTV, Surveillance & Remote Monitoring
Having a bird's eye view of your surveillance data, with the capability to drill down to the details obtained via connected security solutions, is a game changer for security operators, companies and even officers on the ground.
Read more...
---
Invisible connection and tangible protection via cloud
Dahua Technology South Africa Perimeter Security, Alarms & Intruder Detection CCTV, Surveillance & Remote Monitoring Products
Dahua Technology has launched its AirShield security solution that uses advanced, stable and reliable RF communication technology and cloud services, integrating alarm hubs, various detectors and accessories, with several software apps.
Read more...
---
Smart Security Solutions
Technews Publishing Products
Stop by the Smart Security Solutions stand at Securex and discover the new rebranded Hi-Tech Security Solutions. Given the realities in the market we face today, effective security is no longer a silo ...
Read more...
---
Hikvision expands solar-powered solutions
CCTV, Surveillance & Remote Monitoring Products
Hikvision is offering a portfolio of solar solutions, the 4G solar-powered camera kit, a wireless bridge, and mobile solar security tower solutions to assist in keeping remote and isolated areas safe in a simple, practical, and cost-effective way.
Read more...
---
How international cloud trends impact Africa
Technews Publishing IT infrastructure
Enterprises are realising that hyperscale cloud is better suited to development and not everyday business, while the bills have also grown significantly as their cloud needs have become more complicated and sprawled.
Read more...
---
Affordable entry-level cameras from Dallmeier
Dallmeier Electronic Southern Africa CCTV, Surveillance & Remote Monitoring Products
Dallmeier has introduced the 'E' version of the DOMERA camera family, offering high image quality with 2 MP and 5 MP resolution, and providing detailed images even in low light conditions.
Read more...
---