printer friendly version
Specialised and converged security
Residential Estate Security Handbook 2016 - Vol 2
Residential Estate (Industry)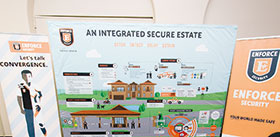 Enforce Security offers specialised and converged security solutions to residential estates, with expertly blended capabilities of both manpower and technology.
As one of the country's leading residential estate security providers, Enforce is – and has always been – on the cutting edge of new technology, and makes use of the latest, most effective equipment at its residential estate sites. It also employs skilled and appropriately trained manpower to operate the technology.
By blending the new and the traditional, Enforce is able to offer estates and communities the latest CCTV surveillance technology, as well as those with the knowledge to operate it. It also supplies trained security guards for estate entrances, patrol guards within estates, and armed response patrollers in areas surrounding estates. Some of its perimeter and access control technology and services include:
• Biometric/fingerprint access control systems.
• CCTV with alarm verification and analytics.
• Remote video verification (RVV) and monitoring.
• High-tech fire detection equipment.
• Automated boom gates.
• Integrated camera technologies.
• Electric fencing with built-in detection mechanisms.
• Fence-mounted fibre detection systems.
• Thermal imaging.
• Automated reporting.
• Control room operation and management.
Enforce prides itself on its multi-levelled and multi-faceted approach to residential estate security in its entirety, so does not only focus on securing estates from their boundaries inwards, but also the surrounding areas. This way, residents are not only kept as safe as possible while in their estates, but also when leaving or arriving home.
Enforce achieves this with its vehicle patrols and Watchmen Camera technology that provides live and remotely-monitored 24-hour feeds of the areas in which they are erected. Any suspicious or threatening activity picked up in the areas around its estate sites can be responded to by either its armed response officers and/or the police, before it even reaches the estate.
In addition to manpower skills and technological capabilities, Enforce also places great emphasis on specifically matching the personal qualities of its security guards to various estates. This ensures that guards are not only skilled and experienced enough to handle all aspects of their estate security duties, but also that their individual personalities and demeanours are perfectly suited to respective estates' ethos, lifestyle and the types of residents who live in them.
Credit(s)
Further reading:
Upgraded security and AI monitoring at upmarket estate
Watcher Surveillance Solutions Editor's Choice CCTV, Surveillance & Remote Monitoring Integrated Solutions Residential Estate (Industry)
Estate upgrades and enhances its security through a partnership between surveillance specialist Watcher and the incumbent guarding company.
Read more...
---
Automation made easy
Vox Products IT infrastructure Residential Estate (Industry)
Vox Sixth Sense IoT features battery-operated sensors that are easy to install and connect automatically to an IoT-specific network, allowing you to view the information gathered from any connected device via an app.
Read more...
---
Protection from curb to core
Gallagher Access Control & Identity Management Integrated Solutions Residential Estate (Industry)
With the use of Gallagher Command Centre's advanced site plans and integrations, Gallagher can provide all your security sub-systems on one user-friendly, interactive and informative platform.
Read more...
---
Managing the insider risk is extremely complicated
J2 Software Cyber Security Residential Estate (Industry)
There's one consistent and prevalent security gap in every digital enterprise in the world: the human element.
Read more...
---
Smart living enabled
Axis Communications SA IT infrastructure Integrated Solutions Residential Estate (Industry)
The shift to 5G is far-reaching and we can expect to see real applications in the network security and surveillance sector, particularly when it comes to smart buildings and cities of the future.
Read more...
---
Make video monitoring effortless
Dahua Technology South Africa CCTV, Surveillance & Remote Monitoring Residential Estate (Industry)
Auto Tracking 3.0 is an AI-powered tracking algorithm in which the camera uses its horizontal/vertical rotation and zoom features to lock a moving target in the centre of the screen.
Read more...
---
Load shedding and home security systems
Fidelity Services Group Smart Home Automation Residential Estate (Industry)
Preventive maintenance action today can help ensure that your security system still operates the way it should tomorrow when Eskom once again turns off the power.
Read more...
---
Three rules for visitor data privacy and protection
Access Control & Identity Management Residential Estate (Industry) Products
What can your business do to protect visitors' information? ATG Digital gives insight into the triad of visitor data protection to ensure estates remain within the law.
Read more...
---
360° perimeter intruder detection
Technews Publishing Perimeter Security, Alarms & Intruder Detection Residential Estate (Industry) Products
Radar is becoming a more common solution for estates with large open areas and long perimeters to protect, as intruders can be automatically detected and tracked.
Read more...
---
Keep track of visitors
LD Africa Access Control & Identity Management Residential Estate (Industry) Products
For the safety and enhanced security of an estate, it is imperative to keep track of all the people who have entered and exited the premises.
Read more...
---