printer friendly version
Specialised and converged security
Residential Estate Security Handbook 2016 - Vol 2
Residential Estate (Industry)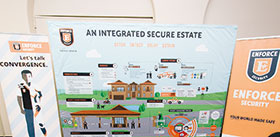 Enforce Security offers specialised and converged security solutions to residential estates, with expertly blended capabilities of both manpower and technology.
As one of the country's leading residential estate security providers, Enforce is – and has always been – on the cutting edge of new technology, and makes use of the latest, most effective equipment at its residential estate sites. It also employs skilled and appropriately trained manpower to operate the technology.
By blending the new and the traditional, Enforce is able to offer estates and communities the latest CCTV surveillance technology, as well as those with the knowledge to operate it. It also supplies trained security guards for estate entrances, patrol guards within estates, and armed response patrollers in areas surrounding estates. Some of its perimeter and access control technology and services include:
• Biometric/fingerprint access control systems.
• CCTV with alarm verification and analytics.
• Remote video verification (RVV) and monitoring.
• High-tech fire detection equipment.
• Automated boom gates.
• Integrated camera technologies.
• Electric fencing with built-in detection mechanisms.
• Fence-mounted fibre detection systems.
• Thermal imaging.
• Automated reporting.
• Control room operation and management.
Enforce prides itself on its multi-levelled and multi-faceted approach to residential estate security in its entirety, so does not only focus on securing estates from their boundaries inwards, but also the surrounding areas. This way, residents are not only kept as safe as possible while in their estates, but also when leaving or arriving home.
Enforce achieves this with its vehicle patrols and Watchmen Camera technology that provides live and remotely-monitored 24-hour feeds of the areas in which they are erected. Any suspicious or threatening activity picked up in the areas around its estate sites can be responded to by either its armed response officers and/or the police, before it even reaches the estate.
In addition to manpower skills and technological capabilities, Enforce also places great emphasis on specifically matching the personal qualities of its security guards to various estates. This ensures that guards are not only skilled and experienced enough to handle all aspects of their estate security duties, but also that their individual personalities and demeanours are perfectly suited to respective estates' ethos, lifestyle and the types of residents who live in them.
Credit(s)
Further reading:
Fire-fighting force at Vergelegen
Editor's Choice Fire & Safety Residential Estate (Industry)
Vergelegen wine estate in Somerset West, and its neighbours, are set to enjoy greater peace of mind this summer, thanks to the delivery of a brand new fire truck .
Read more...
---
Residential Estate Security Conference 2022
Technews Publishing Residential Estate (Industry) Conferences & Events
The first Residential Estate Security Conference since March 2020 discussed the people, technology and processes involved in mitigating risks to deliver smart, secure living.
Read more...
---
Safety first, aesthetics a close second
Allbro Industries Residential Estate (Industry)
Residential estates are constantly upgrading as the needs of the estate outgrow the existing infrastructure.
Read more...
---
Provide a strong, integrated security solution
Arteco Global Residential Estate (Industry)
Through the Omnia VMS, Arteco offers a unique, intuitive and friendly interface that focuses on events to centralise all security alarms.
Read more...
---
Successful show for body-worn tech
Elvey Security Technologies Residential Estate (Industry)
Moving beyond products to full cybersecurity service for residential estates.
Read more...
---
The benefits of contactless biometrics
IDEMIA Residential Estate (Industry)
IDEMIA displayed its biometric fingerprint and facial readers, focusing on touchless technologies for estate security.
Read more...
---
Access Portal from Impro Technologies
Impro Technologies Residential Estate (Industry)
Impro Technologies offers the Access Portal suite, which provides powerful features wrapped in a simple and easy-to-use interface.
Read more...
---
MiRO provides end-to-end security solutions
MiRO Residential Estate (Industry)
Residential estate security solutions perfected for South African homes.
Read more...
---
Nice locally manufactured products
Nice Group South Africa Residential Estate (Industry)
Nice offers gate, door and barrier solutions that are not battery dependent but have full battery backup should power fail.
Read more...
---
Multi-layered security solution
Residential Estate (Industry)
Optex has got you covered with a combination of technologies to create a multi-layered security solution.
Read more...
---