printer friendly version
The security market in 2013
February 2013
News
Vusi Melane investigates South Africa's active registered security businesses, the security industry and the industry's economic impact.
The growth and sustainability of the start-up and active registered security businesses has been on the rise for the past seven years and still remains steady as the security industry retains its role as the fastest growing industry in the unstable economy, writes Vusi Melane.
In 2005, the growth rate of active registered security businesses was in double digits, but that changed shortly after South Africa was hit by recession three years later. However, from 2009, the growth has been on a steady rise. This is vindicated in the recent statistics on the growth rate of active registered security businesses released by Private Security Industry Regulatory Authority (PSIRA). Hi-Tech Security Solutions (HSS) asked experts on what this growth can be attributed to. We spoke to the CEO of Security Industry Alliance (SIA), Steve Conradie, communications manageress of Private Security Industry Regulatory Authority (PSIRA), Siziwe Zuma, and chief strategist at Investment Solutions (IS) Chris Hart.
Regulatory
A breakdown of the recent (PSIRA) 2010/2011 survey/stats on the growth of active registered security businesses can be found in Table 1.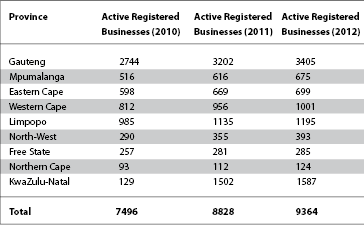 Table 1.
Below is a breakdown of the 2010/2011 statistics on the growth of active registered security businesses. Note that a security business may be registered for a number of different security services, but may not necessarily render those particular security service registered for. Source, PSIRA.
HSS: Is it a fairly good growth rate?
Zuma: With the private security industry's growth rate of up to 15% per annum, it continues to be one of the fastest growing industries in South Africa because the growth rate is consistent. With an estimated annual turnover in excess of R30 billion, the growth rate evidently beneficial to the country's economy.
HSS: Has the growth's rate been as a result of the crime rate in SA?
Zuma: The private security industry regulatory authority is unfortunately not in posession of the statistics for crimes committed which are reported at the South African Police Services and attributes the growth rate predominantly to the economic growth of the country. In the past few years, provinces such as Limpopo and the North West have shown a significant growth in the establishment of new businesses and residential areas, largely in suburban areas and this in our view contributed to the need for more security, hence the escalating number of businesses registered to render services in such areas.
HSS: Is the consolidation of different sectors of security businesses enough to curb and minimise crime effectively in SA? Or are there changes needed, such as new security regulatory interventions that need to be adopted and transformations that need to be made moving forward?
Zuma: Although there is an inadequate capacity to effectively combat crime in the country, the vast resources are with the private security industry, which in conjunction with other law enforcements agencies, including the South African Police Services, acts against those that contravene the private security industry act.
Industry
HSS: Your views about the growth rate of active registered security businesses in SA.
Steve Conradie, SIA: The private security industry has been referred to as the fastest growing industry in South Africa. Although the growth figure is not in the double digits any more (like 2005), it is still growing. Margins in the industry have shrunk significantly due to the increase in non-compliant companies that exist in the market.
HSS: What affects the growth rate (positively or negatively)?
Conradie: As already stated, the vast number of non-compliant companies operating in the industry is a threat to the market and drive prices down significantly – which makes it a tough market to enter or operate in.
HSS: Is automation in security the future? And what needs to change in 2013 around the security industry/registered security businesses moving forward?
Conradie: With the labour market becoming more expensive by the day, alternatives like electronic security and automation will become more attractive and will for sure grow faster than the traditional security. A tougher approach by both the regulator and the consumer of a security service is definitely necessary to root out non-compliant companies and unscrupulous operators. Also remember that this industry is the biggest supplier of entry-level jobs into the labour market than any other industry and the existence of non-compliant operators is also a threat to employment. Can this country afford that?
Economic
HSS: What are your thoughts about public and private security business between 2005 to 2011?
Chris Hart, ISH: The growth in the private security industry has been underpinned by persistently high crime levels and decreasing confidence in the capacity and ability of the state to meaningfully improve physical security. Recent developments in labour unrest will help to further underpin growth in this industry.
HSS: What are your thoughts about the financing of this industry between 2005 to 2011?
Hart: From a demand perspective, there has been an increase for security services from 2005 to 2011 and this is a response to high crime levels in South Africa. In most instances, security services are outsourced due to the specialised nature of the service. Most users of outsourced services do so to complement a lack of internal skills to run this function. However, many also make the mistake of using outsourcing to cut costs, which in turn impact: this negatively on the potential quality of services. This leads to lower levels of skill where the rubber meets the road.
The large number of service providers means it is easy to generate contract bidding wars, which do not allow adequate funding for the security firm to thrive. Many service providers are under-capitalised as a consequence. Too often, contracts are focused on cost rather than service quality levels.
HSS: To what effect have the economic challenges of that period affected the growth rate of start up active and registered security businesses in every sector?
Hart: The economic challenges were benign up to 2008. Since 2008, the global financial crisis impacted on the SA economy, which was in recession in 2009. Government policy shifts has also placed greater regulatory burdens on various sectors, which has made it more difficult for small businesses to continue operating. It has also raised barriers to entry. Regulatory requirements usually require economies of scale to implement, which places small businesses in a difficult competitive disadvantage.
HSS: Downstream economy needs upstream economy, vice versa, economically, what needs to be done to sustain or even accelerate the growth rate of the active registered security businesses?
Hart: The economic value chain of the economy starts with the manufacturing, agricultural and mining sectors. These sectors have been hobbled by policy uncertainty and labour unreliability. High taxes also impact negatively on economic viability.
For the economy to enjoy sustainable growth (on a more general level), these three sectors need to be able to grow. This means policy needs to encourage investment and also productivity gains. These three sectors are competing on an international scale and competitiveness needs attention through productivity growth. The sustainability of growth in the security industry will depend on gaining additional spend from clients in order to improve service quality levels. It will also continue to be sustained by persistently high crime levels and the need for business to control risk.
HSS: What are your thoughts on the SIA vs PSIRA (review of annual fees) matter?
Hart: One of the biggest challenge of the industry is the high cost structure of the regulatory authority while gaining questionable value for the spend. The regulatory authority cost imposition is also on the payroll of the industry, where low wage rates are already a problem. The industry has already been rocked by a debilitating strike and working conditions do require improvement.
The nature of the industry levy is a disincentive to improving working conditions. It should be seen as an additional tax imposed on the industry, which saps the industry of resources needed to be more effective. A better model could be to shift the responsibility of quality control onto the clients rather than directly onto the industry. The outsourcing model often implies the client abdicates responsibility of security rather than integrating the specialist nature of the contractor with the internal processes of the company. In addition, poor working conditions may actually raise the risk of rogue guards adding to security problems rather than mitigating risk.
Further reading:
Olarm launches the Olarm LINK
Olarm Perimeter Security, Alarms & Intruder Detection News Products
Building on the success of smart-enabling, monitoring and controlling alarm panels and electric fences, Olarm has a new solution for customers to integrate gates, garage doors, pumps and other electrical products with the Olarm APP and Olarm PRO communicator.
Read more...
---
Ultimate smart monitoring and reliability
Olarm Perimeter Security, Alarms & Intruder Detection News Products
Olarm is gearing up to unveil its latest product, the Olarm MAX, set to be available in late 2023, which will redefine smart monitoring by offering unparalleled connectivity options and functionality.
Read more...
---
Insights from the 2023 Cloud Security Report
News Cyber Security
Increased costs, compliance requirements, hybrid and multi-cloud complexities, reduced visibility, and a lack of skilled practitioners cause organisations to slow or adjust their cloud adoption strategies.
Read more...
---
New algorithm for OT cybersecurity risk management
Industrial (Industry) Cyber Security News Commercial (Industry)
OTORIO's new risk management model and attack graph analysis algorithm technology, calculates OT cybersecurity threats and provides risk mitigation actions, prioritised according to actual exposure and potential impact on operations.
Read more...
---
Robots: a security opportunity or a threat?
Editor's Choice News Conferences & Events
Professor Martin Gill, Director of Perpetuity Research & Consultancy International and the School of Criminal Justice at the University of South Africa (UNISA), will be holding a Global Thought Leadership Security webinar on 22 June 2023 to discuss the contentious issue of robots operating in the security industry.
Read more...
---
UNISA sponsors Securex seminars
Editor's Choice News Conferences & Events
As part of UNISA's 150-year birthday celebrations, UNISA has sponsored the Securex Theatre Seminar Programme, which will include a number of prominent industry specialists, academics and security practitioners focusing on a number of themes.
Read more...
---
Facilities Management Seminar Theatre
Securex South Africa News
The free-to-attend Facilities Management Seminar Theatre, powered by Broll, delivers information on the latest market trends, thereby keeping attendees up to date on solutions and technology centred on increasing facility system optimisation.
Read more...
---
The latest security trends at Securex South Africa 2023
Securex South Africa News Conferences & Events Training & Education
Security technology evolves at a blistering pace, so it's important to keep up to date with changing trends in order to ensure maximised safety of human and personal assets. The Securex Seminar Theatre, powered by UNISA, is the place to be.
Read more...
---
Sustainability School opens for enrolment
Education (Industry) News Security Services & Risk Management
Three-part programme, first developed for Schneider Electric employees, is now available for free for companies worldwide. Attendees learn how to future-proof their businesses and accelerate their decarbonisation journeys.
Read more...
---
From the editor's desk: Get Smart
Technews Publishing News
Welcome to the fourth issue of Hi-Tech Security Solutions for 2023, which is also the first issue of Smart Security Solutions. As noted in previous issues, Hi-Tech Security Solutions has been rebranded to Smart Security Solutions.
Read more...
---