printer friendly version
Comb's MK II Access Control System
Residential Estate Security Handbook 2016 - Vol 2
Residential Estate (Industry)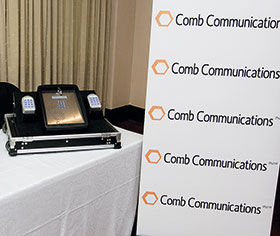 Security in complexes and multi-dwelling establishments is a high priority issue in the minds of discerning owners and residents. The most visible and regularly utilised aspect, for residents and visitors alike is, of course, access control on entry/exit.
How often have you found yourself, as a resident or visitor at the entrance/exit of a complex or multi-dwelling establishment, tapping your fingers in impatience on the steering wheel as motorists ahead of you wrestle with a cumbersome and grubby old book or clipboard? Tap, tap go the fingers, as each driver fills in copious details in blocks that are never big enough, wondering, as they do, if anyone will ever look at or check up on what has been written, as they laboriously sign in or out.
Comb Communications has recognised the need for speed and efficiency at entry/exit points. Our people-focused technology has transformed the tapping of fingertips on steering wheels into the quick tapping in of a simple code, into a keypad linked to its effective online system, the MK II, with far-reaching reporting capabilities. This user-friendly add-on offering to Comb's MK II Access Control System aptly bears the name TAP TAP (Temporary Access Pin).
The first GSM intercom system prototype was installed in 2004 and along with the second prototype, is still up and running efficiently. Residents simply send a message to the application, which in turn sends back, via SMS, a unique, computer generated code which is then forwarded to prospective visitors for use at the gate.
Comb recognises the need for gate personnel to be familiar with the correct use of the MK II system and the TAP TAP add-on. Excellent training is given to guarding companies in this regard. By the same token, installers are thoroughly trained to ensure that both the MK II system and TAP TAP entrance/exit keypads are expertly installed.
Comb has achieved synergy with Centurion Systems (South Africa's biggest automation company), Vodacom and Nashua Mobile, and MK II and TAP TAP users benefit directly from the strength found in its alignment with these established and respected providers.
As of September 2012 Comb's gate openings per month shot over the two million mark; by comparison a year ago the figure was one million. This increase clearly demonstrates a remarkable growth trend for the company.
For more information, contact Keep Access Control Systems, +27 (0)11 805 0175, [email protected], www.keepacs.co.za
Credit(s)
Further reading:
Fire-fighting force at Vergelegen
Editor's Choice Fire & Safety Residential Estate (Industry)
Vergelegen wine estate in Somerset West, and its neighbours, are set to enjoy greater peace of mind this summer, thanks to the delivery of a brand new fire truck .
Read more...
---
Residential Estate Security Conference 2022
Technews Publishing Residential Estate (Industry) Conferences & Events
The first Residential Estate Security Conference since March 2020 discussed the people, technology and processes involved in mitigating risks to deliver smart, secure living.
Read more...
---
Safety first, aesthetics a close second
Allbro Industries Residential Estate (Industry)
Residential estates are constantly upgrading as the needs of the estate outgrow the existing infrastructure.
Read more...
---
Provide a strong, integrated security solution
Arteco Global Residential Estate (Industry)
Through the Omnia VMS, Arteco offers a unique, intuitive and friendly interface that focuses on events to centralise all security alarms.
Read more...
---
Successful show for body-worn tech
Elvey Security Technologies Residential Estate (Industry)
Moving beyond products to full cybersecurity service for residential estates.
Read more...
---
The benefits of contactless biometrics
IDEMIA Residential Estate (Industry)
IDEMIA displayed its biometric fingerprint and facial readers, focusing on touchless technologies for estate security.
Read more...
---
Access Portal from Impro Technologies
Impro Technologies Residential Estate (Industry)
Impro Technologies offers the Access Portal suite, which provides powerful features wrapped in a simple and easy-to-use interface.
Read more...
---
MiRO provides end-to-end security solutions
MiRO Residential Estate (Industry)
Residential estate security solutions perfected for South African homes.
Read more...
---
Nice locally manufactured products
Nice Group South Africa Residential Estate (Industry)
Nice offers gate, door and barrier solutions that are not battery dependent but have full battery backup should power fail.
Read more...
---
Multi-layered security solution
Residential Estate (Industry)
Optex has got you covered with a combination of technologies to create a multi-layered security solution.
Read more...
---