printer friendly version
Global perimeter fencing expertise
Residential Estate Security Handbook 2016 - Vol 2
Residential Estate (Industry)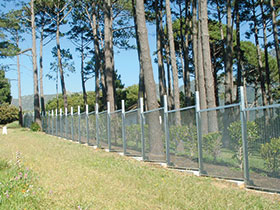 Betafence South Africa is part of the global leader in perimeter security solutions. Since 1997, Betafence has been manufacturing these solutions, specifically tailored to the South African market in the Western Cape.
Over the past two decades, Betafence has provided industry-leading perimeter solutions to some of the most prestigious lifestyle and golfing estates within South Africa. This track record is testament to the quality of both product and service that Betafence provides as standard on any project it undertakes. As a result of this unrivalled experience, Betafence is ideally placed to assist other residential estates with their security requirements.
For Betafence, quality and transparency is paramount. As a result Betafence strictly adheres, on both a local and global level, to ISO 9001-2008 throughout its manufacturing processes. Its PVC coated products come as standard with a 10-year anti-corrosion guarantee that is internationally underwritten to give total peace of mind. Its certifications and test certificates are always made available upon request and factory tours by clients and prospective clients are welcomed.
Looking to the future, Betafence continues to develop ways of better serving the needs of the market and spends great effort on enhancing existing products and developing new ones. It understands that trends change and it intends to be a driver of them.
Betafence also understands that it continuously needs to look at ways of supporting its clients. It is for this reason that Betafence South Africa became the first fencing company globally to offer architects Revit families earlier this year. These Revit families seamlessly plug into the popular design software commonly used by architects. It is this drive to support its clients with not only industry leading products but also industry leading customer service that sets it apart.
Further reading:
Off-grid power solution for residential estate
Editor's Choice Security Services & Risk Management Residential Estate (Industry) Products
Coral Beach Estate, an upmarket residential estate based in East London, has been struggling with load shedding and power outages due to South Africa's energy crisis, as well as the vandalism of its power infrastructure.
Read more...
---
Fire-fighting force at Vergelegen
Editor's Choice Fire & Safety Residential Estate (Industry)
Vergelegen wine estate in Somerset West, and its neighbours, are set to enjoy greater peace of mind this summer, thanks to the delivery of a brand new fire truck .
Read more...
---
Residential Estate Security Conference 2022
Technews Publishing Residential Estate (Industry) Conferences & Events
The first Residential Estate Security Conference since March 2020 discussed the people, technology and processes involved in mitigating risks to deliver smart, secure living.
Read more...
---
Safety first, aesthetics a close second
Allbro Industries Residential Estate (Industry)
Residential estates are constantly upgrading as the needs of the estate outgrow the existing infrastructure.
Read more...
---
Provide a strong, integrated security solution
Arteco Global Residential Estate (Industry)
Through the Omnia VMS, Arteco offers a unique, intuitive and friendly interface that focuses on events to centralise all security alarms.
Read more...
---
Successful show for body-worn tech
Elvey Security Technologies Residential Estate (Industry)
Moving beyond products to full cybersecurity service for residential estates.
Read more...
---
The benefits of contactless biometrics
IDEMIA Residential Estate (Industry)
IDEMIA displayed its biometric fingerprint and facial readers, focusing on touchless technologies for estate security.
Read more...
---
Access Portal from Impro Technologies
Impro Technologies Residential Estate (Industry)
Impro Technologies offers the Access Portal suite, which provides powerful features wrapped in a simple and easy-to-use interface.
Read more...
---
MiRO provides end-to-end security solutions
MiRO Residential Estate (Industry)
Residential estate security solutions perfected for South African homes.
Read more...
---
Nice locally manufactured products
Nice Group South Africa Residential Estate (Industry)
Nice offers gate, door and barrier solutions that are not battery dependent but have full battery backup should power fail.
Read more...
---