printer friendly version
The law and electric fencing
October 2016 Editor's Choice, Security Services & Risk Management, Residential Estate (Industry)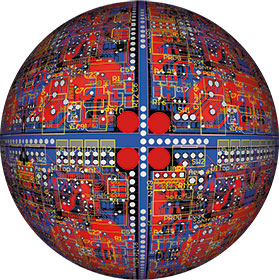 On the 25th of March 2011, the government published new laws relating to non-lethal electric fences. These laws came into effect on the 1st October 2012. (Later extended to 1st December 2012).
These updates were promulgated for a number of reasons: firstly to ensure the safety of the country's citizens, secondly to eliminate Telkom, TV, and wireless interference being experienced as a result of poorly installed systems, and finally to set product and erection standards to protect the consumer from receiving inferior quality and potentially dangerous products.
While it is impossible to discuss all the clauses of the new legislation and associated SANS standards, we will address some of the clauses causing confusion.
For the record, the section of the Occupational Health and Safety Act 1993, relating to electric fences is found under Electrical Machinery Regulations 2011, Schedule 12, Electric Fences, or in the Government Gazette, Regulation Gazette No. 9509, Vol. 549, Pretoria 25 March 2011 No. 34154. The Act also refers to South African National Standards, namely SANS 10335-2-76 and SANS 10222-3 (2011 Edition 5). For a full and comprehensive explanation of the Act, addendums and SANS standards, one will have to consult these documents.
Firstly, the updated Act requires that any energiser sold must comply with the specifications laid out in SANS 60335-2-76. A manufacturer must now be able to produce a valid Certificate of Compliance (less than five years old) issued by an internationally registered test laboratory, verifying that the energiser has been tested and approved.
Currently in South Africa, the only laboratory certified to carry out such tests is Test Africa, based in Pretoria. Not satisfied with this, government also requires that the manufacturer must produce a document known as an LOA. An LOA (Letter of Authority) is a document issued by the NRCS (National Regulator for Compulsory Standards) authorising the manufacturer to market his product in South Africa.
The Act further stipulates that any electric security fence erected after the 1st October 2012 must also have a Certificate of Compliance issued by a person registered with the Department of Labour in terms of regulation 14 as an electric fence installer. (Note: Anyone can erect an electric fence as long as it complies with the clauses stipulated within the SANS 10222-3 Document, but only a registered installer can issue a COC.)
Compliance a legal requirement
Next, any property that is sold after the 1st October 2012 and has an electric security fence around it must be sold with a COC. While a COC, once issued, is valid indefinitely, when a property is sold, the COC accompanying the Deed of Sale must be less than two years old for transfer to be registered.
In the case of an estate secured by an electric security fence, it is the responsibility of the body corporate to procure a COC for the perimeter fence around the estate and then should any homeowner sell his/her property within the estate, assuming that they have not erected an electric fence around their own property within the estate, they do not require a COC to have their property transferred.
So where do a body corporate's responsibilities start and end? Obviously, when the fence is first erected it is the responsibility of the body corporate to procure a COC. There is, however, nothing at present in the new legislation that requires the body corporate to have a COC that is less than two years' old.
I would, however, strongly recommend, in the interests of the security of the residents' housed within the estate, that the fence be maintained to COC standards by a registered installer. Further, I also recommend having the fence 'COC'd' every two years, thereby covering the body corporate from any unpleasant litigation that could possibly arise as a result of some unforeseen situation.
Protecting the public
The new law also stipulates that in a public area the public must be protected from making inadvertent contact with an electrified fence by having a physical barrier between the fence and the public. This barrier fence should be at least 1.5 m high and one dimension of opening shall not be greater than
150 mm. (For example, the pales of a palisade fence must be no further apart than 150 mm.) Further, this barrier fence must be within a range of 100 mm to 200 mm or greater than 1000 mm from the electric fence. This is to prevent it forming a mantrap.
The question that now arises is: What is a public area and is it necessary to have a barrier fence within the complex? The SANS regulation defines a public area as: a secure area to which any person can gain legal access without permission from the owner or where members of the public are allowed to enter (such as sports grounds and exhibitions.) A secure estate with access control obviously falls outside of this definition so it is up to the body corporate to decide whether they should erect any physical barriers within the estate to prevent young children or the elderly making inadvertent contact with their electric fence.
In conclusion it is strongly recommended that at least one member of a body corporate should be conversant with the new Act and the SANS specifications so that checks can be made to ensure that an installer has and is complying with the stipulated requirements of the law. Remember, 'ignorance of the law is no excuse.'
For more information contact Stafix, 0861 STAFIX (782 349), www.stafix.co.za
Credit(s)
Further reading:
Why rehearsals and drills for crises and evacuation are so important
August 2019, Leaderware , CCTV, Surveillance & Remote Monitoring, Security Services & Risk Management
The rehearsal of concept (ROC) drill has been used extensively in the military, but is just as important when facing risks in organisations and institutions to protect people on the ground.
Read more...
---
24-hour emergency response for staff
August 2019 , News, Security Services & Risk Management
The FirstRand Group has partnered with PanicGuard to create a 24-hour emergency response programme for staff.
Read more...
---
Keeping our changing environment secure
August 2019 , Editor's Choice, Security Services & Risk Management
For a crime to take place there needs to be a victim and a criminal who sees an opportunity. For a cybercrime to take place we need the same set of circumstances.
Read more...
---
Augmented security with drones
August 2019, Drone Guards , Editor's Choice, Integrated Solutions
Drone Guards is moving into an untapped market of using drones to secure residential estates and other high-value assets such as mines, farms and commercial properties.
Read more...
---
The importance of real security risk assessments
August 2019, Sentinel Risk Management , Editor's Choice, Security Services & Risk Management, Residential Estate (Industry)
Andy Lawler, MD, Sentinel Risk Management, says a security risk assessment is an onerous task, but is not something estates can consider optional or a luxury item anymore.
Read more...
---
Risk assessment or product placement?
August 2019, Technews Publishing, Alwinco, SMC - Security Management Consultants , Editor's Choice, Security Services & Risk Management, Residential Estate (Industry)
Hi-tech security solutions asked a couple of experts to provide estate managers and security managers with some insights into what a 'real' risk assessment includes.
Read more...
---
How far are we really at with artificial intelligence?
August 2019, Axis Communications SA , Editor's Choice, CCTV, Surveillance & Remote Monitoring, IT infrastructure, Residential Estate (Industry)
Justin Ludik unpacks exactly how far AI has come and what it potentially can do for society and more importantly, surveillance.
Read more...
---
More than simply a camera
August 2019, Forbatt SA, Secutel Technologies , CCTV, Surveillance & Remote Monitoring, Residential Estate (Industry)
With the human element being the weakest link in all security solutions, Hi-Tech Security Solutions looks at the pros and cons of using body-worn cameras in estates.
Read more...
---
Residential security – caveat emptor
August 2019, Stafix , Integrated Solutions, Security Services & Risk Management
When it comes to improving your property's security, make sure you take all the options into account as you build a layered approach to keeping people safe and assets secured.
Read more...
---
The importance of effective perimeter security
August 2019, Elf Rentals - Electronic Security Solutions, Stafix , Editor's Choice, CCTV, Surveillance & Remote Monitoring, Residential Estate (Industry)
Protecting the perimeter is critical for any residential estate; how does one go about making sure your perimeter is as secure as possible?
Read more...
---