printer friendly version
As safe as houses?
January 2013 News, Residential Estate (Industry)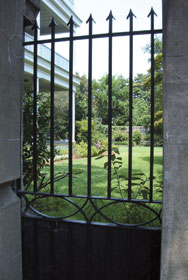 Is the big security spending reserved for business installations or are residential owners wising up to the benefits of securing their properties? Hi-Tech Security Solutions asked three industry players about current trends in residential security.
Andre Mundell, independent security risk assessor at Alwinco, believes that residents and residents' associations are not doing enough to protect themselves from criminals. "Unfortunately, in many instances, residents and residents' associations blindly believe whatever the security salesperson tells them.
"The perception is often that what sufficed as a security system in 1980 will be adequate today. Often, residents believe that an alarm system is an end in itself rather than a means to an end. The criminal modus operandi has become more sophisticated and people need to realise that a more comprehensive and integrated security solution is the only answer.
"In general, there is little or no planning for security, with regard to both private residents and those living in estates and complexes. However, we are hopeful that this will change as residents and residents' associations realise the benefits of implementing strategically planned installations."
Louis Parker, CEO at ATEC Systems and Technologies is more optimistic about the uptake of adequate security systems. "We have witnessed a number of residents' associations upgrading their card access control systems to biometric access control. Obviously, due to the costs involved, this is more prevalent in the upper LSM estates, but it definitely does not exclude all middle and lower LSM housing estates.
"The problems encountered with card access control systems include loss of cards as well as card owners giving their cards to third parties so that they can access the complex. The possibility of unlawful entry and probable criminal activity obviously increases in these instances," Parker said.
Improved visitor management
"Fortunately, there seems to be a trend towards residents and residents' associations becoming more proactive in terms of visitor management. The days of the security guard asking a visitor to sign in are fast becoming obsolete. The major problems with log books are that the writing is often illegible, information can be easily falsified, and information is difficult to track down retrospectively."
Many of the residential estates are using hand scanners to scan the registration disk on the vehicle's windscreen as well as the driver's licence, while the more upmarket complexes are also utilising number plate recognition cameras. Live data can then be reviewed instantly rather than on an incident-only basis, as is common with visitor logbooks.
However, this is also a very big security risk as a means of access control. The problem this poses for security is that when the guards work with the scanner, they tend to concentrate on scanning the vehicle and licence and often do not notice who is sitting in the vehicle or what is happening in the vehicle itself.
"The next problem we have with the scanner is knowing what happens with that information. Bear in mind that the guard now has your vehicle registration number as well as your ID number. Although some of the estates say that the information is password protected, the fact is that it is still available. It is critical that if you use handheld scanners, the security officers using them have the necessary security training and clearance to safeguard that information," Mundell added.
Joe Naidoo, owner of Umvukele Security said that often the problem arises where a residents' association contracts a number of different companies to supply their CCTV, access control, electric fencing and guarding needs. "It is preferable to contract one company to source, install and monitor all the solutions as a cohesive whole rather than 'piecemealing' each element."
Parker said that in Gauteng his company has seen an increase in the number of security installations using integrated technology solutions, together with a guarding element, for a collaborative effort.
Security 101
"We find that often the decision-making and purchasing in residential complexes is left up to the secretary or a similar representative of the residents' association. The danger here is that there is no accountability on the part of the individual residents. This is also apparent in the frequently encountered casual attitude that complex/estate residents have towards security. They tend to operate on the assumption that their neighbours will look out for their best interests," Naidoo added.
"We have a saying that a complex is like picnic (or is that 'pick-nick'?) basket – once the criminal gains access to the complex, he can pick and choose which units he wishes to burglarise. Sadly, many residents in complexes and estates believe that, because the complex has a wall, electronic gate and a security guard, they and their possessions are safeguarded," Mundell said.
"There is a desperate need for education of residents so that they can effectively protect themselves. They need to be made aware of their complex's weak spots and what systems can be implemented to mitigate the risks," Mundell continued.
While all interviewees believe that the security options have changed in residential security, Mundell is not convinced that residents have kept pace with current offerings. "Unfortunately, the guard-plus-dog scenario seems to be the accepted norm for a number of residents living in residential estates and complexes. It is our duty as an industry to share the benefits of technology and also make residents and their relevant associations aware of what technology criminals are using to counter security technology."
Education is key
"Awareness campaigns are driving consumers towards viable security solutions such as increased lighting, erecting walls and armed response. Popular amongst the higher income bracket residents is the ability to remotely monitor their property via their cellphone," said Naidoo.
"Knowledge is king," according to Mundell. "Residents and residents' associations would be advised to consult with an independent risk assessor before making any decisions regarding their security. A credible risk assessor will determine what weak areas exist in a private residence as well as in a residential complex environment. One needs to bear in mind that the risk factor in a housing estate can be multiplied by two times the number of adults plus one person. Add children to the equation and you need to multiply the risk factor by six. This is due to the fact that children are often unaware of even the most obvious risks."
Mundell cited a number of penetration tests he conducted when performing risk assessments. "The results were really quite scary. In most instances, I was able to get at least one of the residents to open the main security gate by using a futile reason for entry. In all instances, one needs to answer the question: 'Is your will to stop a criminal greater than the criminal's will to get into your property?' You then need to follow through on your intent with strategic action."
Package to fit your pocket
It is all very well proposing that residents and residents' associations embark on risk assessments and implement comprehensive security solutions, but at what cost? While many of the upper LSM residential estates are able to afford benchmark technology, is this type of expenditure not beyond the budget of the average Joe?
All three interviewees agreed that communication with a service provider is critical and that systems can be customised to fit specific needs and budgets. Mundell said that the first step is to consider the area and the environment in which the residential estate or residence is situated. "Following the identification of risks is the appointment of an independent leader to guide and implement the security system. By employing a motivated person who has no alliance to the security provider, the best interests of the residents, rather than the interests of the service provider, are uppermost.
"The crux of a solution could be merely changing the procedures around entry to the property by adding motion sensors or extra lighting. In terms of residential estates, residents could be told to all turn on their lighting when they hear a strange noise at night or suspect that criminal activity is taking place. In this way, everyone is on the same page and alerts to potential threats are concerted and timeous," he elaborated.
In order to achieve maximum return on investment, Naidoo suggested that residents and residents' associations ensure that the service provider can guarantee and prove that their guarding staff is accredited and disciplined. "Unfortunately, Security Officers Board certification is not enough to provide these guarantees. The service provider needs to ensure that his security officers receive adequate induction and training and that comprehensive background checks are performed on their employees.
"Likewise, armed response personnel should receive training on procedures to follow when reacting to an alarm or callout. It is simply not enough that the reaction officer accepts the word of the 'owner' that everything is fine when he is responding to an event. Each situation should be approached as a possible duress incident and the response personnel should employ their resources to verify and validate non-events," said Naidoo.
Mundell added that it is advisable for residents' associations to prioritise security as an item on their agenda for meetings with residents. "Residents need to be made aware of the correct procedures to follow in terms of the use of panic buttons as well as receive updates on crime in their particular area. Forewarned is forearmed in this respect and the more information a resident has on the security systems in place within their residential estate, the more the likelihood of crimes being prevented or reduced."
Warning!
The interviewees were asked what to avoid when considering a security system. Parker said that the first step is finding a reputable service provider. "Ask for references and ensure that they use well-known and supported brands. The service provider needs to supply a service level agreement (SLA) that outlines all elements incorporated in the system and includes the expected outcomes as required by the client."
"Future upgrade capabilities are important in terms of technology. Your service provider should not be a jack-of-all-trades, but should rather bring in expertise in specific areas where required. Accreditation of service providers is important and a proper site survey will ensure that the proposed system can be motivated in terms of fit for purpose," said Naidoo.
"Do market research and do not settle on the first service provider who knocks on your door. Conduct a risk assessment through an independent risk assessor to ensure objectivity. Avoid single-system (one-brand) solutions. Try to implement systems that allow the resident to access their residence via a cellphone or smart device," Mundell outlined.
"In addition, from a physical and practical perspective, one should avoid dark areas and 'hotspots'. By having an understanding of the criminal and what motivates them, you can employ avoidance systems. Finally, a system should be easy to use and activate otherwise it will have no worth," he concluded.
Wireless estates
Peter Turvey, country manager for Radwin SA, says there are three primary reasons to look at using wireless networks in residential/estate security implementations:
1. Speed of installation,
2. You do not have to dig up roads and pavements, and
3. The costs of not having to do such earth works is substantial.
"Telco-grade wireless delivers everything that any video surveillance cabled system can, but with added benefits," adds Turvey.
Credit(s)
Further reading:
IziCash awarded membership by CIT Association of SA
News
IziCash Solutions, a provider of cash logistics and cash management services to the retail and banking sector, has become a member of CITASA, the Cash-In-Transit Association of South Africa.
Read more...
---
22 TB hard drives from WD
News
Western Digital extends HDD technology and areal density leadership across smart video, network attached storage (NAS) and IT/data centre channel segments.
Read more...
---
From the editor's desk: Maybe I'm too old?
Technews Publishing News
There are many companies these days touting their ability to securely authenticate people via mobile devices (or selfies), claiming that it is secure and easy. Some banks are even allowing people to ...
Read more...
---
ADI Expo Limited Edition 2022
ADI Global Distribution News
ADI South Africa, with its leading suppliers from across the video, intrusion and access control industries, is once again hosting its annual ADI Expo in September.
Read more...
---
Hikvision integration with Page Automation
Hikvision South Africa News
Hikvision has announced the integration of its MinMoe Face Recognition terminals and its Hik-ProConnect online device and service management platform with Page Automation's SmarTTime software.
Read more...
---
ESDA's annual charity fundraiser
ESDA (Electronic Security Distributors Association News Conferences & Events Associations
The ESDA Annual Charity Fundraiser, part of the Electronic Security Distributors Association's Golf Day, will take place at Benoni Lake Golf Course on Wednesday, 21 September 2022.
Read more...
---
Gallagher launches Tech Talk
Gallagher News Access Control & Identity Management Perimeter Security, Alarms & Intruder Detection
Gallagher has announced the launch of its new Security in Focus podcast series called Tech Talk, hosted by chief technology officer Steve Bell.
Read more...
---
IDEMIA and Ideco demonstrate their value stacks
Technews Publishing Ideco Biometrics IDEMIA Conferences & Events Access Control & Identity Management News
Ideco and IDEMIA recently hosted a travelling show where attendees were given an update on the companies, as well as the full value stack they offer.
Read more...
---
Sustainability, trust and predictability
Technews Publishing Bosch Building Technologies Conferences & Events CCTV, Surveillance & Remote Monitoring News Integrated Solutions
The future for Bosch Building Solutions is focused on predictive solutions based on sustainability and trust in an AIoT world of cloud services.
Read more...
---
Networked devices increase cyber risks for building systems
Technews Publishing News
Building managers need an integrated approach with IT professionals and clear lines of responsibility to ensure optimal facilities management and cybersecurity.
Read more...
---