printer friendly version
Video analytics in the spotlight
November 2012 CCTV, Surveillance & Remote Monitoring, Retail (Industry)
What is happening in the world of video analytics? A little while ago analytics was the next big thing that would change the world of surveillance, save money and put a man on Mars. Then the hype seemed to calm down when people realised the benefits of analytics in real-world environments are not quite what they are in vendors' labs.
To be sure, there are working analytics solutions out there, but how reliable are the more sophisticated products in areas with random traffic and weather conditions? Hi-Tech Security Solutions asked some analytics players what their opinions are of the analytics market and where they see it going. To start with, we asked what, in general, is happening in the world of video analytics today?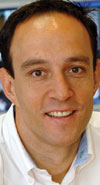 Roy Alves
Roy Alves, country manager for Axis Communications says analytics is definitely improving. "We are seeing a big trend in heat mapping used in conjunction with people counting in the retail sector. There is also a shift in using data to staff tills, ensuring retailers have employed the correct number of staff. The technology is improving due to the fact that image quality on the camera is getting better, allowing for enhanced analytics."
John Loftus
MASS Distribution CEO, John Loftus adds, we must remember that very few CCTV manufacturers own their own video analytics software or algorithms. "The majority of the manufacturers use off-the-shelf analytics from a few select software houses. So analytics seldom differs much from manufacturer to manufacturer. There is little in-house development by CCTV manufacturers."
He adds that analytics is becoming a standard offering. A few years ago it was a very expensive add-on, but as it proliferated through the industry, it is becoming the norm. "Today almost every manufacturer offers analytics as a standard feature."
He also notes that real-world implementations are plentiful, "but the term 'controlled environment' must always be borne in mind. Using analytics on a highway for directional monitoring (an alarm must sound if someone reverses on a motorway or drives in the wrong direction, against the flow) is such an example. Using analytics in a museum/art gallery to monitor precious objects is another classic example."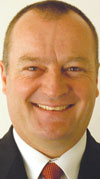 Theo Biehler
Theo Biehler, MD of Viasys Africa says 10 years ago we saw a few venture-backed companies that threw millions of dollars into marketing analytics that over-promised and under-delivered. "Exotic behaviours like facial recognition in a crowd seemed to only be days away from hitting the market, but it never came. Investments in expensive hardware to run the heavy algorithms were wasted because the complexity was overwhelming and reliability was spotty at best.
"Today we are seeing the market ask for more reasonable behaviours like simple, reliable outdoor intrusion detection. End users realise the most important function of analytics must be reliable detection in outdoor environments. If this one function is reliable, you can build on it, but without it you have zero value."
He adds that analytics has recently received a boost with the reduction in cost of thermal imaging cameras. Prices have dropped due to advances in supply management and competition. The combination of thermal imaging cameras and video analytics hits the sweet spot for perimeter security applications because the challenging aspects of light reflections and moving brush is eliminated and only the high contrast intruder can be detected.
Where is analytics working?
If analytics is proving its worth in certain situation, where can customers install it with the expectation that the system will work reliably, all the time. Once again there is a tremendous difference between closed, lab events and the real world where anything can happen. If companies and governments have trouble simply obtaining camera images that are clear enough to use to prosecute offenders, can we really rely on more complex applications like analytics to deliver the goods? And if so, in which areas do these systems work well.
Alves notes that there is a significant improvement in motion detection technology, which has seen the reliability of this application increase rapidly over time.
Loftus says that analytics works well in controlled environments, but when using it for applications such as people counting in airports or entrances to busy retail outlets would prove the opposite, "there are just too many people, too much movement for accurate usage with current software."
He adds that when MASS offers its clients the analytics offered by the CCTV manufacturers, "we make use of what we can, but principally as back-up. Our focus is more on ensuring proper integration of the various systems we offer. In other words, does the intruder or access control system fully integrate with our CCTV system? Does our ground radar work seamlessly with our thermal cameras? Does the perimeter detection trigger the necessary responses from the other electronic security systems on site? Does the point-of-sale integration allow for full data mining or is it merely a text overlay on the recorded video?"
He says that in static applications, he finds analytics useful, for example in congestion detection, object detection, directional detection and in some instances the use of virtual trip-wires. "If analytics are used in isolation for perimeter detection, I would suggest that buyers exercise caution in their approach."
In contrast, Biehler says analytics provides reliable perimeter protection and intruder detection. All functionality offered in this regard works effectively as long as clients are informed as to the potential limitations of their solution.
Give us an example
Talk is cheap, so Hi-Tech Security Solutions asked our interviewees to provide examples of what analytical applications they are installing for customers that are delivering the benefits required.
Viasys's video analytics solution has been proven over many years and has made the company a market leader in Europe in perimeter protection and intruder detection solutions for solar parks. "We also provide solutions to a variety of other industries," adds Biehler. "It is an effective video alarming solution which can be integrated with other security solutions to provide a reinforced solution. Given the detection range of up to 180 m using thermal cameras, these are becoming increasingly sought after."
Active tampering alarms are one of the solutions Axis focuses on. This functionality enables security staff to detect disrupted camera operation by automatically alerting the operator when a camera is manipulated in any way. The product is especially useful in applications where there is potential for vandalism. "Cross line detection is suitable for general monitoring of entrance and exit points in low-traffic areas, detecting objects such as persons and vehicles that cross a defined virtual line," says Alves.
He adds that more analytical applications are going to be on-camera in future. More decision making on the camera itself is beneficial as a cost as well as a bandwidth saving.
Viasys has options for analytics on camera and server-based. "Some clients tend to favour server-based solutions as this enables them to combine various types of cameras through the servers," says Biehler. "While the alerts can be transmitted to remote monitoring centres, on-site guards can also view the monitors. The ability to use existing cameras also limits the overall cost of implementing the analytics."
MASS does not install systems, but provides a system design facility for clients. "Our designs have incorporated video analytics, but only as a secondary system," says Loftus. "In other words, if the CCTV manufacturer provides analytics as a standard offering, we will inform the client that analytics is available with the system and we will use it, but mostly in static and monitored environments."
Long-term analytics potential
Looking ahead into the next five years, Alves sees that the accuracy of existing applications will be improved and cameras will have better depth perception, allowing for better analytics. He also expects to see customer behaviour tracking as well as intelligent colour recognition and decent facial recognition. And installers will have some help with intelligent installation assistance in which the camera will be able to automatically configure its own settings suited to any environment.
"With continuous development taking place, this space is bound to be very interesting," says Biehler. "Using the functionality for visual alerts to be transmitted via the cloud, it is likely that analytics will make visual verification the dominant security requirement in less than five years.
"Used correctly, analytics can highlight an intrusion or perimeter breach as it happens, enhanced by actual images. This creates the opportunity for security teams on site to respond quickly to the specific area of breach to minimise the impact of the intrusion. Visual verification also allows a quick threat assessment so that an appropriate security response is arranged. This could enhance the personal safety of guards on site. For example, it would be dangerous for a single unarmed guard to approach multiple (possibly armed) intruders, especially at night.
"We have already been engaged by progressive security companies regarding their vision for the future incorporation of visual verification into their solutions. With some development, we will hopefully be able to release details of some of these solutions within a year."
Loftus, on the other hand, says MASS sees more useful development taking place with respect to the integration of various products and disciplines rather than analytics.
From the user's perspective
Of course, users have heard it all before, so we end this article by asking our interviewees how they can be sure that the analytics they want (or are being sold) will work as well in real-world situations as in the vendor's demonstration.
Alves says users should always ask for proof of concepts as well as visit pilot sites. "They should ask to see the analytics working in a similar environment as to the one they would be using it for."
Loftus takes a similar approach, but says the user should ask if the installer is prepared to bear the cost of a proof-of-concept installation. Furthermore, they should ask:
* Have we jointly drafted a functional specification for this installation? What role does video analytics play in the specification?
* If the product does not meet the full requirements of the functional specification, what recourse do I have?
Viasys offers a free 30-day trial of its analytics to test it in the intended environment. The software can be downloaded from its website along with a guide on how to use it. Biehler says this allows a reasonable test period, which should cover a variety of different conditions within the given environment.
While video analytics has been overhyped in the past, and still is in certain instances, there are applications that deliver as promised. The next five years should see some remarkable improvements in certain types of analytical applications. We will also see the continued movement of more software onto the camera itself, taking the processing burden from servers as well as saving on bandwidth as on-event monitoring becomes the norm. It will also enhance the security function by taking over some of the boring tasks that humans are currently supposed to do. And visual verification will also become the norm, as we can see happening already, saving time and costs by reducing false alarm responses.
Credit(s)
Further reading:
Reinventing network camera security
Issue 1 2020, Axis Communications SA , CCTV, Surveillance & Remote Monitoring
Now in its seventh generation and celebrating its 20th anniversary, the Axis ARTPEC chip was launched in 1999 designed to optimise network video.
Read more...
---
Cloud-based fleet and driver management
Issue 1 2020, Graphic Image Technologies , CCTV, Surveillance & Remote Monitoring
Graphic Image Technologies (GIT) has announced the availability of a cloud-based dashcam designed to improve on-the-road behaviour and assist in improving fleet management.
Read more...
---
The instruments for investigation
Issue 1 2020, Technews Publishing , Security Services & Risk Management
Regardless of the reason for investigation, the investigation is only as good as the investigators.
Read more...
---
Do we really want simplicity?
Issue 1 2020, Technews Publishing , News
Everything today has to be simple, easy and fast. Even access to your bank account has to fit these adjectives and banks spend significant time and money trying to ensure their web and mobile interfaces ...
Read more...
---
Security events you can't miss in 2020
Issue 1 2020, Technews Publishing , News
Hi-Tech Security Solutions will host a number of focused events in 2020 to highlight the latest in security technology and the operational benefits they deliver.
Read more...
---
Leaders in risk and security: You have to know it to manage it
Issue 1 2020, Technews Publishing , Security Services & Risk Management
Hi-Tech Security Solutions profiles Nash Lutchman, Senior Vice President and Head of Protection Services at Sibanye-Stillwater.
Read more...
---
Trends 2020
Issue 1 2020, Technews Publishing , Editor's Choice
Hi-Tech Security Solutions asked a few people from diverse companies to join us in a round-table discussion about what they expect to see happening in their environments in the coming year.
Read more...
---
The move to services and RMR
Issue 1 2020, Merchant West, G4S South Africa, Technews Publishing , Integrated Solutions
Project work used to be the staple diet for system integrators, but that was before the services model changed the way businesses buy and use their security systems.
Read more...
---
Cathexis specialises in integration
Issue 1 2020, Cathexis Technologies , CCTV, Surveillance & Remote Monitoring
The integration of multiple systems is intrinsic and essential to the goal of creating an effective and efficient operational environment.
Read more...
---
Slow and steady wins the access race
Issue 1 2020, ZKTeco, Technews Publishing , Editor's Choice, Commercial (Industry)
The commercial sector is slow in migrating to new access control technologies, with the majority of companies remaining with card and fingerprint solutions.
Read more...
---