printer friendly version
Necessary evil or critical ingredient?
June 2016
News
You can say it a million times and a billion people will agree with you, but we all do it anyway. Security is still not seen as a necessary component of business, not even IT, and is therefore still a necessary evil in the eyes of most people – or a grudge purchase as so many people keep saying. The result of this is a minimalist approach to security where cheaper is better and the budget makes your decisions for you.
And then security gets a bad reputation when things aren't miraculously 100% secure.
An online site devoted to security recently wrote an article about a Chinese surveillance manufacturer, Hikvision, which had changed its terms and conditions to exclude any liability for its kit being hacked. This naturally caused a few people to comment and complain, but the reality is they are doing the same thing Microsoft, Cisco, Oracle and every other company does. Microsoft's history of producing secure software speaks for itself, that's why we need firewalls and anti-virus and other third-party applications on our computers.
Which surveillance manufacturers take responsibility for hacks? I'm guessing the number would be very close to zero, actually exactly zero. I would suggest that the cyber security problem the surveillance industry is now starting to face is not the fault of the manufacturers – they have partial fault through the production of poor software and through using untrusted components – but it is a shared responsibility.
Installers and integrators must also share in the blame. Understanding the risks of the information world is essential if you are going to be adding something to a network, whether it's your home network or a large organisation's. Moreover, catering for the risks in collaboration with your client's IT people should be a given. Of course that doesn't happen because we all have our things to do and security is that guy's domain.
The end user also shares the blame. The customer should make the rules and ensure, for example, that all the changed passwords are in the hands of the security manager (or whoever is responsible) and not left as defaults or a secret the installer keeps to himself. That is probably the simplest step in ensuring your own surveillance system. It might also be worthwhile doing your homework and dictating what you want your products and infrastructure to do instead of going for the cheapest, or the one the salesperson gets the best commission on.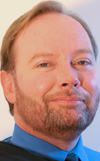 Whether you are making your home more comfortable, securing an estate, buying a new laptop or installing a new Internet of Things platform, the reality is that you will have problems if you see security as a necessary evil that you have to pay for just in case.
Security needs to be an integrated component of everything we do. This will automatically make us as users more aware of what we need and how we should use what we have, and it will make the systems we rely on more secure. With security designed into the architecture from the start, there will be fewer hassles trying to add it on later when your budget is already spent.
Andrew Seldon
Editor
Credit(s)
Further reading:
Online fleet management system
Issue 1 2020 , News
Fleet Domain's online Fleet Management Information System is reducing operating costs and improving safety for South African logistics firms.
Read more...
---
Digital insurance bundle for assets and devices
Issue 1 2020 , News
My CyberCare is a specialist provider of personal, and SMME online cyber insurance, cyber detection and cyber monitoring solutions for both local and global consumption.
Read more...
---
IDEMIA to supply Morocco's national electronic ID cards
Issue 1 2020, IDEMIA , News
IDEMIA will supply Morocco with national electronic ID cards and introduce a secured digital identity online services platform.
Read more...
---
Rockwell Automation to acquire Avnet
Issue 1 2020, Rockwell Automation , News
Rockwell Automation announced it has signed an agreement to acquire privately held Avnet Data Security, an Israeli-based cybersecurity provider with over 20 years' experience providing cybersecurity services.
Read more...
---
The instruments for investigation
Issue 1 2020, Technews Publishing , Security Services & Risk Management
Regardless of the reason for investigation, the investigation is only as good as the investigators.
Read more...
---
Do we really want simplicity?
Issue 1 2020, Technews Publishing , News
Everything today has to be simple, easy and fast. Even access to your bank account has to fit these adjectives and banks spend significant time and money trying to ensure their web and mobile interfaces ...
Read more...
---
Longse Distribution to become LD Africa
Issue 1 2020, LD Africa , News
Brendon Whelan, sales manager for Longse Distribution, announced that the company officially changed its name to LD Africa as of 20 January 2020.
Read more...
---
Three expos in one
Issue 1 2020 , News
Looking ahead to 2020 Vision: combined Securex South Africa, A-OSH EXPO and Facilities Management Expo 2020 promises to be even bigger and better.
Read more...
---
Security events you can't miss in 2020
Issue 1 2020, Technews Publishing , News
Hi-Tech Security Solutions will host a number of focused events in 2020 to highlight the latest in security technology and the operational benefits they deliver.
Read more...
---
David Shapiro to chair ESDA
Issue 1 2020, ESDA (Electronic Security Distributors Association , News
The Electronic Security Distributors' Association (ESDA), established in 1989, has elected David Shapiro as its chairperson for 2020.
Read more...
---