printer friendly version
Necessary evil or critical ingredient?
June 2016
News
You can say it a million times and a billion people will agree with you, but we all do it anyway. Security is still not seen as a necessary component of business, not even IT, and is therefore still a necessary evil in the eyes of most people – or a grudge purchase as so many people keep saying. The result of this is a minimalist approach to security where cheaper is better and the budget makes your decisions for you.
And then security gets a bad reputation when things aren't miraculously 100% secure.
An online site devoted to security recently wrote an article about a Chinese surveillance manufacturer, Hikvision, which had changed its terms and conditions to exclude any liability for its kit being hacked. This naturally caused a few people to comment and complain, but the reality is they are doing the same thing Microsoft, Cisco, Oracle and every other company does. Microsoft's history of producing secure software speaks for itself, that's why we need firewalls and anti-virus and other third-party applications on our computers.
Which surveillance manufacturers take responsibility for hacks? I'm guessing the number would be very close to zero, actually exactly zero. I would suggest that the cyber security problem the surveillance industry is now starting to face is not the fault of the manufacturers – they have partial fault through the production of poor software and through using untrusted components – but it is a shared responsibility.
Installers and integrators must also share in the blame. Understanding the risks of the information world is essential if you are going to be adding something to a network, whether it's your home network or a large organisation's. Moreover, catering for the risks in collaboration with your client's IT people should be a given. Of course that doesn't happen because we all have our things to do and security is that guy's domain.
The end user also shares the blame. The customer should make the rules and ensure, for example, that all the changed passwords are in the hands of the security manager (or whoever is responsible) and not left as defaults or a secret the installer keeps to himself. That is probably the simplest step in ensuring your own surveillance system. It might also be worthwhile doing your homework and dictating what you want your products and infrastructure to do instead of going for the cheapest, or the one the salesperson gets the best commission on.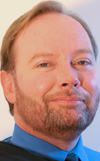 Whether you are making your home more comfortable, securing an estate, buying a new laptop or installing a new Internet of Things platform, the reality is that you will have problems if you see security as a necessary evil that you have to pay for just in case.
Security needs to be an integrated component of everything we do. This will automatically make us as users more aware of what we need and how we should use what we have, and it will make the systems we rely on more secure. With security designed into the architecture from the start, there will be fewer hassles trying to add it on later when your budget is already spent.
Andrew Seldon
Editor
Credit(s)
Further reading:
UJ and Schneider Electric launch 4IR Experience Room
News
Schneider Electric and the University of Johannesburg (UJ) Faculty of Engineering and Built Environment (FEBE) have officially unveiled the 4IR Experience Room, a first for UJ and situated at the university's Auckland Park Campus.
Read more...
---
SafeCity Guarding rolls out across 14 suburbs in Johannesburg
News Security Services & Risk Management
In a major drive to provide communities across Johannesburg with additional safety, Vumacam, in partnership with Fidelity ADT and other security providers across the region, rolled out the innovative SafeCity Guarding initiative in 14 suburbs.
Read more...
---
Providing an interactive branding platform
Securex South Africa News Conferences & Events
Now in its 30th year of providing security technology and services providers with a platform for increasing their brand exposure, Securex South Africa will be held at the Gallagher Convention Centre in Midrand, from the 6th to 8th June 2023.
Read more...
---
ALX sponsored learning programmes for 2023
Training & Education News
With a mission to harness Africa's abundant human capital by developing two million ethical and entrepreneurial young leaders from the continent by 2030, ALX has launched four fully sponsored (at no cost) tech programmes for 2023.
Read more...
---
LockBit ransomware gang most apt to leak stolen victim data
News
Trellix has released The Threat Report: February 2023 from its Advanced Research Centre, combining telemetry collected from the world's largest network of endpoint protection installs and its complete XDR product line with data gathered from open- and closed-source intelligence reports.
Read more...
---
Schneider Electric is looking for your bold idea
News
Schneider Electric has launched this year's Schneider Go Green, an annual competition that invites university students from across the globe to share their ideas for innovations that can help make the world cleaner, more inclusive, and more sustainable.
Read more...
---
Paxton Introduces new rewards programme to South African installers
Paxton News
Paxton has launched Paxton Rewards, offering the first opportunity for installers in South Africa to earn rewards by participating in training, installing Paxton solutions, and completing activities or achievements. The programme is available via the Paxton Installer app.
Read more...
---
Keeping students, staff and communities safe
Vumacam News CCTV, Surveillance & Remote Monitoring Security Services & Risk Management
South African schools are facing increasing security challenges, making effective surveillance systems more important than ever. To address this issue, Vumacam is offering advanced security solutions with security partners, aimed at keeping students, staff, and the community safe.
Read more...
---
Arcules and IMMIX announce integration
News CCTV, Surveillance & Remote Monitoring Products
Arcules has announced that its integration with Immix Central Station and Guard Force is available. The integration provides Central Station and Guard Force users a way to manage, verify, and respond to security events, while using Arcules-managed video feeds.
Read more...
---
From the editor's desk: Drive to survive
Technews Publishing News
Nobody is surprised by the horrible driving habits of many people on South Africa's roads. Lack of policing, except when collecting money, and the related overall acceptance and encouragement by government ...
Read more...
---