printer friendly version
Overall positive vibes at IFSEC SA
August 2012
Conferences & Events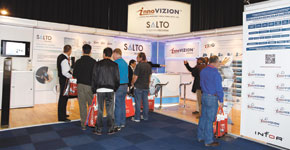 IFSEC 2012 hosted 5902 visitors while the co-located OSH exhibition received 2661 visitors. The total number is up by 161 visitors from 2011. While the number of visitors to the IFSEC exhibition has dropped by 312 people, the consensus from the exhibitors interviewed for this article, was that the quality of the specifying and buying power of the visitors was much higher than in 2011.
"With South Africa, indeed most of Africa, putting more faith in private security, IFSEC South Africa has become the premier annual event on the security calendar," says Ross Cullingworth, commercial events director, UBM Montgomery. "Preliminary feedback from our visitors and exhibitors has been very positive and proves that the biggest commercial security, government security and fire event on the African continent is entrenching its position as a leading global event.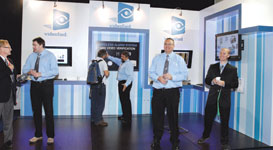 "We're proud of the achievements reached at this year's show," says Cullingworth. "We achieved our objectives and overall it was an excellent platform for security trade professionals, organisation risk managers, senior decision-makers and government representatives to engage with respected commercial and government security suppliers."

Below is a small sample of what was on show, compiled by Hi-Tech Security Solutions. The review is not a comprehensive overview of the show, nor do the accompanying pictures cover all the stands on show; rather it is a snapshot of a few of the show's highlights.
ADI
There was a large focus on cloud solutions on ADI's stand. The Maxpro Cloud and Honeywell Total Connect offerings being examples of the trend of cloud computing. The Samsung IP range of cameras and the much-talked-about Morpho finger vein reader also featured.
Another newcomer this year included the Greenbox from Ideco, which provides a digital record of physical documents as well as fingerprints.
The ADI stand also featured two new agencies – Nuuo and Fireray. Nuuo combines NVR and NDVR Hybrid technologies with IVS detections, based on open platforms. The Fireray range includes the world's largest selling infrared optical beam smoke detectors, fire extinguishers and vibration switches. The 5000 range's single controller can handle four detector beams with 50-100 metre set points. The system is wired with twin core from the controller to the beam, thus saving on wiring costs.
Takex introduced a new 180-degree beam, which is easy to set up and has a dual zone which initiates an alarm only when detection occurs simultaneously in both the horizontal and downward zones. This prevents false alarms from distant vehicles or small animals.
Visonics' PowerG range of wireless intruder detection products was also there, which can also incorporate smoke and flood water detectors. When water leakage is detected, the system will automatically shut off the water supply, thus minimising damage.
International representatives on the stand included Michiel Rijsseumus from Nedap, presenting ANPR cameras and uPass Access, Ray Sooley from AFI with new networking offerings, Mike Burgess from Takex with the OMS 12FE 180-degree dual zone infrared PIR, Fabrice Bioulet from CDVI, presenting Atrium entry level access control with web interface, Shaun Savage from Nuuo and Phil Barnett presenting integration from Tridium.
Arecont Vision
Arecont Vision's local operation demonstrated the company's 8- and 20-megapixel cameras. These are available in 180-degree to 360-degrees panoramic configurations. One 8- or 20-megapixel camera in a vandal-resistant IP66 dome can replace multiple analogue cameras with the ability to zoom into multiple regions of interest.
Among other features the cameras support ±10 degrees mechanical sensor tilt adjustment, privacy masking for multiple regions, extended motion grid, low-light capabilities, IP66 and various mounting options (ie. surface, wall, pendant, in-ceiling).
In South Africa, Arecont's growth has been slow, but regional sales manager, Ethan Maxon believes there is potential in the region. "During 2010/11 we have seen a growth of 25% in sales in South Africa. We've installed our cameras at OR Tambo International Airport, retail markets, shopping centres, parastatals, mines, banks, filling stations and at Gallagher Convention Centre. In the coming year we plan to bring in new local partners."
ATEC
ATEC unveiled its Visitor Management System, based on current and established access control technologies such as Impro and Softcon. The system incorporates the i-Dentifid Pre-clearance software package and fully integrated i-Dentifid licence scanner that offers seamless control over visitor access control.
In practice the system enrols or registers a vehicle using biometric technology and then integrates with the fingerprint access control system. Once cleared, access is then provided to the premises. This also takes the authority away from the guard to be able to open or close booms.
Avigilon
Avigilon's South African distributor (AVAD), Tec Sec Distributors, had a booth at IFSEC SA. Avigilon's latest range of H3 platform cameras and Avigilon Control Center software was on display. Regional sales manager of southern Africa, Ryno van der Vyver said, "The stand was visited by many integrators and end-users wanting to see the excellent images produced by the Avigilon high-definition surveillance system. There was a really good response from the local security stakeholders regarding the benefits in terms of security applications that the Avigilon system can provide. IFSEC SA provided a good opportunity to interact with the local security integrators and end-users."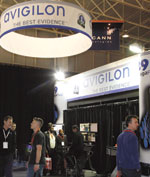 Axis Communications SA
IFSEC SA 2012 provided Axis with a platform to showcase new products and technologies in a small amount of time to a very large audience. Country manager, Roy Alves said, "In addition to the sizable amount of distributors and integrators showing interest in becoming involved with Axis, the surprisingly huge turnout from actual and potential end users from a wide range of verticals is a very strong indication of how the industry is rapidly expanding. Not only did they come from across Africa but also from the Middle East with various high ranking government officials attending."
Bloodhound
The Bloodhound Field Management solution includes a second-generation personnel monitoring control room and business intelligence platform, known as Bloodhound Observer. This has been designed to integrate with the new Rover mobile device and other Bloodhound mobile and static devices.
With the appearance of a rugged cellphone, the new Rover is a multi-communication device used to monitor field personnel. It operates autonomously and is ideal for use in remote areas. It has an unlimited monitoring area and caters for any site complexity. No specific operator actions are required with the built-in active RFID reader. The device also has an independent built-in two-way radio and advanced GPS features.
Cathexis
Cathexis introduced its latest Windows and Linux based video management solution (VMS) as well as its enhanced Megapixel VMS at IFSEC. Also on display were the company's new setup wizards. These are simpler to operate with a more user-friendly interface.
Other new launches included panamorphic camera rendering software and a 'cat' observer feature, which enables you to choose any monitor and convert it into a virtual camera.
Cathexis also demonstrated its sophisticated integration with access alarm and control panels. The Cathexis catAccess system allows complete system configuration and day-to-day management of both CCTV and access control from the Cathexis software. The system harnesses the power and flexibility of the Cathexis analogue and IP video solutions and incorporates all the functionality of the Impro IXP20 range of access control solutions as well as many other access control systems.
"We found that at times our stand was a bit quiet but the quality of visitor has made up for the volumes. We had some really good enquiries," said Gus Brecher, MD of Cathexis.
Cengence
A new version of Cengence Pulse was launched at IFSEC. The previous version – Core – featured a single-site system whereas Pulse allows for an unlimited number of sites to be managed. Cengence Pulse has a number of new capabilities including an automation engine with rule-based trigger, which executes a fixed process based on the rules.
Cengence Essentials contains a number of modules which have also been expanded. The Cengence Essentials Event Management module takes predetermined actions and devises a strategy or plan around specified crisis events, for example, fire. It gives instructions on actions required by people and the equipment needed to execute a task.
Cengence Threat is the intelligent threat and risk management component of the product range. This intelligence management framework uses risk models and threat conditions to make associations, thereby modelling possible scenarios. The Cengence TaskMaster product, governed by artificial intelligence, automates the workflow process. It checks and verifies whether instructions have been followed.
All modules and systems are backward compatible for ease of integration between Pulse and Core.
According to research and development manager for Cengence, Gerhard Furter, this year's IFSEC show was a massive success for them. "I can honestly say that this has been the best one yet in terms of the quality of visitors we hosted."
DTS
The Gcom500 is a universal single relay control unit designed for access control of automated gate systems or for general SMS or 'Missed Call' control/switching applications. It stores up to 500 telephone numbers for access control and has permanent or time limited user access, making it ideal for hotels and guest houses.
DTS was recently appointed as the sole distributor in Africa for BFT, the USA manufacturer of CSA/UL approved gate operators.
According to James Mitchell, marketing manager at DTS: "This was a fantastic year for us at IFSEC. We not only had large volumes of visitors to the stand, but the level of visitor was also very high in terms of specifying power."
Elvey
Centre stage on the Elvey stand was the Tyco range of products. The company introduced the cost-effective 4-8 zone DSC intruder detection system and the dynamic TouchScreen keypad. The DSC TouchScreen keypad combines keypad functionality with an intuitive interactive experience for ease of use.
Also on display was the full range of Visonic products from Tyco, including the new two-way wireless communication panels complete with Chicklets Prox Tags. The PowerG wireless technology transmits an encrypted and frequency hopping signal within a secure band, improving on the security and reliability of signal transfer.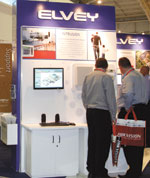 A new addition for Elvey is the incorporation of Impro products into their portfolio. On show were Impro's innovative controllers, standard and biometric readers, as well as a variety of the company's other well-known products.
New outdoor and indoor detectors and beams made an appearance from Optex. The Infinity range is an upgraded version of the VX402 outdoor detector which now includes microwave technology. Dual Technology reduces false alarms and further increases reliability in an unpredictable outdoor environment. This product, previewed at the show, will be available towards the end of the year.
Other stand participants included the Optex Redwall commercial range of detectors, the Bosch Advantage Line analogue and IP CCTV range, together with a range of intelligent Dahua DVRs and cameras.
Elvey incorporated a virtual control room into its stand this year. The Security Management System, combining the monitoring of a number of Elvey's product offerings, was designed by Pentagon to showcase the ideal integrated security offering.
FSK and Secequip
FSK and Secequip enjoyed the opportunity to be able to meet many of their customers as well as several new customers. IFSEC offered them an opportunity to be able to display some new products namely their medium range wireless bidirectional units as well as their integrated GSM and radio transmitters in the Texecom range of panels.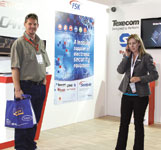 IFSEC also gave them chance to display some of their new innovative products that their R&D have completed over the last year and this enabled them to spend some time with their customers showcasing the road forward and the various products that they will be developing in the next 12 months.
Geutebrück
Geutebrück showcased the Topline range of cameras with H264CCTV compression. This range incorporates automatic adjustment of the camera channel resolution to rapidly match it to the size of the display window. It also has alarm controlled compression management for fast changing of compression parameters with no switching delays or data loss.
The company demonstrated their supply chain and banking vertical market solutions to a captive audience. In addition, it exhibited the whole range of hybrid to IP solutions, and NVR up to virtualised servers.
The company hosted three visitors from Geutebrück Germany – Bjorn Haupt, Raphael Amberg and Frank Krug, as well as representatives from local distributors Sentronics.
"We had a lot of interest from high-quality end users. This can be attributed to a number of factors, including the increased brand awareness that Geutebrück has generated over the past year. We find that the consultants who visited our stand had a good knowledge of what we had on show and the fact that we now offer local support for the products," said Geutebrück SA's MD Charles Volschenk.
HAB/Rapiscan Systems
HAB launched the new range of Rapiscan 600 series of X-ray machines, incorporating OS600 software with enhanced operating features. These screening machines produce a stunning X-ray image making the detection of threat items very easy. The machines also have a modular design, which makes them easy to maintain, resulting in lowered operating costs.
Also newly launched is the Metor 6M walk-through metal detector with a multi-zone independent unit for better discrimination, improved throughput and programs. It is ideal for ferrous and non-ferrous metals and provides 36-point detection. This could be likened to nine metal detectors in one unit.
HAB has available Rapiscan Dual View X-Ray systems primarily for use in aviation and air cargo screening operations. These Dual View systems meet all international standards for air cargo screening. The 620DV for hand baggage screening includes auto-matic explosive detection and is TSA approved, and ECAC approved for liquids, aerosols and gels.
The Rapiscan RTT (Real Time Tomography) is a breakthrough in aviation hold baggage screening and offers Computed Tomography (CT) quality images, high-speed throughput with an easy to maintain design.
"Overall, the show was a success and the quality of sales leads was of a high standard. We had the impression that the market and public in general is becoming more aware and appreciative of the type of security screening equipment we offer," said HAB sales manager Aaron Chola.
HiTek Security Distributors
HiTek Security Distributors launched a new Provision-ISR HD analogue range including the SA8200HDSI HD DVR and three camera models. These are the BX392 camera and two infrared Bullets – the 20-metre IR and the 40-metre IR, both with a 2.8-10 Megapixel lens.
These analogue cameras run on 1080P, to provide a high-resolution camera with clarity that is immune to network failure. According to HiTek Security's director Clyde Elhadad: "These analogue cameras still utilise coaxial cables so they are immune to the issues around a standard IP system, like network failure. They allow digital transmission of uncompressed HD video with almost zero latency and no compression artifacts."
The company's new IP 'Plug-and-Play' solution is designed for pure end-user solutions. It is not designed to replace CCTV, but it means that you can provide a solution for the end-user who only requires one or two cameras per site. The user logs into the website – www.neohitek.co.za – puts in his details, selects his specific options and orders his camera. Once he receives his camera he once again visits his profile on the website, enters the camera's serial number and the camera is ready to use. It has SMS and push notification options, with applications for smartphones. It is extremely easy to install (installation free), use and is also very affordable. Data is recorded offsite on HiTek Security's server, allowing the client to access the data anywhere in the world.
Unlike traditional video surveillance systems (DVR, NVR) that provide protection against theft and loss, NeoCam empowers you with visual surveillance information as a Web solution. You can manage and approach from any browser, view and manage real-time video information, video data sharing, download archived records, access through mobile phone and get real-time alerts by SMS, MMS and e-mail notifications.
HikVision
HikVision had a wide array of products on display, including its high-definition IP 1.3 to 5 Megapixel cameras. The company, which is rated by IMS as the world's number-one supplier, believes that it has alleviated the quality issues encountered when company budgets normally only allow for entry-level cameras. It offers its high-definition, high-resolution cameras at a cost effective price.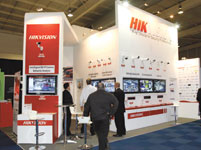 The company also showcased several models of DVRs on its stand. By removing the buttons on the front panel of one of the models, HikVision has reduced the price substantially for a good entry-level product that still provides high performance levels.
In addition to hi-res digital cameras, the company presented a new range of analogue cameras. The new 32-channel hybrid DVR also made a first appearance at IFSEC.
IAC
IAC received very positive feedback from visitors as the company demonstrated its full range of Mobotix high resolution IP cameras. Chief technology officer, Raine Sadie, comments: "Once again, IFSEC proved to be a valuable platform for IAC, attracting a lot of footfall to the stand. Visitors were especially keen to see the new Mobotix T24 Door Station and DualDome D14 cameras. We have been pleased with the way this year's show has gone, but seeing as Mobotix is known as the leading pioneer in IP network camera technology, perhaps it's not surprising that considerable interest was being shown in this quality product, made in Germany."
The T24 Door Station is a high-resolution Hemispheric door camera with 3.1 megapixel image sensor and internal MicroSD storage that allows for monitoring of an entire entrance area – complete panorama view from wall to wall and floor to ceiling.
The D14 Fixed DualDome Camera with two lenses, two Hi-Res image sensors, up to 64 GB storage and a dual image of a maximum of 6 megapixels make this attractive camera an efficient security solution: It is possible to secure two different areas using just one camera, all without vulnerable mechanical components.
Also on the IAC stand was the large screen and video wall systems from Eyevis, including high-end LCD monitors for quality control, security, information and communication.
Ideco
Ideco's Greenbox had show visitors talking. This new product, which featured on Ideco's stand, is a multifunction input device that captures digital records. This device contains a document scanner, biometrics fingerprint reader, digital signature pad, EMV compliant smartcard reader and a webcam.
The product readily generates digital records of supporting documentation, eliminating the need to make photocopies and thus reducing the carbon footprint.
Ideco also introduced the Psion device, which will be replacing the MT2G in the EVIM (electronic visitor identification management system) solution. The EVIM solution is ideal for use at boom gates and security checkpoints.
The company's ES2 software offering now includes the integration of the Morpho VP reader. This is the first biometric reader combining finger vein and fingerprint technology. The solution provides users with a false acceptance rate of 10-4 and a false rejection rate 10 times lower than with the best of the two modalities.
Imperial Armour
Imperial Armour launched a new range of tactical wear for the security and protection services sector. In addition, it presented a number of medical emergency kits geared around the emergency services sector.
Itatec
Itatec introduced the T60 GPRS. Manufactured by Anviz, it is an integrated high-speed GNDI fingerprint and RFID card reader. The device has a built in GPRS modem to link time and attendance clocking to a central server using the cellular network. The system monitors workers clocking in and out via fingerprint or cards and sends the information to a central server.
Itatec's Vivian Taback said, "The T60 GPRS is an easy solution for companies to monitor onsite employees activities and the data collected is always accurate. As it is manufactured by a local company, its software is readily applicable to South African companies and conditions. It's a low-cost, affordable solution for effective time and attendance."
Natech
As sole distributor in Africa and India for the two companies, Natech concentrated on Sentry360's 14-Megapixel ISIP14K surveillance camera and the Video-Insight VMS offerings.
According to Thomas Carnevale, the founder of Sentry360, the camera is well priced and very compact with a low power consumption of 4 Watts maximum. This ONVIV-compliant product is dedicated to capturing forensic detail capture for both suspects and vehicle number plates.
Video-Insight VMS supports most IP cameras from many manufacturers. The software is based on a per-channel basis. Video-Insight does not require large servers to be deployed. It may have up to 150 cameras on a single server using an i7 processor. It is a high-end, low-cost VMS that is ideal for use in factories, hospitals, schools, campuses, transport and government.
The Bridge VMS hybrid solution from Video-Insight bridges analogue and IP devices, with 16 channels of analogue and 16 channels of IP. This allows customers to retain their current investment in analogue while concurrently moving into the IP arena.
Powell Tronics
The entire Powell Tronics stand was focused on IP solutions, including the Golmar range of IP intercom equipment. Albert Estopá, the export manager for Golmar, was on hand to introduce the Iplus system to show visitors and to provide training to the Powell Tronics sales and technical teams.
Estopá said that Golmar manufactures a full IP intercom system. "It supports POE technology, and requires no software or gateway as it utilises a new or existing LAN to communicate. If you wish to add features to the system you do not need to modify the platform. We have now finalised pilot studies so it is primed for distribution globally." All upgrades are provided at no cost and the features of the system are growing daily.
A new Impro T&A product called MDTA was launched on the stand. A number of Impro integration modules to Milestone, DVR Systems, Panasonic and Bosch, as well as integration to SAP and MS active directory were available to view.
A Guard Touring application manages all aspects of guard touring using an Impro access control backbone and readers. It is an add-on module that can be deployed where Impro is already installed on site. It allows full management and flexibility in controlling guards via e-mail and SMS alerts.
The company's new relationship with Morpho as a national distributor involved the introduction of the entire range of readers Morpho biometric terminals, including the new multimodal Finger Vein and Fingerprint Technology – MorphoAccess VP Series.
The company used IFSEC to launch its new website and FTP site: www.p-tron.com to better serve its client base and continue to support the trade.
Suprema
The full range of Suprema's access and identity products were on display with several débuts.
"IFSEC SA 2012 provided a fantastic opportunity to launch Suprema's latest products namely the FaceStation, BioEntryW outdoor access terminal, RealScan-G1 live fingerprint scanner, RealPass-F passport and ID reader as well as a new model of the locally developed SupreMOBILE. This year was a huge success, with over 850 recorded demonstrations" says Walter Rautenbach, MD at neaMetrics, the authorised distributor for Suprema.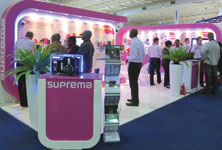 "The FaceStation caused a stir among many of the visitors making an attempt to outsmart Suprema's intelligent face terminal which uses advanced algorithms and patented technology to overcome inherent weak points associated with facial recognition solutions.
"The keen interest shown in the integrated solutions emphasised the value added distribution model that makes us different. Some of these included DDS's enterprise building and environmental management system and ProSync Workforce Management solution for EasyRoster."
Technoswitch
The Vesda VLI industrial aspirating smoke detector and the Vesda ECO gas and aspirating smoke detector, with environmental monitoring, were highlighted on the Technoswitch stand this year.
The Vesda VLI has an intelligent filter for increased detector longevity. The detector answers the call for a reliable detector that can differentiate between smoke caused by fire and other pollutants that may cause a false alarm. The detector has an improved IP/NEMA-rated enclosure for robust protection in a wide array of environments. In addition, field-replaceable parts allow for simpler deployment, maintenance and lower cost of ownership.
With the Vesda ECO, Xtralis has developed the industry's first system to combine ASD with gas detection and environmental monitoring. It uses an existing Vesda air-sampling pipe network to actively monitor for gas leaks and continuously ensure air quality in occupied areas. This simple expansion requires no construction and does not involve installing electrical conduit.
Technoswitch hosted local Xtralis representative Lauren Sher and Barry-John Wyman, the technical manager SA and Africa. International visitors included Cliff Key from Firebeam, Ian Thompson and Raed Abughazaleh, who presented a paper on the EN54 Part 13 standard at the IFSEC Interactive Seminar Theatre.
Besides the usual diverse offering of fire detection products, Technoswitch displayed the new En 54-approved range of entry level conventional fire detection panels, as well as the new industrial weatherproof 2- and 4-zone conventional panels.
Turnstar
Turnstar's Craig Sacks said the exhibition was a great success. On display was the Triumph 4 turnstile and the high security Tribune single reader turnstile. The Atlas automatic revolving door range was launched as well as the Speedstile Motion, which is a high-speed pedestrian turnstile with built-in anti-tamper intelligence and various safety features.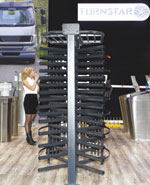 ViewProtect
ViewProtect launched at IFSEC SA 2011 but this year's show is the one that stands out for the company's owner Marius de Villiers. "We had a great response to our products and we have a large number of leads that need to be followed up on."
ViewProtect's Armed Bars (transparent burglar bars with integrated alarm sensor), are tamper-proof and eliminate false alarms caused by accidental opening and closing of windows.
These bars will give the client a 24/7 physical and alarm protection while moving (living) in his/her house and is aesthetically pleasing. Should a criminal attempt to cut or damage the bars, the alarm will be automatically activated. This is made possible by the thin, specially-designed corrosion-resistant wire that is forced into the polycarbonate bar during the installation process. The wires are connected in series and linked to the alarm system.
Virdi
Virdi released the new Smart-i biometric and card reader. It supports WiFi connectivity and can be managed via Android or Apple tablets or smartphones.
Smart-i features include:
* IP65 outdoor rating,
* WiFi communications,
* 1000 users/1000 templates,
* 1 000 000 transaction memory,
* 1,3 megapixel camera,
* 10 000 image memory,
* Touch keypad (F1 to F4),
* Built-in card reader (either EM4100 125 kHz or Mifare 13,65 MHz),
* Operates either as a standalone or networked solution.
Wild and Marr
Raymond Rix, director of Wild and Marr said, "IFSEC 2012 was once again well organised and ran smoothly. The quality of stands and exhibits were very impressive and certainly met international standards. My first impression on Tuesday was that there were considerably fewer visitors than in 2011 and I estimated the numbers to be some 25% down, which I thought may be due to the depressed state of our economy at present. Day 2 and 3 however surprised on the up side and we were extremely busy from 11h00 to 15h30 each day and a fair number of late visitors after 16h00 on Wednesday. We received many good business leads and are expecting to secure a number of new business deals later this year."
Credit(s)