printer friendly version
Back to the future: new owners, new drive, new vision
August 2012
News
Norbain South Africa has announced it is under new management, well, new ownership. Scarcely two weeks have passed since Norbain UK announced it had been acquired by Newbury Investments UK and was looking to sell the company's branches in South Africa, Portugal and Netherlands, and the local concern has been bought by its current management.
The management buyout (MBO) was confirmed last week. Unlike the usual corporate manoeuvring that take weeks or months, effective immediately, Norbain SA is now owned by Jan De Lange, the MD, Lukas Rautenbach, the FD and Les Oates, a director.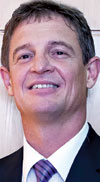 Jan de Lange
The company has just confirmed that it will ditch the Norbain brand and revert to the Reditron brand. Reditron was the name of the original South African security distributor bought by Norbain back in 1996.
De Lange told Hi-Tech Security Solutions that the transition has been seamless and that no staff left, despite a high demand for Norbain's technical employees. Moreover, none of the staff have been retrenched. On a positive note for Norbain customers, it will continue to supply all the products it currently does. Since Norbain SA has always signed direct contracts with its suppliers, all distribution agreements are still in force, with Oates noting that not one vendor has withdrawn their products from the Reditron catalogue.
"It is business as usual, but now we are able to forge our own path," notes De Lange. "Whereas we had to operate within the rules of our parent company in the past, we now have the flexibility to run the company focused on meeting the needs of the South African market."
This will include local manufacturing opportunities for in-house brands in the future, as well as the opportunity to improve the company's BEE status as a result of the company's freedom to bring on empowered partners. "We have a host of ideas we will be implementing in due course," says De Lange. "Watch this space. We have some exciting plans and the market can take note that we are here to stay."
General consensus in the market is positive, supporting the change. Michael Gwozdek, MD of Heitel, says, "HeiTel has several great memories of the longstanding and continuing relationship with Norbain South Africa. Our partnership is based on many years of collaboration, full confidence in each other and our joint focus of activities to develop and marketing tailor-made solutions to meet the expectations and the needs of our mutual customers in South Africa.
"We highly believe in the strength and enthusiasm of the newly formed management team of Norbain South Africa, their independence from global management and the team spirit of Norbain's employees. The changes are optimal conditions for a reciprocal growth of our business in South Africa."
Sony's Will Klopper supports this view, noting "We are extremely excited about the successful management buyout by the Norbain SA management team. We could not have hoped for a better outcome and we know that with the skills and talents of the existing staff, combined with the solid experience in the South African market, Norbain SA will go from strength to strength.
"Norbain SA proved themselves over the past few years as being able to take a high end premium product like Sony to a market which is flooded with cheap inferior products through good service, technical backup as well as a solid sales team. We are proud to associated with Norbain and look forward to join you on this new and exciting path."
Marius Coetzee, MD of Ideco Biometric Security Solutions is delighted for the MBO team at Norbain. Coetzee says, "We have worked closely with Norbain since 2006. Our partnership has made a major contribution to the widespread use of biometric technology in South Africa's access control and time management market. The exceptional growth in local biometric market would not have happened without Norbain's commitment to provide practical advice and technical assistance to their network of customers.
"In many ways, Norbain's success is founded on their outstanding levels of customer support. They understand the importance of actively helping their customers to build their own businesses. I am sure that this commitment to customer service will be a cornerstone of their continued growth and I wish them every success for the future."
The MBO has left the local company with a very healthy balance sheet, says Rautenbach, putting it in a strong position to not only deliver the service and products the security market requires, but to embark on a number of improvements to its local operations.
Starting out, De Lange is focused on improving the company's service levels to heights unseen in the local market. Some of the improvements will be a revamped repair centre in the Johannesburg office as well as a central contact centre. In future, customers will have a single number to call for whatever they require, no matter where in the country they are located.
The company's branch offices will continue their operations as they are, except with a renewed focus on customer service. And while the short-term focus on the company will be on South Africa, the future will see Reditron spreading its wings into Africa. The first forays will be into the neighbouring countries in the medium term, and then further north in the long term.
"Our greatest strength going forward is our people," adds Oates. "You can have the best products in the market, but if you do not have great people on board you are in trouble. The fact that not one member of staff has left says a lot about their commitment to the company and our customers."
"We have moved the bureaucracy out of the way, we are motivated and we are piloting our own ship now. The market can expect great things from this company going forward," concludes De Lange.
For more information contact Norbain SA t/a Reditron, +27 (0)87 802 CCTV (2288), marketing@reditron.co.za, www.reditron.co.za
Credit(s)
Further reading:
TAPA: The role of an effective treasury function in business risk management
June 2019, Technews Publishing , News
Neil Le Roux, the Founder of Diligent Advisors will speak at the TAPA SA (Transported Asset Protection Association) annual conference on 26 July 2019.
Read more...
---
From the Editor's desk: No really, take it seriously
July 2019, Technews Publishing , News
Cybersecurity is a topic that has been done to death in the media. The blanket coverage has been so great that people, even the few that realised the danger, have started to gloss over the issue, barely ...
Read more...
---
AI to grow in MEA
July 2019 , News
Annual spending on artificial intelligence in the Middle East and Africa to top $530 million by 2022.
Read more...
---
Ingo Mutinelli moves to IDEMIA
July 2019, Technews Publishing, IDEMIA , Editor's Choice, News
IDEMIA, the security and identity management company has announced that Ingo Mutinelli will be taking on the post of regional sales director for the southern Africa region.
Read more...
---
TAPA EMEA appoints Thorsten Neumann as president and CEO
July 2019, TAPA (Transported Asset Protection Association) , News, Asset Management, EAS, RFID
The Transported Asset Protection Association (TAPA) has appointed Thorsten Neumann as its first full-time president & CEO.
Read more...
---
Transom Capital Group Acquires Pelco
July 2019 , News, CCTV, Surveillance & Remote Monitoring
Transom Capital Group (Transom), an operations-focused middle market private equity firm, announced it has acquired Pelco from Schneider Electric.
Read more...
---
Residential Estate Security Conference 2019: Integrating man and machine for effective security and operations
July 2019, Technews Publishing , Editor's Choice, News, Residential Estate (Industry), Conferences & Events
The Residential Estate Security Conference 2019 will delve into how estates and their service providers can better integrate man and machine for more effective security and operations.
Read more...
---
Milestone appoints new VP for research and development
July 2019, Milestone Systems , Editor's Choice, CCTV, Surveillance & Remote Monitoring, News
Milestone Systems has appointed Tom Bjerre as its new VP for research and development. He will oversee planning, development, testing and release of Milestone Systems' video management software.
Read more...
---
Child fingerprint identification solution
July 2019 , News, Access Control & Identity Management
Gavi, NEC, and Simprints to deploy world's first scalable child fingerprint identification solution to boost immunisation in developing countries.
Read more...
---
Johnson Controls launches Technology Contracting in Africa
July 2019, Johnson Controls , Editor's Choice, News, Security Services & Risk Management
To address the growing challenge of planning, integrating and maintaining a multitude of different, highly connected systems, Johnson Controls is launching Technology Contracting in Africa.
Read more...
---