printer friendly version
Eavesdropping Detection Solutions (EDS)
May 2016 News, Conferences & Events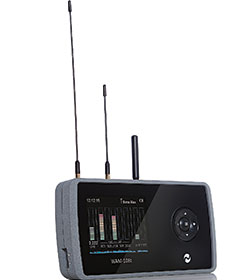 Eavesdropping Detection Solutions (EDS), South Africa's only Cyber TSCM company, will exhibit the latest high level technical surveillance countermeasures (TSCM) equipment available on the market for the detection of covert listening, video and optical surveillance devices.
The days of traditional 'sweeping and debugging' are over. The last decade has seen huge innovations in information technology, communication devices and covert surveillance devices moving for the traditional analogue 'bugs' to sophisticated devices operating on the GSM, Wi-Fi and Bluetooth protocols.
EDS will exhibit new products that have been specifically designed for professional TSCM teams to counter the latest threats on the GSM, Wi-Fi, Bluetooth and IoT networks. On display will be the new Orion 2.4 HX (3.3 W) and the Orion 2.4 HX 6.6 W (Government version) Non-Linear Junction Detectors by Research Electronics International (REI) (USA).
The ANDRE (Advanced Near Field Detection Receiver) by REI will be introduced in South Africa for the first time during the exhibition. EDS will be supported by Pete Denson from Research Electronics International (REI) (USA). Presentations on TSCM will be presented in the Securex Seminar Theatre on 24 and 26 May 2016.
Find out more in Hall 3, Stand J06.
Further reading:
UJ and Schneider Electric launch 4IR Experience Room
News
Schneider Electric and the University of Johannesburg (UJ) Faculty of Engineering and Built Environment (FEBE) have officially unveiled the 4IR Experience Room, a first for UJ and situated at the university's Auckland Park Campus.
Read more...
---
SafeCity Guarding rolls out across 14 suburbs in Johannesburg
News Security Services & Risk Management
In a major drive to provide communities across Johannesburg with additional safety, Vumacam, in partnership with Fidelity ADT and other security providers across the region, rolled out the innovative SafeCity Guarding initiative in 14 suburbs.
Read more...
---
Providing an interactive branding platform
Securex South Africa News Conferences & Events
Now in its 30th year of providing security technology and services providers with a platform for increasing their brand exposure, Securex South Africa will be held at the Gallagher Convention Centre in Midrand, from the 6th to 8th June 2023.
Read more...
---
ALX sponsored learning programmes for 2023
Training & Education News
With a mission to harness Africa's abundant human capital by developing two million ethical and entrepreneurial young leaders from the continent by 2030, ALX has launched four fully sponsored (at no cost) tech programmes for 2023.
Read more...
---
LockBit ransomware gang most apt to leak stolen victim data
News
Trellix has released The Threat Report: February 2023 from its Advanced Research Centre, combining telemetry collected from the world's largest network of endpoint protection installs and its complete XDR product line with data gathered from open- and closed-source intelligence reports.
Read more...
---
Schneider Electric is looking for your bold idea
News
Schneider Electric has launched this year's Schneider Go Green, an annual competition that invites university students from across the globe to share their ideas for innovations that can help make the world cleaner, more inclusive, and more sustainable.
Read more...
---
Paxton Introduces new rewards programme to South African installers
Paxton News
Paxton has launched Paxton Rewards, offering the first opportunity for installers in South Africa to earn rewards by participating in training, installing Paxton solutions, and completing activities or achievements. The programme is available via the Paxton Installer app.
Read more...
---
Keeping students, staff and communities safe
Vumacam News CCTV, Surveillance & Remote Monitoring Security Services & Risk Management
South African schools are facing increasing security challenges, making effective surveillance systems more important than ever. To address this issue, Vumacam is offering advanced security solutions with security partners, aimed at keeping students, staff, and the community safe.
Read more...
---
Arcules and IMMIX announce integration
News CCTV, Surveillance & Remote Monitoring Products
Arcules has announced that its integration with Immix Central Station and Guard Force is available. The integration provides Central Station and Guard Force users a way to manage, verify, and respond to security events, while using Arcules-managed video feeds.
Read more...
---
From the editor's desk: Drive to survive
Technews Publishing News
Nobody is surprised by the horrible driving habits of many people on South Africa's roads. Lack of policing, except when collecting money, and the related overall acceptance and encouragement by government ...
Read more...
---