printer friendly version
Elvey Expo 2016
May 2016
News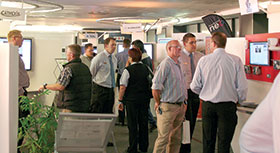 This year, Elvey Security Technologies celebrates its 70th birthday. Since its inception in 1946, Elvey has continued to drive the highest possible industry standards. The company has achieved this by nurturing the partnerships it has with its customers and supplying the market with the relevant and latest electronic security equipment.
Built on eight pillars of value added distribution – Accessibility, Support, Training, Innovation, Convenience, Advice, Projects and Heritage – and supported by its core values of teamwork, caring, passion and ethics; Elvey has much to share with Expo visitors.
Elvey received positive feedback from 2015 visitors and strives to have a repeat performance. Here is some of the feedback received from a survey run regarding last year's visitor experience: "I enjoyed the fact that it was more personalised and that we could spend quality time; "Very informative, great to see all the functions of the new products and what we can look forward to in the future"; "the venue was great! People were always helpful."
The 2016 Expos will be held in:
• Durban: 31 May – 1 June at the Moses Mabhida Stadium Mixed Zone.
• Cape Town: 7 – 8 June at the Green Point Stadium Business Lounge.
• Johannesburg: 21 – 22 June at the Kyalami Grand Prix Circuit in the Jackie Stewart Conference Room 1. Elvey Security Technologies will be one of the first companies to host an event at the brand new Kyalami Grand Prix Circuit opened this year in Midrand.
The event will give visitors exposure to innovative quality products delivered in a personalised manner. It will provide a platform for intimate interaction with highly knowledgeable product personnel. There will be exciting competitions and amazing product promotions on offer. Transport will also be arranged from Elvey branches.
Elvey's third annual Expo will be showcasing world-class brands and leading electronic security solutions in the areas of intruder detection, CCTV and IP surveillance, access control, fire, consumables and electric fencing.
Intruder detection
Elvey offers a broad range of intruder detection solutions from indoor and outdoor detectors (including wireless options), beams, keypads and keyfobs, control panels, expansion modules, receivers and repeaters and many more. The company's intrusion portfolio will be represented by Risco, DSC, Optex and RDC.
CCTV and IP surveillance
Elvey's CCTV range includes a multitude of conventional and high-definition cameras, recorders, monitors, video management solutions and specialised video surveillance detectors. Repeat exhibitors Dahua, Cathexis, HeiTel, Siemens and VisionLine will be covering the CCTV category at the Expo. VisionLine will be launching its new AHD range of cameras at this year's show.
Access control
Impro Technologies, Suprema, Sherlotronics, Fermax, ET and AccessLine will be Elvey's access control brands present at the Expo. Together these brands offer comprehensive access related solutions. Product groups falling within this category include access software, readers (including biometric readers), tags, gate and garage solutions, intercom systems and much more.
Fire
The fire category has everything you may need to design the most basic, or multidimensional system. Elvey offers addressable and conventional range products, beam detectors and accompanying accessories. For the second year running, FireClass will be representing the fire aspect of the show.
Consumables
No installation job would be possible without the peripherals that bring an installation project together. Elvey has an array of peripheral products such as toolkits, cables, transformers, power supplies, batteries etc. to assist in an installation project. Elvey is driven to bringing the highest quality consumables which are led by the Alarm Supplies brand.
Electric fencing
To enhance perimeter protection over and above the use of solutions such as outdoor detectors, the installation of electric fencing is an option. Elvey offers Nemtek's range of electric fencing products to cater to your high risk fencing needs.
Elvey looks forward to celebrating its 70 years of rich heritage and leading class electronic security solutions with you.
Credit(s)
Further reading:
UJ and Schneider Electric launch 4IR Experience Room
News
Schneider Electric and the University of Johannesburg (UJ) Faculty of Engineering and Built Environment (FEBE) have officially unveiled the 4IR Experience Room, a first for UJ and situated at the university's Auckland Park Campus.
Read more...
---
SafeCity Guarding rolls out across 14 suburbs in Johannesburg
News Security Services & Risk Management
In a major drive to provide communities across Johannesburg with additional safety, Vumacam, in partnership with Fidelity ADT and other security providers across the region, rolled out the innovative SafeCity Guarding initiative in 14 suburbs.
Read more...
---
Providing an interactive branding platform
Securex South Africa News Conferences & Events
Now in its 30th year of providing security technology and services providers with a platform for increasing their brand exposure, Securex South Africa will be held at the Gallagher Convention Centre in Midrand, from the 6th to 8th June 2023.
Read more...
---
ALX sponsored learning programmes for 2023
Training & Education News
With a mission to harness Africa's abundant human capital by developing two million ethical and entrepreneurial young leaders from the continent by 2030, ALX has launched four fully sponsored (at no cost) tech programmes for 2023.
Read more...
---
LockBit ransomware gang most apt to leak stolen victim data
News
Trellix has released The Threat Report: February 2023 from its Advanced Research Centre, combining telemetry collected from the world's largest network of endpoint protection installs and its complete XDR product line with data gathered from open- and closed-source intelligence reports.
Read more...
---
Schneider Electric is looking for your bold idea
News
Schneider Electric has launched this year's Schneider Go Green, an annual competition that invites university students from across the globe to share their ideas for innovations that can help make the world cleaner, more inclusive, and more sustainable.
Read more...
---
Paxton Introduces new rewards programme to South African installers
Paxton News
Paxton has launched Paxton Rewards, offering the first opportunity for installers in South Africa to earn rewards by participating in training, installing Paxton solutions, and completing activities or achievements. The programme is available via the Paxton Installer app.
Read more...
---
Keeping students, staff and communities safe
Vumacam News CCTV, Surveillance & Remote Monitoring Security Services & Risk Management
South African schools are facing increasing security challenges, making effective surveillance systems more important than ever. To address this issue, Vumacam is offering advanced security solutions with security partners, aimed at keeping students, staff, and the community safe.
Read more...
---
Arcules and IMMIX announce integration
News CCTV, Surveillance & Remote Monitoring Products
Arcules has announced that its integration with Immix Central Station and Guard Force is available. The integration provides Central Station and Guard Force users a way to manage, verify, and respond to security events, while using Arcules-managed video feeds.
Read more...
---
From the editor's desk: Drive to survive
Technews Publishing News
Nobody is surprised by the horrible driving habits of many people on South Africa's roads. Lack of policing, except when collecting money, and the related overall acceptance and encouragement by government ...
Read more...
---