printer friendly version
There is life in that analogue system
July 2012
CCTV, Surveillance & Remote Monitoring
When asked to specify a solution to a client that has an existing CCTV system installed, many integrators' standard answer is: "You have to go IP…".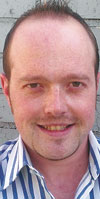 M.J. Oosthuizen
While the benefits and value of an IP system cannot be denied, adopting a rip-and-replace attitude in every installation may not be the optimal solution.
In the current economic climate and with CCTV installations and upgrades still being a grudge purchase in the local market, installers often forget to consider the small costs. If a client has legacy coax cable installed, replacing this with Cat5/6 can often over-inflate the price. The reality is that in most cases, the client's existing infrastructure can be used to do a more cost effective upgrade. Cutting out the re-cabling can often be the deal breaker.
There are two options available for analogue systems today: HD-SDI technology and the emergence of the 960H technology.
HD-SDI
HD-SDI or 'HD-Serial Digital Interface' is derived from SDI foundational technologies. It was developed for the professional HDTV market and is an interface standard that allows the transmission of high definition video over coaxial cable at speeds of around 1,485 Gbps.
The cable length will vary depending on the quality of the video demanded and the quality of the cable used, as per the normal CCTV rule of thumb. The maximum cable length for HDcctv 720p and 1080p standard is 100 metres. If you do not require HD resolution, cable lengths up to 300 metres are possible. This broadcast television technology has been technically proven through applications in television studios worldwide, going back to the year 2000.
HD-SDI has the potential to solve many common issues associated with both conventional analogue CCTV and IP-based systems, especially in environments where legacy cable is present. Some of these issues include scalability to high definition and implementation complexity and cost. It is still early days for HD-SDI in the local SA market and pricing is not yet that cost effective, but hardware availability is improving and therefore the market should keep an eye on it as viability improves.
HD-SDI camera advocates will emphasise two points: image quality and latency of live video.
Benefits of HD-SDI
* Works with existing legacy coax cabling.
* Delivers close to zero latency as the live video has not been encoded, the image quality is better in principle than network cameras.
* Network related challenges, including expertise for router configurations are bypassed.
* Less complex in design than IP based systems, especially to the integrator that lacks knowledge or confidence in implementing an IP solution.
* Lower level of commissioning expertise required.
* Traditional surveillance systems can easily upgrade to this new technology by just replacing analogue cameras and DVRs with HD-SDI cameras and HD-DVRs. However, the bandwidth of HD-SDI signal is far beyond the analogue video signal.
Pitfalls and considerations for HD-SDI
Due to the large volume of data, the solution requires fairly large storage requirements. The technology is also more expensive than traditional analogue or 960H, especially as both recorder and camera need to be replaced. The cost saving is mostly due to being able to use existing cabling and the quality of video gained from upgrading.
In the event where no existing coax cabling infrastructure is present, opting for a new IP-based infrastructure or even utilising the existing IP infrastructure might prove to be a more viable, future proof and scalable option. You cannot directly access an HD-SDI camera over a LAN or WAN from any point as per an IP system.
Currently, no intelligence or value adds can be added to the HD-SDI cameras and edge storage is not an option. Today's CCTV HD-SDI standards only allow for 1080p (1920x1080 pixels) resolution, whereas some IP cameras can support resolutions in excess of 14 megapixels
In short, this solution comprises retrofitting upgrades to HD video over existing coax-cabled analogue systems. You simply unplug your old analogue DVR, plug in the HD-SDI kit (including camera and DVR), and you are ready to keep an eye on your shrinkage in high-definition. Cost wise, the equipment is no cheaper than IP and you are still stuck with a closed, point-to-point system.
In a HD-SDI based video surveillance system, an independent subsystem consists of a HD-DVR and several cameras, an HD-DVR failure will lead to all related surveillance points becoming ineffective. It is therefore a single point of failure. In a network camera-based video surveillance system, every camera is an independent subsystem, and when designed and configured properly with the necessary redundancy in place, the IP surveillance system can offer higher reliability, all dependent on budget and requirements.
For many clients, the real decision for adding HD video surveillance comes down to price, and the ongoing costs, such as possible IP recording licences and expansion for future development. That is the main difference between the two technologies. While some people might have a vested interest in portraying the adoption of the technologies as an either/or decision (with a bias towards whichever side they are standing on), it is not.
If you have an application without existing CCTV infrastructure, then a networked solution that will deliver HD video along with support for an increasing number of other options and technologies should win your client's interest.
What is 960H?
In recent years, the maximum resolution obtainable from an analogue CCTV camera was 650 TVL (TV lines). The 'H' in 960H represents the number of effective pixels in the horizontal direction of the CCD image sensor. It therefore allows any analogue CCTV cameras and DVR systems supporting this technology standard to capture and replay footage with higher resolution than was previously available in analogue security cameras and standard recording solutions.
Horizontal resolution represents the level of detail in the horizontal direction of the video. A larger number indicates higher definition video. Advances in the last couple of months in signal processing technology have enhanced horizontal resolution across the board. However, 960H increases the number of pixels of the CCD image sensor that corresponds to the eye of the camera, and therefore produces higher definition video. In addition, the signal processing technology used by the Sony Effio Series chipset realises the high horizontal resolution of over 650 TVL.
The benefits of this technology are not realised without an equally capable surveillance video recording device.
Benefits of 960H
* In an existing coax infrastructure, no additional work is needed. It might also be that your client has been installing 650+ TVL cameras over the past couple of months, but not gaining any benefit from the higher quality.
* Cost-effective upgrade path for moderate picture improvement.
* Less complex than IP based systems.
Drawbacks and considerations for 960H
You will need to upgrade your DVR/NVR recording device to use 960H, however, this is the only capital layout, and any analogue camera – all brands – from 420 TVL all the way up will be supported. You will also require more hard disk storage to accommodate for the larger image size, but this is minor compared to the HD-SDI solution. Although 960H will give you a better image quality over a standard analogue system, the image quality is still superior on an IP or HD-SDI based system.
In short, these alternatives are merely to get higher definition video outside the feature rich IP realm. Price, application and growth, bundled with features and flexibility will ultimately determine the solution for your proposal.
Credit(s)
Further reading:
Efficient storage for security
Issue 7 2020, Dell EMC , CCTV, Surveillance & Remote Monitoring
There is a dramatic increase in the amount of storage and computing power required to support today's safety and security systems.
Read more...
---
Safe restaurant reopening technology
Issue 7 2020, Dahua Technology South Africa , CCTV, Surveillance & Remote Monitoring
Denmark's Arkaden Food Hall makes use of Dahua People Counting and Flow Control solution for safe reopening.
Read more...
---
Forbatt SA invests in South Africa's security industry
Issue 7 2020, Forbatt SA , CCTV, Surveillance & Remote Monitoring
Forbatt SA is set to offer an improved service to the industry by making sure it has the products and solutions the industry needs, as well as a new showroom.
Read more...
---
Analytics with your existing cameras
Issue 7 2020, Secutel Technologies , CCTV, Surveillance & Remote Monitoring
With SecuVue from Secutel Technologies, it is possible for any business to monitor their offices, warehouses or stores remotely, from any part of the world.
Read more...
---
Consolidating control rooms and service delivery within a COVID-19 environment
Issue 6 2020, Leaderware , CCTV, Surveillance & Remote Monitoring
It is essential to have informed, coordinated and professional responses within control rooms at this time of increasing turmoil.
Read more...
---
Technology driving the healthcare industry
Issue 6 2020, Duxbury Networking , CCTV, Surveillance & Remote Monitoring
Seeing cameras as sensors opens up new possibilities, and each one of them responds to typical demands inside a hospital, clinic or nursing home.
Read more...
---
Turn cameras into traffic sensors
Issue 6 2020, Duxbury Networking , CCTV, Surveillance & Remote Monitoring
Safer communities and cities are achieved through a mixture of technology and human resources, working together in a holistic manner.
Read more...
---
Mobotix thermal technology increases security
Issue 6 2020, Duxbury Networking , CCTV, Surveillance & Remote Monitoring
Installations, machinery, equipment and material available on company premises require effective and cost-efficient protection. In addition, operational safety, optimisation of workflows and protection ...
Read more...
---
Getting a visual on Covid-19 screening
Issue 6 2020, Graphic Image Technologies , CCTV, Surveillance & Remote Monitoring
Should organisations be investing in thermal camera technology to simply contain and limit the spread of the virus?
Read more...
---
Flexible temperature screening options for challenging times
Issue 6 2020, Hikvision South Africa , CCTV, Surveillance & Remote Monitoring
A thermal imaging camera is an effective screening device for detecting individuals with elevated skin temperature. This type of monitoring can provide a rapid screening approach in high-traffic areas.
Read more...
---