printer friendly version
It's show time
May 2016
News
Securex 2016 is upon us. It's been almost a year of hard work for the organisers as they rushed to get everything ready, as well as a lot of planning and preparations from the exhibitors as they decide how to display their companies and products, who will be on the show floor and what the goal of their stands are.
For some it's a matter of reinforcing their position and brand in the market, while others use Securex as a launchpad for new products or services. Whatever they do, it's hard work culminating in three days of being "on" – and maybe a party or two.
Of course it doesn't end there. No matter what your reasons for staking your claim at Securex may be, the ideal for everyone is to have more work to do once the show is over. Whether it's following up on new leads, building new relationships, or even addressing concerns expressed at the event, most find themselves with a long to do list once the doors close.

For visitors to the show, it's a question of where to go and what to see. Most would like to get an overview of what's happening in the industry, but there are also those who need to find out more on a particular subject related to something they or their companies are planning. Both types of visitors are important as those with plans are ready to learn and (hopefully) make a quick decision, while others will take what they learn and use it in future as they get involved in different projects.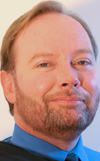 Hi-Tech Security Solutions will be there again, so be sure to stop by the stand. If you haven't received it in the post by then, you will be able to grab a copy of the CCTV Handbook 2016, which is being posted at the same time as the May issue. Even though we have a large CCTV section in this issue (we couldn't fit everything into the handbook), it's nothing compared to the handbook itself. Be sure to check it out and, as always, comments and criticisms are welcome.
Enjoy the May issue and the CCTV Handbook, and here's to a successful Securex 2016 for everyone.
Andrew Seldon
Editor
Credit(s)
Further reading:
UJ and Schneider Electric launch 4IR Experience Room
News
Schneider Electric and the University of Johannesburg (UJ) Faculty of Engineering and Built Environment (FEBE) have officially unveiled the 4IR Experience Room, a first for UJ and situated at the university's Auckland Park Campus.
Read more...
---
SafeCity Guarding rolls out across 14 suburbs in Johannesburg
News Security Services & Risk Management
In a major drive to provide communities across Johannesburg with additional safety, Vumacam, in partnership with Fidelity ADT and other security providers across the region, rolled out the innovative SafeCity Guarding initiative in 14 suburbs.
Read more...
---
Providing an interactive branding platform
Securex South Africa News Conferences & Events
Now in its 30th year of providing security technology and services providers with a platform for increasing their brand exposure, Securex South Africa will be held at the Gallagher Convention Centre in Midrand, from the 6th to 8th June 2023.
Read more...
---
ALX sponsored learning programmes for 2023
Training & Education News
With a mission to harness Africa's abundant human capital by developing two million ethical and entrepreneurial young leaders from the continent by 2030, ALX has launched four fully sponsored (at no cost) tech programmes for 2023.
Read more...
---
LockBit ransomware gang most apt to leak stolen victim data
News
Trellix has released The Threat Report: February 2023 from its Advanced Research Centre, combining telemetry collected from the world's largest network of endpoint protection installs and its complete XDR product line with data gathered from open- and closed-source intelligence reports.
Read more...
---
Schneider Electric is looking for your bold idea
News
Schneider Electric has launched this year's Schneider Go Green, an annual competition that invites university students from across the globe to share their ideas for innovations that can help make the world cleaner, more inclusive, and more sustainable.
Read more...
---
Paxton Introduces new rewards programme to South African installers
Paxton News
Paxton has launched Paxton Rewards, offering the first opportunity for installers in South Africa to earn rewards by participating in training, installing Paxton solutions, and completing activities or achievements. The programme is available via the Paxton Installer app.
Read more...
---
Keeping students, staff and communities safe
Vumacam News CCTV, Surveillance & Remote Monitoring Security Services & Risk Management
South African schools are facing increasing security challenges, making effective surveillance systems more important than ever. To address this issue, Vumacam is offering advanced security solutions with security partners, aimed at keeping students, staff, and the community safe.
Read more...
---
Arcules and IMMIX announce integration
News CCTV, Surveillance & Remote Monitoring Products
Arcules has announced that its integration with Immix Central Station and Guard Force is available. The integration provides Central Station and Guard Force users a way to manage, verify, and respond to security events, while using Arcules-managed video feeds.
Read more...
---
From the editor's desk: Drive to survive
Technews Publishing News
Nobody is surprised by the horrible driving habits of many people on South Africa's roads. Lack of policing, except when collecting money, and the related overall acceptance and encouragement by government ...
Read more...
---