printer friendly version
Suburb gets ANPR
CCTV Handbook 2016
CCTV, Surveillance & Remote Monitoring
Chubb Fire & Security, local system integrators and remote monitoring service's provider was tasked with securing a residential suburb with a manned control room, as well as offsite monitoring. Using strategically placed cameras, the company was able to monitor vehicles entering and exiting the suburb. However, the challenge was to do more than monitor vehicles.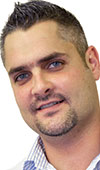 Quintin van den Berg.
Regal Distributors SA's Quintin van den Berg explains that the existing Hikvision 9600 series NVR (Network video recorder) solution along with 1.3 and 3 MP varifocal infrared bullet cameras offered exceptional image quality both during day, and at night time, which made identification of vehicles and pedestrians in the suburb a reality. Similarly, the 9600 series NVR along with IVM-4200 VMS software offered great ease of use in the site's control centre. However, there was initially no way of notifying the control centre when a blacklisted vehicle entered the area, or to do a search for a specific vehicle via the number plate.
Chubb and Regal addressed the problem, with the goal of improving the quality of service and security using innovative technology. Specifically, they wanted to achieve an accuracy rate of above 90% in capturing vehicle licence plate numbers for notifications, real-time reporting and data mining.
"Our biggest challenges were real-time reporting and notification of vehicles entering the suburb that have been flagged by shared databases, or the control room operators. Even if a vehicle was blacklisted, registration number filtering would be a slow and labour-intensive exercise.
Given the existing technology on the site, the Hikvision entrance management system with the ANPR (automatic number plate recognition) technology was the obvious choice, offering advanced management features such as: Auto comparison, Blacklist filtering, Alarm triggering, Result query, Result export of picture/record, Remote configuration ANPR, Linkage action.
The parties decided to opt for the Hikvison DS-2CD4A86FWD-IZS 2.8 – 12 mm motorised zoom ANPR cameras, again supplied by Regal Distributors. The cameras were put to the test in a proof of concept project, after which it was decided that the existing head-end equipment would be used, by upgrading the firmware and field cameras to the DS-2CD4A86FWD-IZS ANPR cameras and calibrating the system to function at optimum performance.
Regal has been involved in this project with the systems integrator since inception and therefore has a vested interest in ensuring the systems work, as required. Van den Berg says the company is constantly measuring the progress, as the system expands. In addition, with the remote configuration ANPR function, Regal can remotely assist with software and firmware upgrades and monitor the performance of the solution.
The result is a fully functioning ANPR system communicating wirelessly to the control room in a well-known suburb in the northern part of Gauteng.
Credit(s)
Further reading:
Elvey partners with HALO
Elvey Security Technologies News CCTV, Surveillance & Remote Monitoring
Elvey Group has partnered with HALO Europe to provide Africa's first body-worn solution with zero upfront costs. This includes an IP68-certified body camera and a 4G-connected device.
Read more...
---
Regal announces new partnership
Regal Distributors SA CCTV, Surveillance & Remote Monitoring
Having a bird's eye view of your surveillance data, with the capability to drill down to the details obtained via connected security solutions, is a game changer for security operators, companies and even officers on the ground.
Read more...
---
Invisible connection and tangible protection via cloud
Dahua Technology South Africa Perimeter Security, Alarms & Intruder Detection CCTV, Surveillance & Remote Monitoring Products
Dahua Technology has launched its AirShield security solution that uses advanced, stable and reliable RF communication technology and cloud services, integrating alarm hubs, various detectors and accessories, with several software apps.
Read more...
---
Hikvision expands solar-powered solutions
CCTV, Surveillance & Remote Monitoring Products
Hikvision is offering a portfolio of solar solutions, the 4G solar-powered camera kit, a wireless bridge, and mobile solar security tower solutions to assist in keeping remote and isolated areas safe in a simple, practical, and cost-effective way.
Read more...
---
Affordable entry-level cameras from Dallmeier
Dallmeier Electronic Southern Africa CCTV, Surveillance & Remote Monitoring Products
Dallmeier has introduced the 'E' version of the DOMERA camera family, offering high image quality with 2 MP and 5 MP resolution, and providing detailed images even in low light conditions.
Read more...
---
The importance of the operator's frame of reference
Leaderware Editor's Choice CCTV, Surveillance & Remote Monitoring Security Services & Risk Management Mining (Industry)
The better the operator's frame of reference and situational awareness, and the more informed they are in dealing with CCTV surveillance in the mining industry, the more successful they are likely to be in surveillance.
Read more...
---
Enhancing surveillance on mines
Avigilon Technews Publishing Axis Communications SA Forbatt SA Hikvision South Africa Bosch Building Technologies Editor's Choice CCTV, Surveillance & Remote Monitoring Integrated Solutions Mining (Industry)
Smart Security approached a number of surveillance vendors to find out what the latest in surveillance technology is that can make a difference to security operations in mines, as well as general operations.
Read more...
---
Surveillance to improve worker safety
Axis Communications SA Mining (Industry) CCTV, Surveillance & Remote Monitoring Integrated Solutions
With substantial deposits of mineral resources, mining is critical for South Africa's economic growth and prosperity; however, mining can be dangerous, especially for the people working on the ground and in the shafts.
Read more...
---
Radar-video fusion camera
Axis Communications SA CCTV, Surveillance & Remote Monitoring Mining (Industry) Products
The AXIS Q1656-DLE Radar-Video Fusion Camera device brings video and radar analytics together in AXIS Object Analytics to deliver detection and visualisation.
Read more...
---
Centralised VMS for multiple sites
Mining (Industry) CCTV, Surveillance & Remote Monitoring
Dispersed mining operation relies on AxxonSoft for centralised video management as well as device health monitoring and the reliable distribution of analytics to various camera brands.
Read more...
---