printer friendly version
Indian Railway opts for Mirasys
CCTV Handbook 2016
CCTV, Surveillance & Remote Monitoring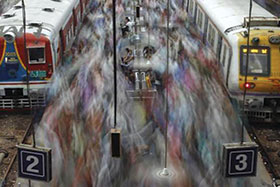 When thinking of updating gradually the security systems in different zones, the biggest concern of Indian Railway was the platform security. It wanted to have measures to tighten security, improve the crowd management, apply central monitoring and identify persons and activities. It needed to have an integrated security and surveillance system in every zone and an intelligent system, overall.
An independent body RDSO (Research, Design & Standards Organisation) acts as the Product Approving Authority. They formed the technical specifications which included several items like:
• The software shall be an open architecture based solution, highly scalable enterprise level software with end user friendly (unrestricted) licensing policy.
• The software should allow time-synchronised playback of different cameras together in the same video pane. This should enable the operator to watch playback of an event from different angles as the event happens in an area covered by multiple cameras.
• Integration with other security equipment like X-ray baggage scanner, under vehicle scanner etc.
• Video analytics like intrusion detection, left object detection, overcrowding and camera tampering.
In addition to the RDSO Technical Specification, Mumbai's Central Railway Station set more demands for the project because of the Heritage station building. It had for example the followed special feature requirements:
• The software shall support audio analytics to provide alarm with pop up of live video and audio stream in the control room on sound of breaking glass or gunshot.
• Identify and locate various resources like cameras, specialised units and sensors around the station areas on 2D / 3D GIS map. All the mobile points and vehicles which have GPS capabilities should be displayed on the GIS map as a layer.
• Incidents management, including preliminary planning and plan activation to better respond to any event and identify all the needed activities required to resolve the incident.
"As the Mirasys team has shown dedicated field support and readiness to customise solutions for Tata Nelco's customers already when delivering video management solutions to Southern, South Central, North Western and Central Railway Zones, we want to continue to work with Mirasys in large scale command and control solutions," says Nelco's top management.
According to Tata Nelco, Mirasys' other strong points are:
• The general user interface of the Mirasys system is very easy to use (The Railway Police Force point of view).
• The solution is flexible – Mirasys is willing to customise according to the client needs.
• Mirasys' open platform and easy integration handling meet the needs of many integrations.
So far, the Mirasys Solution is in four major zones out of eight which Indian Railway has procured until now. On Pan-India level, Mirasys has helped to procure 29 main junction stations out of 75. Over 4000 VMS and 1400 VCA channels are in use now and the number is increasing. RPF and railway authority use the Mirasys system for day-to-day monitoring. The solution also includes centralised command and control rooms for monitoring and running the operations. The use of advanced analytics helps to reduce criminal incidents. Mirasys' automated intelligent solution has acted as a deterrent and has already proved to be useful for the railway authorities.
Credit(s)
Further reading:
Mount Nelson opts for cloud surveillance
CCTV, Surveillance & Remote Monitoring Entertainment and Hospitality (Industry)
IOT Revolution Technologies, in partnership with MeyCom, will be implementing over 250 cloud driven Verkada cameras at the Belmond Mount Nelson Hotel.
Read more...
---
Avoiding human error at ports
LD Africa Transport (Industry) CCTV, Surveillance & Remote Monitoring Products Logistics (Industry)
LD Africa introduced a local port to the AxxonSoft Port Security System ,a solution that helps overcome the element of human error and eliminate paperwork.
Read more...
---
Compact, lightweight bullet cameras with support for analytics
Axis Communications SA Products CCTV, Surveillance & Remote Monitoring
Axis Communications announced two new outdoor-ready bullet-style cameras featuring deep-learning processing units for analytics based on deep learning on the edge.
Read more...
---
Numerous challenges for transport and logistics
Transport (Industry) CCTV, Surveillance & Remote Monitoring Security Services & Risk Management Logistics (Industry)
Operators are making significant investments in automation and digitalisation in order to address security concerns, improve loss prevention as well as efficiency, and reduce unit order costs.
Read more...
---
A key to urban transport challenges
Axis Communications SA Transport (Industry) CCTV, Surveillance & Remote Monitoring Integrated Solutions Logistics (Industry)
There are many enabling technologies that can impact transportation in South Africa, but a good place to start is by considering the applications for smart physical technology with the ability to collect and respond to data.
Read more...
---
Hikvision aims for solutions
Technews Publishing Hikvision South Africa Editor's Choice CCTV, Surveillance & Remote Monitoring News Integrated Solutions Conferences & Events
Hikvision recently held a roadshow titled Industry X, where the company highlighted its latest products and solutions, supported by partners and distributors.
Read more...
---
Reliable, low-maintenance video appliances
Technews Publishing Editor's Choice CCTV, Surveillance & Remote Monitoring News IT infrastructure Products
Symetrix, part of the Agera Group, has added the AES range of video recording servers, storage appliances and workstations to its portfolio.
Read more...
---
A new full-colour era
Dahua Technology South Africa CCTV, Surveillance & Remote Monitoring
Traditionally, there have been two options for using surveillance cameras in the dark: flooding the scene with visible light, or alternatively using infrared (IR) illumination.
Read more...
---
AIoT delivers dynamic digital platforms
Hikvision South Africa CCTV, Surveillance & Remote Monitoring
Many stadiums or venues are seeking new, smart solutions that can help venue operators to stay on top of real-time situations dynamically on digitally driven platforms, and to achieve more efficient and sustainable venue management.
Read more...
---
Upgraded security and AI monitoring at upmarket estate
Watcher Surveillance Solutions Editor's Choice CCTV, Surveillance & Remote Monitoring Integrated Solutions Residential Estate (Industry)
Estate upgrades and enhances its security through a partnership between surveillance specialist Watcher and the incumbent guarding company.
Read more...
---