printer friendly version
Long-term upgrade to AHD
CCTV Handbook 2016
CCTV, Surveillance & Remote Monitoring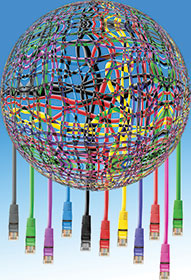 Alt-AV, a company that handles audio visual and CCTV installations for a range of industries, was recently called in to upgrade an old analogue installation to Analogue High Definition (AHD).
Alt AV's Lawrence Hill explains that the client had an older analogue system consisting of 40 cameras, but the DVR capacity was only for 32 channels. They also had a generic NVR servicing five IP cameras.
The solution previously installed had served a purpose when it was first installed, however, as time progressed, the client realised the value of high quality images and began installing IP cameras at key areas. The result was a mishmash of products and technologies that the client could not manage effectively.
The biggest problem with the job, according to Hill, was that we were upgrading a previously (and rather badly) installed system with no record of cable scheduling or labelling, meaning that it was very time consuming to first establish a suitable starting point for the upgrades.
"This meant that a large part of the installation involved tracing cables from point to point, repairing any faults found along the lines, putting us in a position to begin the upgrades from a suitable base," says Hill. "This involved a lot of wasted time that could have been avoided if the job had been done right the first time around."
Additionally, the team found other problems as the job progressed, including cables badly terminated, in some cases not terminated but sellotaped to the connector, and multiple CAT5 cables terminated into single RJ45 connectors to assumedly try to save on Balun costs. Poor cable running meant that some cables had become caught in roller doors and the cable was unusable, while some cables were glued under roof tiles, meaning they could not be accessed to repair. The result being that all these cables needed to be replaced.
An equipment specification was agreed upon with the client and then a timeline put in place, as the upgrade process will continue over a longer time to allow the client to budget appropriately. This meant that going forward the infrastructure for all future works could be laid at the beginning, and new equipment fitted quickly and without unplanned issues as the project progresses.
Hybrid solution
Using the ProvisionISR hybrid AHD DVR meant that Alt-AV could reduce the client's system from three DVR/NVRs to two, saving space and organising the cameras more suitably. Opting for AHD technology also allowed the client to upgrade their image quality without having to re-cable their whole premises. The ProvisionISR equipment used was supplied by HiTek Security.
A hybrid AHD system would allow the client to amalgamate existing and new equipment into one system. The ProvisionISR hardware is ideal for this as it supports both the older, unbranded analogue cameras that were not going to be upgraded in the first phase, and the new Provision AHD Pro cameras, the new Provision IP cameras and also the older ONVIF compatible IP cameras already in use. This also allowed the client to free up desk space by removing one DVR and one monitor, which they were happy about.
A future phase planned is where both the remaining monitors will be put through a video matrix to display side by side on one large wall-mounted TV screen, which will further free up desk space. The aim of the upgrades is to give the client a number of new, higher resolution cameras in key areas with an easy plan to upgrade further cameras as and when the budget allows.
Planning
Detailed planning involving AutoCAD wiring diagrams for both the new hybrid DVRs as well as the system as a whole meant that when the team went in to start the re-cabling process there was a clear blue print for what needed to be achieved. A full equipment register was compiled, which involved calculating power requirements for running both the old and new equipment combined and forward planning for changes as the equipment was upgraded.
A review of the storage facility was also done to ensure there would be sufficient hard disk space to allow for satisfactory footage retention taking into account the new, larger file sizes of the HD footage.
The first phase of the installation delivered the benefit of combining the old and new technology to provide a more user-friendly CCTV system which was easier to control, view and review. It also gave the client new high-definition images using the ProvisionISR Pro AHD range, delivering full 1080p HD footage in the key areas of the business (till points, goods receiving areas, car parks, etc.).
"The future phases will allow us to easily upgrade the old analogue cameras to new AHD cameras using the existing cabling in the most part, until the project is complete," says Hill. "The client will then have a full HD system comprising of 32 AHD cameras and a planned 8 IP cameras (although they are currently planning more), split across 2 Provision 16 channel AHD Hybrid DVRs and viewed on one large screen."
Hill concludes, "Having a lot of experience with the Provision product line from HiTek, I knew that the products I had chosen could be relied on to deliver as expected. It is also very useful that all the DVRs are ONVIF compatible, meaning they immediately recognised and displayed the existing IP cameras."
Key facts
• System Design: Lawrence Hill, Alt-AV.
• CCTV equipment: ProvisionISR (provided by HiTek Security).
• Installation and commissioning: Alt-AV.
For more information, contact:
Alt-AV, +27 (0)60 494 7296, lawrence@alt-av.co.za
HiTek Security Distributors, +27 (0)21 946 3344, sales@hiteksecurity.net, www.hiteksecurity.net
Credit(s)
Further reading:
Elvey partners with HALO
Elvey Security Technologies News CCTV, Surveillance & Remote Monitoring
Elvey Group has partnered with HALO Europe to provide Africa's first body-worn solution with zero upfront costs. This includes an IP68-certified body camera and a 4G-connected device.
Read more...
---
Regal announces new partnership
Regal Distributors SA CCTV, Surveillance & Remote Monitoring
Having a bird's eye view of your surveillance data, with the capability to drill down to the details obtained via connected security solutions, is a game changer for security operators, companies and even officers on the ground.
Read more...
---
Invisible connection and tangible protection via cloud
Dahua Technology South Africa Perimeter Security, Alarms & Intruder Detection CCTV, Surveillance & Remote Monitoring Products
Dahua Technology has launched its AirShield security solution that uses advanced, stable and reliable RF communication technology and cloud services, integrating alarm hubs, various detectors and accessories, with several software apps.
Read more...
---
Hikvision expands solar-powered solutions
CCTV, Surveillance & Remote Monitoring Products
Hikvision is offering a portfolio of solar solutions, the 4G solar-powered camera kit, a wireless bridge, and mobile solar security tower solutions to assist in keeping remote and isolated areas safe in a simple, practical, and cost-effective way.
Read more...
---
Affordable entry-level cameras from Dallmeier
Dallmeier Electronic Southern Africa CCTV, Surveillance & Remote Monitoring Products
Dallmeier has introduced the 'E' version of the DOMERA camera family, offering high image quality with 2 MP and 5 MP resolution, and providing detailed images even in low light conditions.
Read more...
---
The importance of the operator's frame of reference
Leaderware Editor's Choice CCTV, Surveillance & Remote Monitoring Security Services & Risk Management Mining (Industry)
The better the operator's frame of reference and situational awareness, and the more informed they are in dealing with CCTV surveillance in the mining industry, the more successful they are likely to be in surveillance.
Read more...
---
Enhancing surveillance on mines
Avigilon Technews Publishing Axis Communications SA Forbatt SA Hikvision South Africa Bosch Building Technologies Editor's Choice CCTV, Surveillance & Remote Monitoring Integrated Solutions Mining (Industry)
Smart Security approached a number of surveillance vendors to find out what the latest in surveillance technology is that can make a difference to security operations in mines, as well as general operations.
Read more...
---
Surveillance to improve worker safety
Axis Communications SA Mining (Industry) CCTV, Surveillance & Remote Monitoring Integrated Solutions
With substantial deposits of mineral resources, mining is critical for South Africa's economic growth and prosperity; however, mining can be dangerous, especially for the people working on the ground and in the shafts.
Read more...
---
Radar-video fusion camera
Axis Communications SA CCTV, Surveillance & Remote Monitoring Mining (Industry) Products
The AXIS Q1656-DLE Radar-Video Fusion Camera device brings video and radar analytics together in AXIS Object Analytics to deliver detection and visualisation.
Read more...
---
Centralised VMS for multiple sites
Mining (Industry) CCTV, Surveillance & Remote Monitoring
Dispersed mining operation relies on AxxonSoft for centralised video management as well as device health monitoring and the reliable distribution of analytics to various camera brands.
Read more...
---