printer friendly version
Converged data centres
May 2016 CCTV, Surveillance & Remote Monitoring, IT infrastructure
Convergence is everywhere. The security industry is no stranger to the term and the implications it has for many vendors, installers, integrators and even end users. But the concept extends to all industries and what is happening in the IT industry in the convergence world is starting to impact security as well.

Hyperconvergence is a term Hi-Tech Security Solutions has looked at before (www.securitysa.com/53450n). Put simply, hyperconvergence is all about the convergence of the data centre into a more easily provisioned IT solution that incorporates everything in a type of virtual machine, as well as a physical container – or appliance. Wikipedia describes it as follows: "A hyper-converged infrastructure (aka hyperconvergence) is an IT infrastructure framework for integrating storage, networking and virtualization computing in a data centre.
In a hyperconvergence environment, all elements of the storage, compute and network components are optimised to work together on a single commodity appliance from a single vendor." (https://en.wikipedia.org/wiki/Hyper-converged_infrastructure.)
The book Hyperconverged Infrastructure for Dummies by Scott D. Lowe goes into far more detail, designed for those unqualified in rocket science. It is freely downloadable at www.hyperconverged.org/dummies-book-download.
While the term and its application is still new, even in the IT world, it has already gained some traction in the security world, and will become even more popular as more companies offer hyperconverged solutions. In security, systems integrators will appreciate the ease with which they can set up the back-end of their surveillance operations using hyperconverged solutions – this applies to large installations due to the cost of the appliances.
Instead of having to worry about setting up servers, storage networking and so on, surveillance solutions can make use of a hyperconverged system to carve out a piece of the data centre for their video footage. The beauty of what hyperconvergence will do is allow one person to allocate the server and CPU resources, the storage space and the network resources to be used by the surveillance solution. You no longer need a specialist for each in order to obtain the optimal infrastructure.
In the first instance, this will ensure enough resources are assigned to the solution so as not to impact on the run-of-business functions; secondly, it can also easily be changed to run live analytics or provide more or less resources, as they are required.
Hi-Tech Security Solutions asked two companies that have recently released their hyperconverged solutions to market to give us more insight into this concept. It must be noted that the companies have released their hyperconverged solutions in 2016, therefore they are still focused on the IT application and the optimisation thereof. They are aware of the usefulness of hyperconvergence in surveillance projects, but it will be a while before they have solutions specifically designed for CCTV (the link above shows a security integrator that is already at work using this new technology in South Africa).
Hyperconvergence on the rails
EMC is one company on the hyperconvergence trail. It recently released VxRail, a hyperconverged solution is describes as a 'data centre in a box'. It is a virtual appliance that can be installed and easily scaled to meet the requirements of a business.
It includes an array of product solutions, but instead of having to manage each by itself, the management function is centralised. It is basically a software defined dynamic data centre that includes all the components of a data centre you would require.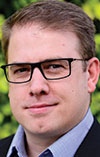 Tom O'Reilly.
"No one has time to find all the different components that go into a data centre, procured from separate vendors, put together and ensuring they all work together and then manage the lifecycle by keeping them up to date and secure," says Tom O'Reilly, CTO at VCE EMEA, an EMC company.
O'Reilly explains there are four nodes in each device (or four servers) and it can be scaled to 64 nodes as 16 appliances are connected to operate as one. In a surveillance installation, for example, the system has the ability to favour more storage nodes as opposed to CPU nodes to cater for video. He says EMC's Isilon NAS (network-attached storage) system is an option for surveillance storage requirements.
The VxRail Appliance serves enterprises, but also enables smaller companies to deploy their own DC technology, according to VCE. It offers flexible and cost-effective services that can be scaled according to a company's needs, whether installed in an in-house data centre (or private cloud, to use the latest buzzword) or within a data centre run by a service provider.
VxRail was co-designed with VMWare and encompasses the hardware, network, storage, virtual and software layers needed for a one-stop solution. A single unit is able to provision 200 virtual machines in a matter of minutes, while scaling with additional VxRail boxes is easy.
Moreover, if a VxRail unit starts to falter, replacing it is a quick and painless operation. The system is ready-made with its own management software and it will plug into any existing VMWare management ecosystem, as well as mix with current VCE products.
The VCE marketplace offers free and paid applications deployable at a click's notice.
"The important thing to understand is how this brings a new capability to the market," says Chris Norton, VCE country manager for South Africa. "Enterprises can use VxRail to equip parts of the business with data centre capabilities without adding extra load to central infrastructure."
For example, if an enterprise has a remote branch that needs to crunch a lot of analytical data, it can deploy a VxRail server on-site, thus avoiding the pain of re-engineering its core infrastructure. It also sidesteps the problems and costs of pervasive connectivity: whereas a branch would normally connect to private or public cloud servers, VxRail offers on-site autonomy.
Flexing hyperconvergence
Cisco has also released its Hyperflex series of hyperconverged appliances. Cisco SA's Edward Agostinho and Andre Hurter explain that hyperconvergence is the culmination of a process of simplification of IT in the data centre that has been going on for years.
For example, when storage area networks (SANs) first arrived, they were designed to provide better storage resource utilisation and easier management for business's storage systems. Other technology areas soon followed until we reached the current state of what is basically an automated data centre. In the past, each area of the data centre required specific components, each with an expert to get the best performance out of it – not any more.
Hurter adds that the key to Hyperflex is deeper levels of abstraction and automation. One simply plugs a server into a domain and follows a few prompts to get it an IP address and the system up and running. The company has included a range of automation policies that the user selects according to the company's requirements, and the system automatically configures the system – storage, networking, etc. – accordingly.
Users can scale to new requirements by adding new devices as required. The company says it will take less than an hour to deploy a Hyperflex solution, including specifying and activating the required network.
There are two versions of the product; the smallest one is the HX220c, a 1-rack unit with up to 7 TB of storage and up to two processors per node. The HX240c is a 2-rack unit with up to 29 TB of storage and up to two processors per node. The scalability of the system makes it simple to pool a number of resources (including the network for specific tasks and environments) and allocate them according to whatever requirements the company has.
Simple complexity
The idea behind hyperconvergence is to simplify the data centre and put it in a box, making it easy to use and easy to scale. And if the vendors are correct, using these solutions is actually simple for the business wanting data centre resources, however the technology within is anything but simple.
In the surveillance industry, the benefit these systems offer is that it will make the process of setting up a data centre (or server room containing all the IT equipment to manage your surveillance footage and processing), that much simpler. You won't need an array of experts, even when sharing IT resources with business applications and processes, the setup and management has been automated, including the network, ensuring your video doesn't hog all the available bandwidth.
As noted above, the technology is new and, in all likelihood, poorly explained in this short article. However, the potential for hyperconvergence in the general IT world is enormous, as well as for the security surveillance world. While the vendors claim it can be used for smaller companies as well as enterprise clients, the costs ensure that it remains a large company buy – but who knows how technology will change over the course of the next few years.
For more information:
• VxRail: www.vce.com/products/hyper-converged/vxrail
• Hyperflex: www.cisco.com/c/en/us/products/hyperconverged-infrastructure/index.html
• Hyperconvergence: www.hyperconverged.org
Further reading:
Why rehearsals and drills for crises and evacuation are so important
August 2019, Leaderware , CCTV, Surveillance & Remote Monitoring, Security Services & Risk Management
The rehearsal of concept (ROC) drill has been used extensively in the military, but is just as important when facing risks in organisations and institutions to protect people on the ground.
Read more...
---
Milestone partners prove their skills
August 2019, Milestone Systems , News, CCTV, Surveillance & Remote Monitoring, Training & Education
Within the span of one week in mid-May, the Milestone Learning & Performance group celebrated important benchmarks: 200 000 course registrations and tutorial views, and 10 000 certifications.
Read more...
---
ONVIF Hosts 20th Developers' Plugfest
August 2019 , News, CCTV, Surveillance & Remote Monitoring
ONVIF, the global standardisation initiative for IP-based physical security products, hosted its twentieth ONVIF Developers' Plugfest in early June in Tokyo.
Read more...
---
Licence plate recognition camera
August 2019 , Products, CCTV, Surveillance & Remote Monitoring
VIVOTEK has introduced a new licence plate recognition camera featuring built-in licence plate recognition software and edge-computing capability.
Read more...
---
Double dose of storage security
August 2019 , Products, IT infrastructure
The integration of InfiniBox and SafeNet KeySecure platforms brings data-at-rest encryption together with centralised logging, auditing capability.
Read more...
---
Securing Savannah Hills Estate
August 2019, Rhyco Risk Projects , CCTV, Surveillance & Remote Monitoring, Perimeter Security, Alarms & Intruder Detection
Savannah Hills Estate in Midrand planned a security upgrade which was awarded to Rhyco Risk Projects. The project started in March 2019 and was completed in May 2019.
Read more...
---
10 things to consider when shopping for a VMS
August 2019, Genetec , CCTV, Surveillance & Remote Monitoring, Integrated Solutions
Today's video management systems (VMS) provide a wide range of tools and capabilities that help make security personnel more efficient by allowing them to focus on what really matters.
Read more...
---
How far are we really at with artificial intelligence?
August 2019, Axis Communications SA , Editor's Choice, CCTV, Surveillance & Remote Monitoring, IT infrastructure, Residential Estate (Industry)
Justin Ludik unpacks exactly how far AI has come and what it potentially can do for society and more importantly, surveillance.
Read more...
---
Enhancing security with AI
August 2019, Hikvision South Africa , CCTV, Surveillance & Remote Monitoring
Hikvision explains how residential estates can revolutionise their security strategies and outcomes with artificial intelligence.
Read more...
---
More than simply a camera
August 2019, Forbatt SA, Secutel Technologies , CCTV, Surveillance & Remote Monitoring, Residential Estate (Industry)
With the human element being the weakest link in all security solutions, Hi-Tech Security Solutions looks at the pros and cons of using body-worn cameras in estates.
Read more...
---