printer friendly version
The right VMS decision
May 2016
CCTV, Surveillance & Remote Monitoring
As video management system (VMS) platforms become ever more capable and inevitably more complex, it increasingly becomes the case that one size does not fit all. There are, however, hallmarks that differentiate the most popular solutions on the market, and although requirements may differ vastly between sites, the range of options can be narrowed down by heeding a common set of principles. We asked the South African vendors of three leading VMS platforms what they consider the most important factors to consider.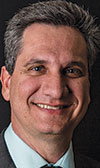 Laurence Smith.
"A management platform should offer ease of use. The system should work for the customer and the user should not have to work hard for the outcome they require," says Graphic Image Technologies' Laurence Smith. "At the end of the day, it is the control room operator that has to work with the software and find it easy to use, even on a late night shift when urgent reaction is demanded.
"These days video analytics play a big role in securing a site. Again going back to the control room, it is an advantage if the operator is alerted to an alarm without having to constantly look at the monitors and knowing any alarm is a true detection 98% of the time. Whether it is server- or edge-based, analytics do a great deal to improve surveillance effectiveness."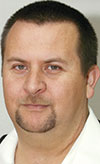 Gerhard Furter.
According to Gerhard Furter from InfinIT Business Intelligence Solutions, a management platform should offer exactly what it sells: "A platform, or supporting base, from which to mould and construct a mechanism that offers the client the ability to manage, or align and control, their business case. By definition this management platform is thus not constrictive, and does not require that the client alter any processes to comply with the management rules of said platform.
"Every ability and feature of the platform should contribute to the level and magnitude of control that the client retains over any processes or activities, without limiting the client in any way. A good management platform should mimic an old English butler: the result of the system's actions must always be conveniently at hand, without the effort taken to achieve this ever being evident, or even a factor," he explains.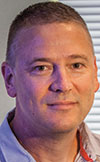 Max de Lorm.
IP Video Solutions' Max de Lorm goes so far as to say that the VMS is the most important part of a surveillance system, "as it determines the stability, reliability, usability, expandability and compatibility of the entire surveillance solution," he says. "It is also, generally, quite costly to replace down the line, so it is one of the most important decisions to make. A good VMS platform should also enhance situational awareness and allow operators to very quickly and effectively respond to events and incidents, such as life-critical incidents, in real-time and not just simply record and playback video."
A closer look at three of the options
Graphic Image Technologies offers the DVTEL (now FLIR) VMS solution, which has three variants. Latitude allows for up to 2500 cameras on a single directory. With Latitude 7.1 due to be released soon, it will manage up to 10 000 cameras on a single directory server. The other two wizard-driven complete systems are the Horizon for up to 100 cameras and the Meridian for up to 24 cameras.
"This is a video management system with great integration," Smith says. "FLIR/DVTEL has implemented adaptive streaming on the DVTEL camera and VMS solution. This reduces the throughput to the control room and remote connections, and will only stream the image size that the user is viewing on the screen. It will adapt to the selection the viewer selects up to the maximum capability of the camera and maximum configuration settings. A good example is the DVTEL 4K or ultra-high definition camera that can be displayed on any monitor and would only use a few hundred kilobits per second. When the image is zoomed into and the UHD is utilised, the throughput will be at a maximum of 4 to 5 megabits per second."
InfinIT's subsidiary, Synapse PSIM, has produced an intelligent physical security information management system (PSIM) called Synapse. "Synapse is an advanced PSIM offering all of the expected features of a good management platform, but with the addition of powerful in-line, real-time analytics, and a software framework that is malleable to specialised client requirements," Furter states. "Synapse thus combines the best of the world of off-the-shelf products with the benefits of bespoke development and customisation, and drives this to a new level with an intelligent backbone that is based on the highly successful Silo analytics platform.
"In Synapse, every signal, after being managed exactly as every unique client process requires, is analysed for its impact on the client's environment," Furter elaborates. "The resulting patterns, anomalies and exceptions are changed into actionable knowledge that can even rewrite business rules to optimise the functioning of the platform. Which gate is always unlocked just before a break-in? Which employee is often present in the data centre when equipment goes missing? When can I expect the highest volume of contractors, and why? Synapse will answer these questions and more, without the need for constant system supervision – the mobile framework in Synapse ensures that your management intelligence finds you, in time, and exactly where you need it."
On offer from IP Video Solutions are two options: Genetec and NUUO. "Genetec is the number one VMS in the world," says de Lorm. "It offers a Windows-based solution which incorporates video surveillance, access control and licence plate recognition under a single umbrella, negating the need for third-party integration. Genetec is ideally suited for medium and large enterprise installations and is used worldwide anywhere from branch offices to city surveillance. It is an open platform VMS, and as such supports more than 3000 devices from over 200 vendors, and also allows for central management of multiple sites. Genetec also supports advanced edge-based recording – across all its products – on the camera in the event that the server is not reachable. There are existing integrations between Genetec and other management systems such as access control. Some of the supported access control products include Gallagher, Suprema, HID, ASSA ABLOY and Salto.
"NUUO is very well established in the South African market with strong growth in South Africa for over 10 years," continues de Lorm. "It offers both Linux network video recorders (NVR) as well as Windows based VMS, and has recently added cameras to its product line-up."
Balancing integration with openness
FLIR/DVTEL's VMS supports integration with multiple applications, including Google Earth, ShotSpotter and Gallagher Access Control, to name a few, Says Smith: "From the customer perspective, it provides a solution to multiple segments. In this regard, integration with other systems is key. Again it boils down to having an easy control room to operate.
"When a customer has fire detection, access control, an alarm system or electric fence, it is important for the control room operator to see when a fire alarm goes off, or when somebody enters a restricted area or climbs over a perimeter fence. With so many different brands out in the market, it is important that many of them are integrated with your CCTV network management solution and specifically with the FLIR/DVTEL VMS," he explains.
Although Synapse offers flexible integration in that clients are not limited by the number of systems that can be integrated into the PSIM, Furter says the system stops short of embracing open integration. "Any decent PSIM will make allowance for future integrations, and Synapse follows suit," he points out. "We are not, however, proponents of the open integration model. A PSIM is a mission critical, often line-of-business, system, and as such stability and predictability are sacred – in an open integration policy it is very difficult to enforce this rule. Clients are subject to the skill of the contractor completing the integration, and such is the nature of the beast that accountability becomes a nightmare.
"We offer an alternative in the form of certified integration professionals with clear and controlled knowledge of Synapse, who have been vetted and have proven themselves to be dependable service providers. In the case of Synapse, these include highly respected companies such as CDP Technologies, FurterTech and Macado."
By contrast, De Lorm is all about openness: "All video surveillance systems should be open-platform, which means that they support almost any camera from any vendor in the market," he states. "Currently there are hundreds of vendors that manufacture IP cameras, and a lot of these vendors also supply a video management system, but you will find most of these will only support cameras that they manufacture, or they will claim to support other manufacturers while only offering very rudimentary ONVIF support and not proper integration.
"A proper VMS will offer proper integration and will actually list the camera vendor, model number and even firmware tested and supported. Beware of vendor lock-in: there are still a number of vendors in the market who will try and sell you a single brand 'end-to-end' solution. If you do this you are essentially locking yourself in to that vendor and this will reduce the number of options available to you in the future."
As de Lorm points out, open systems mean different things to different vendors. "The definition of an open platform is both the ability and the willingness of the VMS to integrate with other systems like access control etc.," he says. "All real open platform vendors will be able to supply a software development kit (SDK) and support to assist anyone wanting to do third party integration. Most importantly, vendors should be willing to assist partners to develop stable and proven integrations."
Focusing on the type of integration of particular relevance to the South African market, de Lorm points out that NUUO integrates to most of the local POS platforms, including pump integration for a number of local petroleum companies; while Genetec has developed the Sipelia communications management module, which integrates seamlessly with SIP-based systems such as intercoms and VOIP phone communications.
Cyber security infiltrates all levels of CCTV
In the larger context of CCTV being a security solution at its core, FLIR/DVTEL offers cyber defence on the hardware through port protection, to reduce the possibility of being hacked. If an unauthorised connection is detected on the system, it will shut down the port that connection is on. "This is only the beginning and further development is in process," Smith clarifies, going on to say he believes defences like this will become the norm since such hardware is connected to a site network and can provide access to the complete network if unprotected.
Elaborating on the magnitude of the problem facing the industry, Furter says, "Cyber security is a massively growing concern, espec-ially since the advent of PSIM. Security and protection concerns are now centralised in the IT sphere, and as such are subject to the threats prevalent in that space. This increases the need to protect management platforms against cyber compromise, and to ensure that compromised systems will survive and even defend against intrusions. It is fortunate that the IT industry has been fighting this battle for decades now, as the skills and experience to achieve this new security are now well established and readily available. Synapse implements a series of industry standards in defence against cyber threats, which include powerful encryption policies, data obfuscation and steganographic transmission techniques."
"Security is certainly a very important aspect of a VMS," De Lorm concurs. "Any platform that is capable of city surveillance should be capable of encrypted communication, using TLS, to secure communications between any platform components like servers, client apps etc. Furthermore, a secure VMS platform should be able to encrypt video from the camera both in transit and at rest. It should also support certificate-based authentication like Active Directory Federation Service (ADFS) to leverage a security token service. Lastly, it must also record all activity to an audit log, including failed logon attempts as well as all system setting changes to any aspect of the surveillance system which can later be checked and verified."
Narrowing down the choices
"Customers should look at a solution and not just the VMS when an upgrade or new system is required," according to Smith. "Questions, for example: 'what are the site, national or global requirements? What integrations will be needed? What do I want to see?' need to be asked. With thermal, infrared, 4K and low light cameras readily available, it is not just a case of putting down a camera and recorder, but specifically addressing the required solution.
"The FLIR/DVTEL VMS and camera range offers an efficient, reduced storage requirement solution, through efficient codec implementation, with high quality, analytics, audio in and outputs, a list of integrated edge devices and systems with a 4 year + warranty on the Quasar range of cameras. These are the things that provide peace of mind and save money."
Furter also boils the process down to asking, and answering, a few important questions: "Does the platform limit my choices regarding systems? A good management platform should not limit the client in their choice of, for instance, security hardware, but should rather offer integration and management policies that allow the client to procure and implement systems at their discretion.
"Does the system offer added value? A good platform will have additional features that augment the primary reason for its implementation. These features should have true operational value, and not just be a series of gimmicks designed to fatten out the product offering," he continues.
"Will the platform enhance operations? It is pointless to procure a new system that will do nothing but replace the functionality of a previous system. A good management platform will offer opportunities to optimise current processes, as well as tools to address any challenges the client may be experiencing.
"Is it worth the money? The provider of a good platform should be sensitive to the volatility of the markets that it plays in, and should be supportive of limitations on client budgets. Implementation costs should be equally controlled, as this aspect of a project often presents a hidden shock to the client's cash flow. A good platform will be inexpensive to procure and implement, but offer expensive quality and functionality."
According to De Lorm, key decision criteria when evaluating a new VMS must include the company's VMS history and track record, whether the product actually works as advertised and whether it is a first generation product or something that has matured. "Can the product scale and grow as the client's requirements grow, and if new technology is launched, will it be able to support it?" he poses.
"Does the VMS allow for multiple servers, multiple sites, central management, failover in the event of a recording server failure, and does it understand how networks work? Can it work in both a unicast and multicast environment? Is it hardware agnostic, allowing it to run on any Windows based hardware, or will the VMS company insist that the user buys their costly branded hardware? Lastly, customers need to be very careful when selecting a systems integrator who understands the product and is able to design, install and support the product throughout its lifecycle," he concludes.
Further reading:
Why rehearsals and drills for crises and evacuation are so important
August 2019, Leaderware , CCTV, Surveillance & Remote Monitoring, Security Services & Risk Management
The rehearsal of concept (ROC) drill has been used extensively in the military, but is just as important when facing risks in organisations and institutions to protect people on the ground.
Read more...
---
Milestone partners prove their skills
August 2019, Milestone Systems , News, CCTV, Surveillance & Remote Monitoring, Training & Education
Within the span of one week in mid-May, the Milestone Learning & Performance group celebrated important benchmarks: 200 000 course registrations and tutorial views, and 10 000 certifications.
Read more...
---
ONVIF Hosts 20th Developers' Plugfest
August 2019 , News, CCTV, Surveillance & Remote Monitoring
ONVIF, the global standardisation initiative for IP-based physical security products, hosted its twentieth ONVIF Developers' Plugfest in early June in Tokyo.
Read more...
---
Licence plate recognition camera
August 2019 , Products, CCTV, Surveillance & Remote Monitoring
VIVOTEK has introduced a new licence plate recognition camera featuring built-in licence plate recognition software and edge-computing capability.
Read more...
---
Securing Savannah Hills Estate
August 2019, Rhyco Risk Projects , CCTV, Surveillance & Remote Monitoring, Perimeter Security, Alarms & Intruder Detection
Savannah Hills Estate in Midrand planned a security upgrade which was awarded to Rhyco Risk Projects. The project started in March 2019 and was completed in May 2019.
Read more...
---
10 things to consider when shopping for a VMS
August 2019, Genetec , CCTV, Surveillance & Remote Monitoring, Integrated Solutions
Today's video management systems (VMS) provide a wide range of tools and capabilities that help make security personnel more efficient by allowing them to focus on what really matters.
Read more...
---
How far are we really at with artificial intelligence?
August 2019, Axis Communications SA , Editor's Choice, CCTV, Surveillance & Remote Monitoring, IT infrastructure, Residential Estate (Industry)
Justin Ludik unpacks exactly how far AI has come and what it potentially can do for society and more importantly, surveillance.
Read more...
---
Enhancing security with AI
August 2019, Hikvision South Africa , CCTV, Surveillance & Remote Monitoring
Hikvision explains how residential estates can revolutionise their security strategies and outcomes with artificial intelligence.
Read more...
---
More than simply a camera
August 2019, Forbatt SA, Secutel Technologies , CCTV, Surveillance & Remote Monitoring, Residential Estate (Industry)
With the human element being the weakest link in all security solutions, Hi-Tech Security Solutions looks at the pros and cons of using body-worn cameras in estates.
Read more...
---
The importance of effective perimeter security
August 2019, Elf Rentals - Electronic Security Solutions, Stafix , Editor's Choice, CCTV, Surveillance & Remote Monitoring, Residential Estate (Industry)
Protecting the perimeter is critical for any residential estate; how does one go about making sure your perimeter is as secure as possible?
Read more...
---