printer friendly version
How to choose video management software
CCTV Handbook 2016 CCTV, Surveillance & Remote Monitoring, Integrated Solutions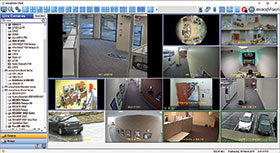 Video management software (VMS) is supplied by all CCTV vendors as part of an embedded software on a digital video recorder (DVR), the remote site interface, the software used for a networked video recorder (NVR) be it embedded on a Linux platform or personal computer (PC) based on a Windows Server or the mobile application. They are all VMS options that allow you to interact with cameras and, in some cases, more than just cameras: access control, analytics, intrusion and point of sale.
Vision Catcher was one of the first companies to introduce VMS and DVRs into the South African market in 1998 with the use of the Novex VMS that was deployed into various verticals, including telecommunications, petro-chemicals, banks, mines, many other corporations and industries. The then basic VMS software proved the ability to link video capture cards in a PC with up to 16 cameras on a display, enabling multiple viewing options and recorded video replay.
The choice of recording and replay device was between an embedded DVR or the PC. The embedded DVR offering a VMS on an embedded Linux operating system restricting access to programmes, thus theoretically reducing the risk of viruses or someone changing key settings. Today, choosing the right VMS is critical for your solution to perform to the level of your expectations and is often overlooked as you purchase an embedded NVR and camera package.
Features and advantages
The right VMS should provide you with at least the following features:
• Software options.
• Cost options.
• Simplicity.
• Flexibility.
• Integration.
• Intelligence.
• Scalability.
• Reliability.
• Upgrades.
This simple list defines the advantages you might be expecting in a suitable VMS. As an example, a basic embedded DVR will give you the software option for an inbuilt four, eight, sixteen or thirty-two channels of video which will determine the cost option. The VMS should be relatively simple to use and flexible as the user probably only wants to review key events, and is unlikely to require much integration, may not look to add to the NVR in terms of additional cameras or upgrades, but it needs it to be reliable. Therefore, a low cost DVR with limited performance may be your choice.
Compare the comments above for the DVR and now consider a medium to enterprise VMS solution. There is often a requirement for live and remote monitoring rather than just recording and playback after an event. The solution plan will often be to add best-of-breed cameras from different vendors over a period of time, expanding the system in small steps. The solution must therefore be scalable as new sites or cameras are added, flexible to map and interact with each camera through integration options and simple to use for any trained operator. The right VMS will provide a minimum of these features and will show clearly the advantages of choosing a bespoke VMS solution.
DVR, NVR or VMS
You have the ability to decide what solution is best for your requirement. The right threat analysis questions from your security vendor should elicit the answers for your perceived risks and highlight your key points of concern, which should allow you to make the right choice.
DVR
You may have a legacy product that can still be used and upgraded over time. Some vendors will offer a DVR option using existing analogue cameras and adding HD-SDI cameras to improve resolution up to 1080p (2 MP). Beware of the old cabling and deteriorating signal performance. The DVR will provide improved VMS features, but also watch out for the live and recorded video quality as it is often restricted to keep costs down.
Hybrid
In between the DVR and NVR is a hybrid that offers you the ability to continue using your existing analogue cameras together with the choice of adding a selection of IP cameras as you need. Over time, you could reduce the analogue cameras and increase the number of IP cameras as you evolve and upgrade your solution. The VMS should give you the option to upgrade software and licences as required. This is often a very important consideration as we will explain later.
NVR
The NVR route normally requires you to replace all analogue cameras with IP cameras. The exception is to use an encoder as a legacy option for priority analogue cameras. The NVR may be scaled in a similar manner to the DVR, offering lower costs for less cameras based upon the Mbps data throughput which determines the quality and capacity of the NVR components – and hence the cost. This solution should be upgraded to keep pace with firmware and feature updates but may have hardware limitations that keep you using the existing software and cameras. Remember that newer cameras with improved features have new firmware requiring VMS software upgrades and may exclude you from adding a preferred new camera.
VMS
Vendors offering a VMS solution need to be able to provide realistic technical support. VMS software assumes that the purchaser has an understanding of both hardware and software implementation to ensure that the VMS is stable and reliable for the end user. This is why most VMS vendors insist that the installer/integrator is properly qualified to a set level to be able to sell and support the product. Be careful of the VMS vendor who is not fully certified (posing the question: how many DVR or NVR vendors are actually qualified to support their products?).
Choosing the VMS solution route allows you to design and build a bespoke server solution having calculated the required data throughput for live viewing, recording and playback. Add to this, the knowledge that your storage will manage the required number of days recorded and give the option to bookmark and archive relevant events. The VMS interface should be simple and intuitive, providing the operator with an easy-to-the-eye set of features including intelligent options linked from event, analytics, point of sale exception, audio or other interfaces to bring up the view, push video or draw attention to a particular incident.
Your VMS choice should offer you the ability to purchase software at varying licensing levels or packages where you would use the software on a workstation or server designed by the supplier for the expected number of cameras, data throughput and operational requirement.
With the current exchange rates, it is often perceived that purchasing the software and designing your own hardware is a cheaper option. In many cases this is not true as the increased performance of the hardware supplied by the VMS provider extends licensing periods and enables superior data throughput by up to 20% to 30% with greater efficiency. This translates to better overall performance, more cameras, greater storage, quicker search and playback options all on the one device.
Software subscription agreements
Licence upgrades are often poorly explained leading to confusion and concern over hidden costs at a later date. When you purchase an embedded NVR and cameras, it will have a current VMS software version. The VMS version is purchased as part of the embedded NVR and will work with its prescribed list of cameras as per its specification.
Once installed and working you may decide to add new cameras. It is very important that you check the current VMS version to see if it supports the new cameras (firmware) and ensure the old VMS version is also updated along with older camera firmware. If you do not follow the software upgrade options you may not be able to add the new cameras to your system.
Every day new cameras are released with new firmware. The camera firmware is the on-camera software which allows the camera to perform its functions/features. The camera firmware is updated regularly for the older cameras but care should be taken that the firmware upgrade is compatible with the existing VMS software. This now starts a software upgrade cycle between cameras and the VMS, add a camera and it needs a certain version of VMS, change the VMS and you may need to update camera firmware. It is this interaction that requires the VMS producers to constantly review and update their software, which in turn leads to a cost requirement for the development. This cost requirement effectively becomes the Software Subscription Agreement (SSA).
Most VMS vendors should offer you a Software Subscription Agreement (SSA) option. Normally this is around 5% to 10% of the licence cost per annum. Those VMS vendors that state they do not charge for software upgrades have often brought in SSAs at a later stage when they change versions at a much increased premium. The big advantage of your SSA is that you are keeping current with the evolving developments of the software with new added features as well as the camera firmware upgrades. The new versions often provide improved performance, a VMS that evolves with you and current trends, keeps track of camera upgrades and allows you to choose best of breed products. Purchasing the SSA at the small price applicable will ensure your VMS is up to date with all the new features available.
Credit(s)
Further reading:
Mount Nelson opts for cloud surveillance
CCTV, Surveillance & Remote Monitoring Entertainment and Hospitality (Industry)
IOT Revolution Technologies, in partnership with MeyCom, will be implementing over 250 cloud driven Verkada cameras at the Belmond Mount Nelson Hotel.
Read more...
---
Cyber resilience is more than cybersecurity
Technews Publishing Cyber Security Integrated Solutions IT infrastructure
Hi-Tech Security Solutions held a round-table discussion focusing on cyber resilience and found that while the resilience discipline includes cybersecurity, it also goes much further.
Read more...
---
Avoiding human error at ports
LD Africa Transport (Industry) CCTV, Surveillance & Remote Monitoring Products Logistics (Industry)
LD Africa introduced a local port to the AxxonSoft Port Security System ,a solution that helps overcome the element of human error and eliminate paperwork.
Read more...
---
Compact, lightweight bullet cameras with support for analytics
Axis Communications SA Products CCTV, Surveillance & Remote Monitoring
Axis Communications announced two new outdoor-ready bullet-style cameras featuring deep-learning processing units for analytics based on deep learning on the edge.
Read more...
---
Numerous challenges for transport and logistics
Transport (Industry) CCTV, Surveillance & Remote Monitoring Security Services & Risk Management Logistics (Industry)
Operators are making significant investments in automation and digitalisation in order to address security concerns, improve loss prevention as well as efficiency, and reduce unit order costs.
Read more...
---
A key to urban transport challenges
Axis Communications SA Transport (Industry) CCTV, Surveillance & Remote Monitoring Integrated Solutions Logistics (Industry)
There are many enabling technologies that can impact transportation in South Africa, but a good place to start is by considering the applications for smart physical technology with the ability to collect and respond to data.
Read more...
---
Hikvision aims for solutions
Technews Publishing Hikvision South Africa Editor's Choice CCTV, Surveillance & Remote Monitoring News Integrated Solutions Conferences & Events
Hikvision recently held a roadshow titled Industry X, where the company highlighted its latest products and solutions, supported by partners and distributors.
Read more...
---
Reliable, low-maintenance video appliances
Technews Publishing Editor's Choice CCTV, Surveillance & Remote Monitoring News IT infrastructure Products
Symetrix, part of the Agera Group, has added the AES range of video recording servers, storage appliances and workstations to its portfolio.
Read more...
---
Technology and the future of security installation in South Africa
Editor's Choice Integrated Solutions Security Services & Risk Management
What are the technologies and trends shaping installation, service and maintenance teams globally, and how will they shape South African businesses today and in the future?
Read more...
---
A new full-colour era
Dahua Technology South Africa CCTV, Surveillance & Remote Monitoring
Traditionally, there have been two options for using surveillance cameras in the dark: flooding the scene with visible light, or alternatively using infrared (IR) illumination.
Read more...
---