printer friendly version
Logistics security with 4K
CCTV Handbook 2016
CCTV, Surveillance & Remote Monitoring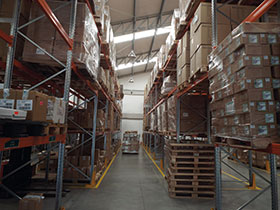 Until recently, warehouses were seen as a separate entity in the overall supply chain, merely a repository for merchandise storage before it was moved onto its final destination. Now retailers and other businesses have realised that by integrating the warehouse and freight transport into the greater supply chain, they can reap the benefits of enhanced inventory management, better loss prevention and shrinkage protection.
When it comes to transporting merchandise between warehouse and retail destinations, merely tracking the movement of trucks is no longer enough, and companies are having to rely on armed escorts and the implementation of smarter security technology to get their freight to its destination. Despite additional security measures, there are still syndicates that outsmart these technologies and additional measures while in transit. In addition to merchandise being at risk during transport, these goods are also vulnerable in the warehouses while waiting for collection.
Inside and outside the warehouse
The main risks in warehousing and freight transport are theft, loss and mishandled goods. However, the transportation of goods continues to be one of the most critical areas of vulnerability. While systems can be placed both in the vehicle and the warehouse exit and entry points, their effectiveness depends on the implementation and strict controlling measures to ensure the integrity of the system.
Inside the warehouse environment security can be enhanced through the use of Ultra-High Definition (UHD or 4K) IP cameras, which offer better resolution and more detail. Because of the high resolution of these 4K cameras, fewer of them are required to monitor a larger area, which means fewer cameras to manage, fewer network points and less of a drain on bandwidth and storage.
This is largely due to the fact that these cameras are capable of adaptive video streaming, which allows for recording of the video at 4K resolution, but allows for viewing at resolutions that meet the viewer's requirements. These cameras have even evolved to the point where it's now possible to use them for visual monitoring and verification of merchandise. For example, in a warehouse where goods are picked from the shelves and placed in a cage ready for transport collection, by using a 4K camera, an operator can visually ascertain whether the correct number of crates or boxes were loaded from the warehouse.
Eyes on the goods
Using these 4K cameras and the associated video recorder management applications it is possible to monitor the merchandise all the way from the warehouse, until it reaches its end destination. Each situation is different but, for example, by utilising closed body trucks the freight is not as exposed to the risk of theft. A closed body truck can be monitored, using a mobile DVR and cameras which can monitor what is going on inside the truck, as well as provide visual verification that the correct goods were loaded into and off the truck.
Such a mobile video recording and transmission system also ensures that the load is secure during its journey as an alarm is sent to the control centre with video verification in the event that the load bay door is opened. Once the goods have reached their destination, footage from the mobile DVR's cameras could be used to conduct an external visual inspection to make sure that the load doors are still sealed (this verifies integrity of load).
A main gate interlocking system could also be implemented here whereby access is given to the control centre operator (not the guard at the gate) and the driver, vehicle and guard would be recorded as they enter and exit the premises. While this can be time consuming, it enables the goods to be tracked along every metre of the journey with visual verification of any intrusion or collusion between parties.
Where bandwidth availability is an issue, the same technology that is used for cash-in-transit vans could also have application in freight transport. Such a system is effective in its simplicity as it enables remote monitoring of the vehicle making use of GSM networks with bandwidth requirements as low as 8 Kbps. Using cellular and wireless technology, live video is streamed (and recorded) from vehicles to a remote control centre.
Despite the fact that warehouse and freight security has long been overlooked, it's undeniably important to focus more attention on the integrity of the supply chain at this point. By securing the goods in transport and storage in a simple, visual way, retailers will be able to see the positive impact on security, in the elimination of theft, loss and damage of valuable goods.
For more information contact Graphic Image Technologies, +27 (0)11 483 0333, [email protected], www.git.co.za
Credit(s)
Further reading:
Mount Nelson opts for cloud surveillance
CCTV, Surveillance & Remote Monitoring Entertainment and Hospitality (Industry)
IOT Revolution Technologies, in partnership with MeyCom, will be implementing over 250 cloud driven Verkada cameras at the Belmond Mount Nelson Hotel.
Read more...
---
Avoiding human error at ports
LD Africa Transport (Industry) CCTV, Surveillance & Remote Monitoring Products Logistics (Industry)
LD Africa introduced a local port to the AxxonSoft Port Security System ,a solution that helps overcome the element of human error and eliminate paperwork.
Read more...
---
Compact, lightweight bullet cameras with support for analytics
Axis Communications SA Products CCTV, Surveillance & Remote Monitoring
Axis Communications announced two new outdoor-ready bullet-style cameras featuring deep-learning processing units for analytics based on deep learning on the edge.
Read more...
---
Numerous challenges for transport and logistics
Transport (Industry) CCTV, Surveillance & Remote Monitoring Security Services & Risk Management Logistics (Industry)
Operators are making significant investments in automation and digitalisation in order to address security concerns, improve loss prevention as well as efficiency, and reduce unit order costs.
Read more...
---
A key to urban transport challenges
Axis Communications SA Transport (Industry) CCTV, Surveillance & Remote Monitoring Integrated Solutions Logistics (Industry)
There are many enabling technologies that can impact transportation in South Africa, but a good place to start is by considering the applications for smart physical technology with the ability to collect and respond to data.
Read more...
---
Hikvision aims for solutions
Technews Publishing Hikvision South Africa Editor's Choice CCTV, Surveillance & Remote Monitoring News Integrated Solutions Conferences & Events
Hikvision recently held a roadshow titled Industry X, where the company highlighted its latest products and solutions, supported by partners and distributors.
Read more...
---
Reliable, low-maintenance video appliances
Technews Publishing Editor's Choice CCTV, Surveillance & Remote Monitoring News IT infrastructure Products
Symetrix, part of the Agera Group, has added the AES range of video recording servers, storage appliances and workstations to its portfolio.
Read more...
---
A new full-colour era
Dahua Technology South Africa CCTV, Surveillance & Remote Monitoring
Traditionally, there have been two options for using surveillance cameras in the dark: flooding the scene with visible light, or alternatively using infrared (IR) illumination.
Read more...
---
AIoT delivers dynamic digital platforms
Hikvision South Africa CCTV, Surveillance & Remote Monitoring
Many stadiums or venues are seeking new, smart solutions that can help venue operators to stay on top of real-time situations dynamically on digitally driven platforms, and to achieve more efficient and sustainable venue management.
Read more...
---
Upgraded security and AI monitoring at upmarket estate
Watcher Surveillance Solutions Editor's Choice CCTV, Surveillance & Remote Monitoring Integrated Solutions Residential Estate (Industry)
Estate upgrades and enhances its security through a partnership between surveillance specialist Watcher and the incumbent guarding company.
Read more...
---