printer friendly version
Counting people in retail
May 2016 CCTV, Surveillance & Remote Monitoring, Integrated Solutions
Mobeni Integrated Systems has a long history of providing security at South Africa's main airports where it has a significant rollout of surveillance cameras, services and management software. The company recently made the decision to expand its scope of operations into the retail space.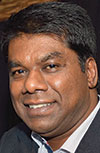 Krish Deokali, managing director of Mobeni.
Krish Deokali, managing director of Mobeni, says the decision to enter the retail market came as a result of the company deciding to expand its services. Not only is the retail market one where security is a primary concern, but it is similar to airports in that there is a constant flow of people into, out of and around the location.
As an experienced service provider, Mobeni has the ability to service these environments with surveillance solutions, but is also able to add additional functionality to the security installation. In the retail environment, this means being able to assist shop and mall managers with accurate people counting software. The software used is a mixture of international analytical software that has been tailored by Mobeni to local conditions.
Foot count technology provides retailers with accurate information on the number of people entering and exiting their location at any time of the day. It can also highlight which entrances and exits are most used, allowing them to tailor rental agreements to the location of a store as well as inform the security operator where, for example, they need to place more guards to handle more visitors.
The benefit of the setup Mobeni offers is that the same cameras used for security can be used for people counting – as long as the cameras have been positioned correctly and deliver the required quality images. If required, the software can also determine the number of adults and children, which are counted separately, as well as other categorisations such as distinguishing between customers and trolleys. For individual stores, the information can inform them of what specials or advertising to place within or outside their stores on particular days, or at specific times of the day to attract walk-by customers.
The footfall software can also divide malls into zones and track the movement of people as they move through the malls on heat maps, showing dwell times in specific locations, again providing more insight as to where is a prime position for particular stores.
The information can also be used as a cost saving mechanism when used with a building management system. When there are lower numbers of people in a mall, for example, the management may decide to reduce the number of escalators or elevators in use, saving on electricity charges and allowing maintenance to be done with the least impact on shoppers. Similarly, during peak hours, the management can ensure that its escalators are all operational. Integration into a building or a risk safety management system will alert the mall or facility operators of overcrowding in specific zones to ensure safety standards can be met.
The same applies to heating and air conditioning systems. These can be adjusted according to the number of people present, as well as adjusted in different zones to meet the needs of visitors and employees.
Deokali adds that the software used has a multi-tenant capability, which allows centre management to obtain an overall view of the whole area under surveillance, but it can also provide individual stores with data pertinent to its business – including in-store heat maps. As an example, he explains the system can collect point-of-sale information, whether manually or automatically if the POS systems are integrated, giving store management an accurate view of the value per square metre of its shop space and various other KPIs can be automatically calculated, such as average sales per customer, service ratio, daily turnover compared to foot traffic etc.
Trends can also be analysed once the system has enough historical data on board. This will allow centres and individual stores to predict foot count on specific days – such as the day before Christmas – and ensure they are prepared for an influx of people. The information can be analysed for a particular store, or nationally for a number of stores in a chain, permitting the chain's owners to accurately determine the value and ranking of all its stores nationwide. A real-time dashboard also allows management to gain a current view on their stores or centres and plan accordingly. Reports can also be generated automatically and sent to the relevant people.
The software is web driven, making it easy to use and easily accessible. In addition, Mobeni offers the solution as a hosted offering, meaning retailers need not concern themselves with IT problems, but can simply use the software to run their businesses optimally. Deokali adds that centres requiring a local server will be accommodated, but it makes more sense to opt for a cloud solution when you have numerous stores across the country and don't want to have the technical and maintenance hassles of having a server installed in each one.
The next version includes Wi-Fi tracking that will allow the software to track customer's routes and measure service times. In addition, a unique feature that will incorpor-ate weather data will give a more meaningful understanding of trends and customer behaviour.
While Mobeni can make use of existing cameras for the analytics operations, Deokali says the company recommends their range of 3D cameras and sensors as it delivers over 96% accuracy when it comes to people counting – and the analytics is done on the camera, saving bandwidth and computing resources. The cameras also include onboard foot count data storage for up to 60 days, thus eliminating data gaps in case of a network or service provider failure.
For more information, contact Krish Deokali, Mobeni Integrated Systems, +27 (0)11 396 2616, krish.d@mobeniis.co.za, www.mobeniis.co.za
Credit(s)
Further reading:
A customised solution for backup power
August 2019, Specialised Battery Systems , News, Integrated Solutions
Specialised Battery Systems designed and implemented a bespoke solution for Stallion Security Electronics to deploy at almost any site.
Read more...
---
Why rehearsals and drills for crises and evacuation are so important
August 2019, Leaderware , CCTV, Surveillance & Remote Monitoring, Security Services & Risk Management
The rehearsal of concept (ROC) drill has been used extensively in the military, but is just as important when facing risks in organisations and institutions to protect people on the ground.
Read more...
---
Milestone partners prove their skills
August 2019, Milestone Systems , News, CCTV, Surveillance & Remote Monitoring, Training & Education
Within the span of one week in mid-May, the Milestone Learning & Performance group celebrated important benchmarks: 200 000 course registrations and tutorial views, and 10 000 certifications.
Read more...
---
ONVIF Hosts 20th Developers' Plugfest
August 2019 , News, CCTV, Surveillance & Remote Monitoring
ONVIF, the global standardisation initiative for IP-based physical security products, hosted its twentieth ONVIF Developers' Plugfest in early June in Tokyo.
Read more...
---
Licence plate recognition camera
August 2019 , Products, CCTV, Surveillance & Remote Monitoring
VIVOTEK has introduced a new licence plate recognition camera featuring built-in licence plate recognition software and edge-computing capability.
Read more...
---
Augmented security with drones
August 2019, Drone Guards , Editor's Choice, Integrated Solutions
Drone Guards is moving into an untapped market of using drones to secure residential estates and other high-value assets such as mines, farms and commercial properties.
Read more...
---
Securing Savannah Hills Estate
August 2019, Rhyco Risk Projects , CCTV, Surveillance & Remote Monitoring, Perimeter Security, Alarms & Intruder Detection
Savannah Hills Estate in Midrand planned a security upgrade which was awarded to Rhyco Risk Projects. The project started in March 2019 and was completed in May 2019.
Read more...
---
10 things to consider when shopping for a VMS
August 2019, Genetec , CCTV, Surveillance & Remote Monitoring, Integrated Solutions
Today's video management systems (VMS) provide a wide range of tools and capabilities that help make security personnel more efficient by allowing them to focus on what really matters.
Read more...
---
How far are we really at with artificial intelligence?
August 2019, Axis Communications SA , Editor's Choice, CCTV, Surveillance & Remote Monitoring, IT infrastructure, Residential Estate (Industry)
Justin Ludik unpacks exactly how far AI has come and what it potentially can do for society and more importantly, surveillance.
Read more...
---
Enhancing security with AI
August 2019, Hikvision South Africa , CCTV, Surveillance & Remote Monitoring
Hikvision explains how residential estates can revolutionise their security strategies and outcomes with artificial intelligence.
Read more...
---