printer friendly version
Analogue fights back
CCTV Handbook 2016
CCTV, Surveillance & Remote Monitoring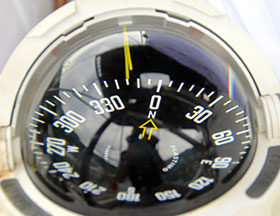 Just as we were all prepared to announce the death of analogue and the ultimate victory of network (or IP) surveillance, the analogue industry jumped back into the game, offering HD (high definition) video and more from analogue systems. And even more importantly, you can use them on your existing analogue infrastructure – so they say.
According to the companies involved, depending on which version one chooses, HD analogue can deliver higher definition video over the same infrastructure – with a few changes – but still keeping it analogue with no latency and at a lower cost. This makes it easier to manage and install as the technical trickery of IP systems is avoided. In many installations, especially smaller ones, HD analogue systems are not only retaining existing clients, but gaining new converts who would otherwise have gone the IP route.
However, it's not a simple decision to stay with analogue. There are various HD standards in the analogue world and each want to be the eventual winner. Hi-Tech Security Solutions asked three of the leading players to tell us about their HD offerings in the analogue world, what their standard offers customers and how they see it developing in future.
Rebooting analogue
Frank Zhang, product manager for Hikvision's backend devices explains that the Chinese surveillance giant provides its Turbo HD products built on the HDTVI standard. "Compared with other HD analogue standards, HDTVI excels in ultra-high signal bandwidth, which results in more saturated colour and brightness, and makes the images more clear. Hikvision will soon introduce an upgraded Turbo HD solution (Turbo HD 3.0), with product models providing up to 5 MP resolution (2592x1944)."
Another Chinese company steaming ahead in the surveillance world is Dahua. It has developed the HDCVI standard. According to the company's John Li, compared to other HD analogue standard, HDCVI is better, firstly because it owns independent intellectual property rights.
Secondly, Li says HDCVI has full compatibility with legacy and other systems. This means HDCVI is 'penta-brid', which means it is compatible with HDCVI / AHD / TVI / IP / CVBS. The whole HDCVI family is also compatible with both older and new versions of its products.
In addition, Li says HDCVI features higher resolution and longer transmission distances, and not only provides 720p and 1080p resolutions, but 4 megapixel and 4K (8 megapixel) as well. As for the transmission distance, HDCVI supports up to 1200 m over coaxial cable and 450 m over UTP.
The company also boasts that HDCVI supports multi-signal transmission in one coaxial cable. In other words: video, audio, data and power.
It's worth noting that Zhang says the Turbo HD solution offers seamless compatibility with various third-party HDTVI compliant cameras and DVRs. Turbo HD 3.0 will also support AHD compliant products.
The third standard to consider is AHD (analogue high definition). Developed by Nextchip, it is promoted in South Africa by Hitek Security. Tomer Elhadad, CEO of Hitek, says AHD offers a few advantages of its own. The first is that these cameras support both old analogue technology as well as AHD. Moreover, the AHD DVR from Hitek supports analogue, AHD as well as IP.
Elhadad adds that customers can develop AHD systems using AHD devices from the Provision range, which Hitek sells, or any other brand. This is the same as people were used to with traditional analogue systems. Unlike other standards, you are not limited to buying all your product from the same manufacturer.
In terms of resolution, AHD already supports up to 2 MP, with 3 MP and 4 MP solutions in the pipeline.
Something old, something new
One of the alleged benefits of HD analogue systems is that users can make use of their existing infrastructure, which means you save on cabling. Elhadad says upgrading to AHD is as simple as changing cameras and DVR units, 'and you set to go'.
Hikvision is the same. Zhang explains that customers only need to replace the front-end cameras and backend DVRs, again without the trouble of re-cabling. What's more, the Hikvision Turbo HD 3.0 supports up to 1 200 m transmission distances.
Dahua, again, echoes the others. Customers can seamlessly upgrade from SD analogue to an HDCVI system, the only thing they need to do is to replace the analogue cameras and DVRs with HDCVI versions. No cabling needs to be changed.
According to Li, HDCVI has more than 10 million supporters from 150 countries, and over 200 global partners have joined the Dahua HDCVI Academy, aiming to accelerate HD development. The company believes that, although the current HD analogue market is shared by CVI, AHD and TVI, it is an inevitable trend that all standards will converge, as convergence is a real and important customer requirement.
However, Elhadad says last year's export figures from China show that AHD is leading the pack by a significant margin when it comes to analogue HD sales.
Analytics on analogue
In today's IP surveillance world, one of the benefits of higher resolution images is the ability to add value to the installation with video analytics. Fortunately, the same is possible with HD analogue.
Dahua provides video management software, the Smart PSS for PCs and DMSS for mobile devices that support analytics. HDCVI technology supports various intelligent functions including motion detection, tripwires, left object detection, facial recognition, people counting, heat maps etc.
Elhadad adds that any video analytic software already available in the market will be able to make use of AHD video footage. Hitek also offers CMS software that allows you to manage all your Provision ISR devices under one platform.
Hikvision provides its own video management software with Turbo HD analogue solutions. This includes the current iVMS-4200 VMS and iVMS-5200 Professional VMS. Video analytics is available on these platforms, including motion detection, intrusion detection, line-crossing detection, alarm management video quality detection and more smart features.
The bottom line
We naturally expect the vendors to promote their own products and promise awesome results for those who implement them, but when dealing with HD analogue, what are the real cost advantages a company would experience? After all, when buying new cameras and DVRs, you are committing significant funds to the project.
Zhang explains that the advantages of HD analogue over IP systems are mainly in cost-savings and their real-time capability (non-latency transmission). In terms of upgrading from SD analogue to HD analogue, users will benefit from:
• No need for re-cabling, which reduces installation costs,
• HD analogue devices are more cost-effective, and
• More flexible in restructuring, you don't have to do all the restructuring at one time.
In terms of the installation of new HD analogue systems, users will benefit from:
• HD analogue devices are more cost-effective and costs less to install,
• Easy to install, easy to use,
• Low demands on the installer's technical skills,
• Low maintenance cost, and
• No need for switches or hubs for bridging, which also reduces the overall costs.
When comparing the cost to an IP solution, Elhadad says, "I can say that the cost of AHD is similar to standard analogue systems and an IP system will still be in the range of two or three times more expensive."
Li says that even if a customer has an SD analogue system, simply replacing all the cabling costs a lot. For most mid-sized or large surveillance systems, such as buildings or public facilities, it is unrealistic to change the cabling. Furthermore, the cameras and HCVRs in an HDCVI system are "remarkably less expensive" than IP cameras and NVRs of similar performance.
From the above, it seems clear that analogue is fighting back, not only to retain its market share, but to grow it with the introduction of HD solutions that can compete with most of the IP systems being installed today. Over time, it is probably a good bet that the competition between CVI, TVI and AHD will see the manufacturers releasing higher definition capabilities and longer transmission lengths to support their zero-latency systems. Who will win in the end remains to be seen, but it seems as if customers can once again include analogue in their long-term plans.
For more information, contact Dahua, +86-571-87688883, overseas@dahuatech.com, www.dahuasecurity.com; Hikvision South Africa, +27 (0)10 035 1172, support.africa@hikvision.com, www.hikvision.com; HiTek Security Distributors, +27 (0)21 946 3344, sales@hiteksecurity.net, www.hiteksecurity.net
4K analogue video
Analogue CCTV users can now enjoy 5 MP HDTVI and 4K video resolution while safeguarding their investment with existing cabling infrastructure. Hikvision is launching its third-generation analogue HD solution, Turbo HD 3.0, which also supports latency-free 1080p HD video up to 800m and 720p transmission up to 1 200 m over coaxial cable.
Turbo HD 3.0 uses HDTVI technology, eliminating compatibility issues whenever you have to mix old technology with new products, and making installation simple and cost-effective.
Hikvision's high-calibre H.264+ compression technology improves encoding efficiency by up to 50% compared to standard H.264, dramatically reducing bitrates while maintaining high transmission quality without losing forensic details.
Hikvision's Power-over-Coax (PoC) feature simplifies installation, as one coaxial cable carries both the video signal and the power supply. This translates to reduced installation time, which also translates to a reduction in both installation and material costs. In addition, the Turbo HD 3.0 analogue solution supports UTC for remote set-up and configuration and enables control of the OSD menu and PTZ control via coaxial cable, enabling faster camera installation and easier management.
Turbo HD 3.0 is also compatible with the majority of products from other manufacturers.
For more information contact Hikvision, +86-571-8700-6060, wulin@hikvision.com, www.hikvision.com
Credit(s)
Further reading:
AI technology to empower vertical markets
Dahua Technology South Africa Mining (Industry) CCTV, Surveillance & Remote Monitoring Products
Dahua WizMind is a full portfolio of solutions comprising project-oriented products that use deep learning algorithms to provide more business value to its global customers and deliver reliable and comprehensive AI solutions for vertical markets.
Read more...
---
Elvey partners with HALO
Elvey Security Technologies News CCTV, Surveillance & Remote Monitoring
Elvey Group has partnered with HALO Europe to provide Africa's first body-worn solution with zero upfront costs. This includes an IP68-certified body camera and a 4G-connected device.
Read more...
---
Regal announces new partnership
Regal Distributors SA CCTV, Surveillance & Remote Monitoring
Having a bird's eye view of your surveillance data, with the capability to drill down to the details obtained via connected security solutions, is a game changer for security operators, companies and even officers on the ground.
Read more...
---
Invisible connection and tangible protection via cloud
Dahua Technology South Africa Perimeter Security, Alarms & Intruder Detection CCTV, Surveillance & Remote Monitoring Products
Dahua Technology has launched its AirShield security solution that uses advanced, stable and reliable RF communication technology and cloud services, integrating alarm hubs, various detectors and accessories, with several software apps.
Read more...
---
Hikvision expands solar-powered solutions
CCTV, Surveillance & Remote Monitoring Products
Hikvision is offering a portfolio of solar solutions, the 4G solar-powered camera kit, a wireless bridge, and mobile solar security tower solutions to assist in keeping remote and isolated areas safe in a simple, practical, and cost-effective way.
Read more...
---
Preventing forest fires with digital intelligence
Dahua Technology South Africa Fire & Safety Products
Technologies such as dual-spectrum video monitoring, intelligent image analysis and recognition, and three-dimensional positioning, enable the smart system to detect a fire, quickly locate the fire source and automatically send alarm to on-duty personnel.
Read more...
---
Dahua Insider Series for touchless access
Dahua Technology South Africa Access Control & Identity Management Products
The Insider Series Access Control Solution offers touchless access (via Bluetooth) using the DMSS mobile app; it has three distance modes and two trigger modes (normal and shake).
Read more...
---
Affordable entry-level cameras from Dallmeier
Dallmeier Electronic Southern Africa CCTV, Surveillance & Remote Monitoring Products
Dallmeier has introduced the 'E' version of the DOMERA camera family, offering high image quality with 2 MP and 5 MP resolution, and providing detailed images even in low light conditions.
Read more...
---
The importance of the operator's frame of reference
Leaderware Editor's Choice CCTV, Surveillance & Remote Monitoring Security Services & Risk Management Mining (Industry)
The better the operator's frame of reference and situational awareness, and the more informed they are in dealing with CCTV surveillance in the mining industry, the more successful they are likely to be in surveillance.
Read more...
---
Enhancing surveillance on mines
Avigilon Technews Publishing Axis Communications SA Forbatt SA Hikvision South Africa Bosch Building Technologies Editor's Choice CCTV, Surveillance & Remote Monitoring Integrated Solutions Mining (Industry)
Smart Security approached a number of surveillance vendors to find out what the latest in surveillance technology is that can make a difference to security operations in mines, as well as general operations.
Read more...
---