printer friendly version
Thermals expand their operations
May 2016 CCTV, Surveillance & Remote Monitoring, Products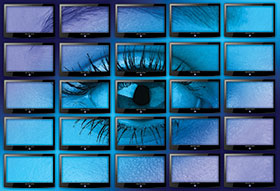 Thermal cameras have gone from being expensive devices reserved for military or government use to less costly solutions for a wide variety of uses, from 24-hour perimeter protection through to measuring the temperatures of machinery while in operation. Today, one finds thermals in almost any security installation, from residential estates to large commercial operations and more.
Hi-Tech Security Solutions asked FLIR and Bosch Security for some input regarding thermals and what they are capable of today. Within the realm of commercial, read affordable operations. Our respondents are:
• David Montague from FLIR Systems, and
• Charles Coetzee from Bosch Security Systems.
Hi-Tech Security Solutions: What advances are we seeing with respect to thermal technology (resolution, clarity of images, distances etc.)?
Montague: We are seeing a transition to 640x480 resolution products as the benefits of achieving further distances with analytics is appreciated with these products. The cost to benefit ratio makes sense, as the price differential between the two options becomes less.
Coetzee: The Bosch outdoor IP thermal cameras provide early detection and the display of irregularities over large areas. These cameras can 'see' through dense smoke or bad weather conditions such as heavy fog or snow, or even in absolute darkness. Providing high sensitivity, uncooled long wave thermal imaging, these cameras deliver outstanding image quality. They use a VOx (Vanadium Oxide) focal plane sensor array with 320 x 240 pixels, combined with dedicated image processing algorithms to deliver sharp, clear thermal images that make it easier to recognise objects or suspicious activities.
Some of the key benefits this provides is a more precise temperature sensitivity, e.g. temperature differences of 50 mK or less are made visible. Further video processing features include multiple automatic, dynamic image optimisation algorithms, as well as polarity control (white hot/black hot). Automatic flat-field correction (FFC) results in a more uniform, quality image.
Hi-Tech Security Solutions: Where are we mostly seeing thermals deployed and why (for example, on long perimeters)?
Montague: Thermals are being deployed in many perimeter applications. In past years thermal imaging was mainly used in high asset value applications such as airports, power stations, etc. Although thermal often offered the best solution for all perimeter security, the cost was relatively prohibitive. In recent years the price reduction has expanded the applications and FLIR has products that will secure residential premises at an affordable price. All perimeter applications can now get the best solution at an affordable price.
Coetzee: We're seeing increased growth in areas such as ports and traffic monitoring, border control, perimeter surveillance as well as power plants and industrial installations.
Hi-Tech Security Solutions: Are thermals still necessary when low-light cameras are claiming to be able to obtain colour images in near total darkness?Where are thermals and low-light cameras best deployed and why? Furthermore, are we seeing the end of IR cameras?
Montague: Thermal imaging cameras detect the heat source of objects and will provide the same image in total darkness and during the day, creating good contrast images in the scene and they can see through most weather conditions. No additional lighting is needed. Thermal cameras have virtually no moving parts and are not dependent on external lighting to illuminate the scene, so the MTBF is extended compared with other technologies. FLIR offer a 10-year warrantee on the thermal detector.
Coetzee: Yes. This is however, dependent on the application requirements. Optical cameras have their place when designing systems, but when the terrain becomes challenging, lighting around the area becomes a factor and if it is very dense in shrubs and vegetation, thermal cameras will be the best solution.
Low-light cameras still require the presence of some type of light source to be fully effective. Conversely, when too much light is present, this can also prove troublesome for visible light cameras. Thermal cameras do not experience these troubles as they work on infrared radiation, hence will continue to be more effective in any challenging environment where an overabundance, or absence of light exists.
IR cameras will always have their place in the market. As mentioned above, thermal cameras are suitable for any application where extreme challenges in lighting occur. Thermal technology has been strongly adopted for many perimeter surveillance solutions, coupled with HD colour cameras for daytime operation. IR cameras still have a major role to play in many instances, but due to current limitations on most built-in IR technology, the effective range is often no more than 30 metres. Thermal technology, however, allows detection of objects kilometres away.
Hi-Tech Security Solutions: Can more advanced analytics be used with thermals? Can intelligent tracking be done, either by the thermals themselves or by automatically directing a PTZ to an alert/event?
Montague: FLIR has several options in relation to analytics, there are edge options with the FC and the new FC-ID. This option started with a type of motion detection, but the demand for more sophisticated analytics on board is becoming heavier all the time, the FC-ID offers advanced analytics. In addition, FLIR offers server based analytics.
FLIR has a range of PTZ multi-sensor cameras that can be used in tracking targets. Often we are seeing the need to detect an intruder and then handing over to a PTZ multi-sensor for tracking.
Coetzee: Yes, with Bosch's on-board Intelligent Video Analytics (IVA), we are able to offer intelligence at the edge. The Bosch suite of video analytics range from an object entering or leaving a scene, multiple cross line configurations, object tracking, loitering, idle, and people counting to name a few. Up to eight individual tasks can be selected and combined into one scene to build sophisticated detection systems.
Intelligent tracking within Bosch camera technology is more based around the moving PTZ portfolio, while video analytics within static thermal cameras (VOTs) are based around analytics rules which are configured on the cameras. With the Bosch IVA, intelligent tracking in the scene can be achieved on thermals, for applications where PTZs are employed, the auto-tracking can effectively move and reposition the camera to follow the object of interest.
Hi-Tech Security Solutions: What are your latest thermal offerings?
Montague: The FC-ID series of cameras feature on-board video analytics optimised for FLIR's thermal video. They are easy to set up and capable of classifying human or vehicular intrusions, FC-Series ID cameras provide reliable detection with low false alarm rates, all without human intervention. Other models can be viewed at www.flir.co.uk/security/display/?id=72433.
FLIR now offers an end-to-end solution from PSIM-VMS-CCTV cameras, thermal cameras and analytics. Many integrators are seeing the benefit of working with one supplier on the total solution. The recent acquisition of DVTEL by FLIR has contributed to the enhanced offering.
Coetzee: Bosch fixed cameras, like the IP VOT Thermal Cameras, come in four different lens options comprising 9 mm, 13 mm, 19 mm and 60 mm. Bosch moving cameras, like the analogue MIC Series 612 Thermal Camera is a dual thermal and optical PTZ camera.
For more information, contact FLIR Systems, +44 780 151 4810, theresa.turner@flir.uk.com, www.flir.com; Bosch Security Systems - South Africa & sub-Saharan Africa, +27 (0)11 651 9600, charles.coetzee@za.bosch.com, africa.boschsecurity.com
Credit(s)
Further reading:
Securing Savannah Hills Estate
August 2019, Rhyco Risk Projects , CCTV, Surveillance & Remote Monitoring, Perimeter Security, Alarms & Intruder Detection
Savannah Hills Estate in Midrand planned a security upgrade which was awarded to Rhyco Risk Projects. The project started in March 2019 and was completed in May 2019.
Read more...
---
10 things to consider when shopping for a VMS
August 2019, Genetec , CCTV, Surveillance & Remote Monitoring, Integrated Solutions
Today's video management systems (VMS) provide a wide range of tools and capabilities that help make security personnel more efficient by allowing them to focus on what really matters.
Read more...
---
How far are we really at with artificial intelligence?
August 2019, Axis Communications SA , Editor's Choice, CCTV, Surveillance & Remote Monitoring, IT infrastructure, Residential Estate (Industry)
Justin Ludik unpacks exactly how far AI has come and what it potentially can do for society and more importantly, surveillance.
Read more...
---
Enhancing security with AI
August 2019, Hikvision South Africa , CCTV, Surveillance & Remote Monitoring
Hikvision explains how residential estates can revolutionise their security strategies and outcomes with artificial intelligence.
Read more...
---
More than simply a camera
August 2019, Forbatt SA, Secutel Technologies , CCTV, Surveillance & Remote Monitoring, Residential Estate (Industry)
With the human element being the weakest link in all security solutions, Hi-Tech Security Solutions looks at the pros and cons of using body-worn cameras in estates.
Read more...
---
The importance of effective perimeter security
August 2019, Elf Rentals - Electronic Security Solutions, Stafix , Editor's Choice, CCTV, Surveillance & Remote Monitoring, Residential Estate (Industry)
Protecting the perimeter is critical for any residential estate; how does one go about making sure your perimeter is as secure as possible?
Read more...
---
Security playing speedcop
August 2019, Axis Communications SA, Hikvision South Africa , CCTV, Surveillance & Remote Monitoring, Residential Estate (Industry)
Estates now have a legal precedent to manage their traffic and fine people in the estate for violations of the rules; all they need do is find solutions that will support them.
Read more...
---
CathexisVision video management software
August 2019, Cathexis Technologies , Products, CCTV, Surveillance & Remote Monitoring
The CathexisVision IP video management software (VMS) helps clients get the most out of their surveillance investment and reap rewards for their companies.
Read more...
---
Capture every detail with Smart PIR kits
August 2019, Longse Distribution , Home Security, CCTV, Surveillance & Remote Monitoring, Residential Estate (Industry)
Longse Technology offers DIY smart security kits that are easy to install and offer a Wi-Fi range that can reach up to 300 metres.
Read more...
---
Extended two-way radio communications
August 2019 , Security Services & Risk Management, Residential Estate (Industry), Products
The two-way radio communication industry has been enhanced by the introduction of Halo PTT radio networks, which are GSM based.
Read more...
---