printer friendly version
Seven video surveillance trends you can't afford to overlook
May 2016 CCTV, Surveillance & Remote Monitoring, IT infrastructure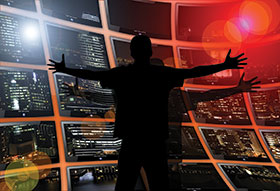 Do you know what's next for video surveillance? It's an incredibly dynamic industry that continues to grow at an exponential rate. Are you keeping up with the trends that are fuelling this momentum? More importantly, are you capitalising on the trends that can give you a profitable competitive advantage? This article will show you what to watch out for and provide some insight you can implement that will help you do just that.
Network cameras as emerging stars
Fixed-dome and180/360-degree IP network cameras are the fastest growing product segment, and the city surveillance and utilities/energy sectors are vertical markets to watch. According to IHS, 180/360-degree IP panoramic network cameras are forecast to increase global unit shipments by more than 60 percent year-over-year.
With their increased scope, these cameras are the preferred choice for monitoring wide indoor areas, meaning customers can save money by installing fewer cameras while still covering the same area. That's why they're predicted to gain increasing market share in verticals such as retail, airports and casinos. Even entire cities are attempting to capitalise on this trend in an effort to help them solve and prevent crimes.
Crowdsourced video surveillance
With the increasing prevalence of mobile users, crowdsourced video surveillance data will be on the rise. This trend took centre stage during the Boston Marathon bombing as personal photos and videos played a major role in identifying the Boston bombing suspects. In 2011, investigators seeking information about rioters in Vancouver received more than 5000 hours of video from the public, ultimately helping them find the suspects.
One of the immediate practical applications of this trend is the ability to improve reaction time of law enforcement agencies, especially with the use of social media monitoring. Of course, the continued growth in this space will create data analysis and manipulation challenges as authorities deal with the unsophistication of the source files.
No substitute for the right surveillance storage
Relying on traditional desktop drives, while they may have the required space, isn't a best practice because they're not built to withstand the constant data writing involved when capturing multiple streams of high-definition video. The rigors of today's video surveillance systems require true 24x7x365 operation. And the reality of the situation is that standard desktop drives just can't handle the workload.
Customers use desktop-class drives today for low-cost, high-capacity storage, but they compromise their system reliability by using these drives in a surveillance environment. It makes sense then that choosing the right drive can dramatically improve a system's overall ROI. There are a variety of companies that manufacture drives built specifically to help optimise video content recording/playback and drives built to quickly process data and provide faster performance. For example, Seagate provides surveillance drives that provide enhanced data integrity and can help you reduce cost of servicing by delivering optimised HDDs for surveillance applications and improving their overall lifespan.
Video surveillance backup and video data recovery
The #1 pain point for video surveillance systems integrators is data loss. And with good reason. After all, what exactly is the proper protocol to follow to recover your surveillance footage?
If your customers have tried to pinch pennies by installing a standard drive for their surveillance system's storage, the answer is nothing. If they bristled at the initial cost of a proper drive, chances are they aren't going to want to absorb a starting recovery cost of about $499. That means the data is gone.
Companies like Seagate offer surveillance hard drives that are specifically engineered for demanding surveillance systems. Seagate now offers a three-year Rescue Data Recovery Services plan with select Surveillance HDD models. If customer data is lost, deleted or corrupted, Seagate Rescue will help your customers get their data back from their failed drive with a reported industry-leading data recovery rate of 90%.
Video management systems and video bandwidth management
With the rise of high-definition video and IP cameras, it's more important than ever to take into account the bandwidth needed to run your system at maximum efficiency. If bandwidth isn't optimised, video quality will degrade and the efficacy of the entire system will be irreparably compromised.
According to Genetec, multicasting, multi-streaming and video compression are three innovative methods that users can use to optimise bandwidth management in video surveillance applications. With video management software (VMS), users can leverage existing hardware and software functionalities to experience benefits such as reduction in bandwidth requirements, optimisation of network resources, and decrease of storage needs. As long as they're supported by an intelligent VMS, multicasting, multi-streaming and video compression can ultimately contribute significant cost savings and long-term investment protection.
Video analytics: Do more than ever before
Embedded low-end video analytics applications have already been offered as free features. But are free apps a viable option, or will there continue to be a market for video analytics? One thing is clear: vendors can no longer charge for basic algorithms. Yet, more advanced analytics remain profitable. There are multiple considerations when it comes to analytics, with each area projected to continue growth well into the future.
HD over coax
According to IHS, we should expect more new product and service announcements from network-focused security companies as they seek to add new revenue streams to their portfolios. So where will some of these new sources of revenue come from?
Even as the popularity of IP cameras continues to grow, acquiring more than 50% of the market by 2017-18, we see HD over coax being a promising area to watch. It's gone through evolution from analogue to HD-SDI (high-definition serial digital Interface) in its early stages and now with HD-CVI (high-definition composite video interface) and HD-TVI (high-definition transport video interface) iterations, and AHD (analogue high definition).
It has maintained its position in the market for two simple reasons. One, there is no latency over coax so what you see is what you get in real time. This is obviously the preferred working state for businesses like casinos and some applications that need real-time monitoring of their properties, and who are not worried about missing anything due to latency issues.
And two, it's innately easier to set up – a true plug-and-play solution. IP ultimately offers higher quality, better integration and higher scalability, but it can be complex especially for small installations. With IP and analogue cameras displaying different strengths, more companies will start to implement hybrid versions of each technology in their systems.
As video surveillance continues to evolve across both public and private sectors, there's an increasing opportunity to capitalise on these emerging trends in order to gain a distinct competitive advantage for you and your customers.
More than ever before, businesses need to listen to their customer needs, understand their path to growth and engage with them not just at the initial install. By thinking of the engagement as more than a one-time sale and focusing on the expansion of systems themselves – over larger spaces or with more cameras – they set themselves up for future opportunities to generate sustained success.
This white paper has been edited. For the full version, please see http://www.seagate.com/files/www-content/ti-dm/_shared/images/top-video-surveillance-industry-trends-for-2015.PDF (short URL: http://goo.gl/GkCxo6).
Credit(s)
Further reading:
Milestone partners prove their skills
August 2019, Milestone Systems , News, CCTV, Surveillance & Remote Monitoring, Training & Education
Within the span of one week in mid-May, the Milestone Learning & Performance group celebrated important benchmarks: 200 000 course registrations and tutorial views, and 10 000 certifications.
Read more...
---
ONVIF Hosts 20th Developers' Plugfest
August 2019 , News, CCTV, Surveillance & Remote Monitoring
ONVIF, the global standardisation initiative for IP-based physical security products, hosted its twentieth ONVIF Developers' Plugfest in early June in Tokyo.
Read more...
---
Licence plate recognition camera
August 2019 , Products, CCTV, Surveillance & Remote Monitoring
VIVOTEK has introduced a new licence plate recognition camera featuring built-in licence plate recognition software and edge-computing capability.
Read more...
---
Double dose of storage security
August 2019 , Products, IT infrastructure
The integration of InfiniBox and SafeNet KeySecure platforms brings data-at-rest encryption together with centralised logging, auditing capability.
Read more...
---
Securing Savannah Hills Estate
August 2019, Rhyco Risk Projects , CCTV, Surveillance & Remote Monitoring, Perimeter Security, Alarms & Intruder Detection
Savannah Hills Estate in Midrand planned a security upgrade which was awarded to Rhyco Risk Projects. The project started in March 2019 and was completed in May 2019.
Read more...
---
10 things to consider when shopping for a VMS
August 2019, Genetec , CCTV, Surveillance & Remote Monitoring, Integrated Solutions
Today's video management systems (VMS) provide a wide range of tools and capabilities that help make security personnel more efficient by allowing them to focus on what really matters.
Read more...
---
How far are we really at with artificial intelligence?
August 2019, Axis Communications SA , Editor's Choice, CCTV, Surveillance & Remote Monitoring, IT infrastructure, Residential Estate (Industry)
Justin Ludik unpacks exactly how far AI has come and what it potentially can do for society and more importantly, surveillance.
Read more...
---
Enhancing security with AI
August 2019, Hikvision South Africa , CCTV, Surveillance & Remote Monitoring
Hikvision explains how residential estates can revolutionise their security strategies and outcomes with artificial intelligence.
Read more...
---
More than simply a camera
August 2019, Forbatt SA, Secutel Technologies , CCTV, Surveillance & Remote Monitoring, Residential Estate (Industry)
With the human element being the weakest link in all security solutions, Hi-Tech Security Solutions looks at the pros and cons of using body-worn cameras in estates.
Read more...
---
The importance of effective perimeter security
August 2019, Elf Rentals - Electronic Security Solutions, Stafix , Editor's Choice, CCTV, Surveillance & Remote Monitoring, Residential Estate (Industry)
Protecting the perimeter is critical for any residential estate; how does one go about making sure your perimeter is as secure as possible?
Read more...
---