printer friendly version
Something old, something new
CCTV Handbook 2016 Surveillance, Conferences & Events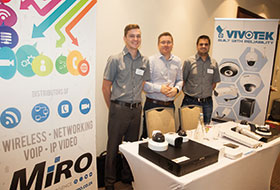 Value-added distributor MiRO focused on three of its products on its sponsor's stand at iLegal 2016. The products on display were from VIVOTEK, Uniview and LigoWave.
Marco de Ru, CTO at MiRO was on hand to discuss the products from MiRO, as well as the role MiRO plays in the security industry. De Ru explains that MiRO is an IP convergence company and as the security industry moved to the IP platform it became part of the IP convergence trend and MiRO now finds a significant part of its business is security based.
Since MiRO is a complete solutions provider, it is able to provide full solutions to the security market, from the network to the cameras and the management software required to run everything efficiently.
De Ru adds that companies looking for surveillance solutions often have a good concept of what they want in terms of cameras and their functions, but tend to forget that surveillance needs a good infrastructure if the solution is to deliver as required. From this perspective, MiRO is in a good position to assist as it can advise on cabled network solutions as well as wireless solutions.
There are people who have doubts about the efficacy of wireless networks for the surveillance world, but De Ru says it all depends on how you design the network and the products you use. Wireless networks today are as reliable and secure as their wired counterparts, and companies need to examine their environment to determine which solution is the best fit for them. In many cases, MiRO has found that a combination of wired and wireless technology provides the best results.
The LigoWave product set is a wireless networking solution that has been installed in over 150 countries for a variety of communications requirements. The company believes wireless is the future and MiRO has taken this brand into numerous customers with success.
A new entrant to the MiRO product range is the Uniview brand. Uniview has a history of innovation and offers a range of cameras that meet every need. The cameras are found in a variety of security projects globally, including public security, traffic monitoring, petrochemical surveillance, high-end buildings and more.
The third brand on the MiRO stand was VIVOTEK, a camera brand that needs no introduction. De Ru says VIVOTEK has quickly grown to establish itself as one of the world leaders in network video surveillance with a wide range of IP cameras, NVRs and encoders.
Visitors to iLegal 2016 were able to view the products and chat to MiRO staff about their features and benefits, as well as what MiRO as an IP convergence company can offer the security industry.
For more information contact MiRO Distribution, 086 123 MIRO, riandi@miro.co.za, www.miro.co.za
Credit(s)
Further reading:
Safer roads to a sustainable future
Dahua Technology South Africa Surveillance
With the ever-increasing number of vehicles on the road, it is imperative to constantly improve the quality of transportation monitoring and traffic management in urban and rural areas.
Read more...
---
From damage management to false alarm prevention
Dallmeier Electronic Southern Africa Transport (Industry) Surveillance Logistics (Industry)
Video surveillance is undergoing an exciting evolution; today's IP-based solutions can be fully integrated into digital systems. With the increasing integration of artificial intelligence (AI); logistics, in particular, can make processes more transparent and exploit previously untapped potential.
Read more...
---
Marshall Security partners with Blacklight to introduce Reconeyez to KZN
News & Events Surveillance Power Management
Marshal Security has joined forces with Blacklight Group to launch Reconeyez, a cutting-edge battery-powered surveillance platform with mesh network capability, in the KwaZulu-Natal market.
Read more...
---
Professional mobile video management in your pocket
Dallmeier Electronic Southern Africa Surveillance
With the SeMSy Mobile Client for its Domera and Panomera cameras, Dallmeier is now launching a solution that combines the functional and security requirements of professional organisations with the user-friendliness and simplicity of consumer apps.
Read more...
---
Leveraging AI to boost security in SA
AI & Data Analytics Surveillance
By shifting data analysis and processing to the edge of a company's network, decision-makers can ensure their remote offices can access real-time computing across multiple locations, supporting informed business decisions.
Read more...
---
Safeguard surveillance devices from cyberattacks
Axis Communications SA Surveillance Information Security
Cybersecurity concerns extend through the organisation and out among its stakeholders and supply chains. It also covers video surveillance, which is critical to any organisation's physical security and asset protection strategy.
Read more...
---
Ring announces second generation indoor camera
Smart Home Automation Surveillance Residential Estate (Industry)
Introducing a removable manual privacy cover, Ring's latest indoor camera provides customers with increased privacy, control and peace of mind when it comes to home security.
Read more...
---
Body-worn evidence
Technews Publishing Forbatt SA Betatrac Telematic Solutions Secutel Technologies Surveillance Residential Estate (Industry) Products & Solutions
Body-worn cameras are no longer just a good idea or a luxury item; in fact, they are gaining popularity and finding use in various situations, one of these being in residential estates.
Read more...
---
Stop cheating with gaming analytics
Dallmeier Electronic Southern Africa Surveillance Entertainment and Hospitality (Industry)
The CAT gaming analysis solution from Dallmeier offers a range of analysis options with which casino operators can increase the 'game pace', combat fraud and gain valuable insights into the gaming action through real time data collection.
Read more...
---
Integrated, intelligent, informed and improved living
Guardian Eye Surveillance
Guardian Eye's range of solutions allow for monitoring and safeguarding your home through discreet, easy-to-maintain devices and solutions, watching your premises and alerting you in the event of unwanted happenings.
Read more...
---