printer friendly version
Something old, something new
CCTV Handbook 2016 CCTV, Surveillance & Remote Monitoring, Conferences & Events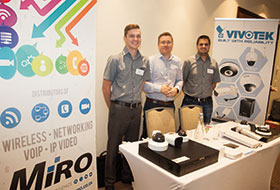 Value-added distributor MiRO focused on three of its products on its sponsor's stand at iLegal 2016. The products on display were from VIVOTEK, Uniview and LigoWave.
Marco de Ru, CTO at MiRO was on hand to discuss the products from MiRO, as well as the role MiRO plays in the security industry. De Ru explains that MiRO is an IP convergence company and as the security industry moved to the IP platform it became part of the IP convergence trend and MiRO now finds a significant part of its business is security based.
Since MiRO is a complete solutions provider, it is able to provide full solutions to the security market, from the network to the cameras and the management software required to run everything efficiently.
De Ru adds that companies looking for surveillance solutions often have a good concept of what they want in terms of cameras and their functions, but tend to forget that surveillance needs a good infrastructure if the solution is to deliver as required. From this perspective, MiRO is in a good position to assist as it can advise on cabled network solutions as well as wireless solutions.
There are people who have doubts about the efficacy of wireless networks for the surveillance world, but De Ru says it all depends on how you design the network and the products you use. Wireless networks today are as reliable and secure as their wired counterparts, and companies need to examine their environment to determine which solution is the best fit for them. In many cases, MiRO has found that a combination of wired and wireless technology provides the best results.
The LigoWave product set is a wireless networking solution that has been installed in over 150 countries for a variety of communications requirements. The company believes wireless is the future and MiRO has taken this brand into numerous customers with success.
A new entrant to the MiRO product range is the Uniview brand. Uniview has a history of innovation and offers a range of cameras that meet every need. The cameras are found in a variety of security projects globally, including public security, traffic monitoring, petrochemical surveillance, high-end buildings and more.
The third brand on the MiRO stand was VIVOTEK, a camera brand that needs no introduction. De Ru says VIVOTEK has quickly grown to establish itself as one of the world leaders in network video surveillance with a wide range of IP cameras, NVRs and encoders.
Visitors to iLegal 2016 were able to view the products and chat to MiRO staff about their features and benefits, as well as what MiRO as an IP convergence company can offer the security industry.
For more information contact MiRO Distribution, 086 123 MIRO, [email protected], www.miro.co.za
Credit(s)
Further reading:
IDIS releases latest-generation 6 MP and 8 MP PTZ cameras
CCTV, Surveillance & Remote Monitoring
IDIS has launched four new 8 MP and 6 MP PTZ cameras that deliver excellent image quality and extend the company's trusted NDAA-compliant lineup.
Read more...
---
Eagle Eye introduces 'Smart Video Search'
Eagle Eye Networks CCTV, Surveillance & Remote Monitoring
Eagle Eye Networks has introduced Eagle Eye Smart Video Search, a new feature for all customers to make searching for video as fast and easy as searching the Web.
Read more...
---
Duxbury awarded Axis SA Distributor of the Year
Duxbury Networking News CCTV, Surveillance & Remote Monitoring
Axis Communications held its Annual Partner Awards on 1 July 2022 to celebrate and acknowledge the efforts of Axis' partners by awarding them for key projects and achievements throughout the year.
Read more...
---
AI in surveillance
Secutel Technologies CCTV, Surveillance & Remote Monitoring
Artificial Intelligence is the technological ability to work more efficiently and resolve problems. In the case of CCTV systems, this allows cameras with intelligence to identify certain objects and support ...
Read more...
---
Custom AI video analytics with AxxonSoft
LD Africa CCTV, Surveillance & Remote Monitoring
The AxxonSoft development team trains neural networks to tackle out-of-the-ordinary projects, including unusual viewing angles, difficult lighting, particular object types, thermal camera use and more.
Read more...
---
Passion, drive and hard work
Technews Publishing Editor's Choice CCTV, Surveillance & Remote Monitoring Security Services & Risk Management
Colleen Glaeser is a leader in the security market, having made her mark in the male-dominated security industry through determination and hard work, along with a vision of making the world a safer place.
Read more...
---
Cybersecure surveillance cameras
HiTek Security Distributors News CCTV, Surveillance & Remote Monitoring Cyber Security
Provision-ISR builds customer trust and opens up new opportunities with Check Point Quantum IoT Protect Firmware built into Provision-ISR cameras.
Read more...
---
Branches and roots
Cathexis Technologies CCTV, Surveillance & Remote Monitoring
Cathexis is a locally owned South African company where development engineers in the Durban office continue to innovate and improve the company's video surveillance management systems.
Read more...
---
Secutel expands into Africa and the UAE
Secutel Technologies CCTV, Surveillance & Remote Monitoring
Secutel Technologies expands into the African security technology market in a new partnership with RedWall Synergy and Total Secure Automation.
Read more...
---
Cathexis releases Carbon, a new user-friendly GUI
Cathexis Technologies News CCTV, Surveillance & Remote Monitoring
Cathexis has launched its latest user interface, Carbon 3.1, with an enhanced feature set, offering improved performance.
Read more...
---