printer friendly version
Something old, something new
CCTV Handbook 2016 CCTV, Surveillance & Remote Monitoring, Conferences & Events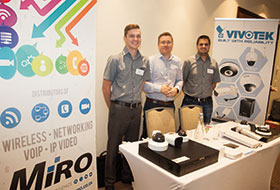 Value-added distributor MiRO focused on three of its products on its sponsor's stand at iLegal 2016. The products on display were from VIVOTEK, Uniview and LigoWave.
Marco de Ru, CTO at MiRO was on hand to discuss the products from MiRO, as well as the role MiRO plays in the security industry. De Ru explains that MiRO is an IP convergence company and as the security industry moved to the IP platform it became part of the IP convergence trend and MiRO now finds a significant part of its business is security based.
Since MiRO is a complete solutions provider, it is able to provide full solutions to the security market, from the network to the cameras and the management software required to run everything efficiently.
De Ru adds that companies looking for surveillance solutions often have a good concept of what they want in terms of cameras and their functions, but tend to forget that surveillance needs a good infrastructure if the solution is to deliver as required. From this perspective, MiRO is in a good position to assist as it can advise on cabled network solutions as well as wireless solutions.
There are people who have doubts about the efficacy of wireless networks for the surveillance world, but De Ru says it all depends on how you design the network and the products you use. Wireless networks today are as reliable and secure as their wired counterparts, and companies need to examine their environment to determine which solution is the best fit for them. In many cases, MiRO has found that a combination of wired and wireless technology provides the best results.
The LigoWave product set is a wireless networking solution that has been installed in over 150 countries for a variety of communications requirements. The company believes wireless is the future and MiRO has taken this brand into numerous customers with success.
A new entrant to the MiRO product range is the Uniview brand. Uniview has a history of innovation and offers a range of cameras that meet every need. The cameras are found in a variety of security projects globally, including public security, traffic monitoring, petrochemical surveillance, high-end buildings and more.
The third brand on the MiRO stand was VIVOTEK, a camera brand that needs no introduction. De Ru says VIVOTEK has quickly grown to establish itself as one of the world leaders in network video surveillance with a wide range of IP cameras, NVRs and encoders.
Visitors to iLegal 2016 were able to view the products and chat to MiRO staff about their features and benefits, as well as what MiRO as an IP convergence company can offer the security industry.
For more information contact MiRO Distribution, 086 123 MIRO, riandi@miro.co.za, www.miro.co.za
Credit(s)
Further reading:
Drones and cybersecurity?
October 2019 , CCTV, Surveillance & Remote Monitoring
Hacker drones can eavesdrop electronically on conversations, can perform network attacks, or can create fake wireless access points.
Read more...
---
Body-worn cameras transforming security
October 2019 , CCTV, Surveillance & Remote Monitoring, Security Services & Risk Management
Police Service Northern Ireland now has over 7 000 officers using 2 500 cameras covering approximately 173 000 incidents each year.
Read more...
---
Drones and Digital Aviation Conference
October 2019 , News, Conferences & Events
Drones have opened airspaces for everyone in ways that humans had not imagined; to the extent that there is a drone to almost every kind of problem on earth. Drones already have the ability to increase ...
Read more...
---
Camera Selection Guide 2019
CCTV Handbook 2019 , CCTV, Surveillance & Remote Monitoring
The Camera Selection Guide 2019 includes a range of IP, analogue, thermal and speciality cameras aimed at a broad range of surveillance functions.
Read more...
---
Intelligent analytics and the brains to match
September 2019, Bosch Building Technologies , CCTV, Surveillance & Remote Monitoring, Integrated Solutions
What if the brains behind our security cameras could be trained to improve their cognitive ability to pay attention, learn, and problem-solve according to specific rules and situations?
Read more...
---
AI-powered autonomous Drone-in-a-Box
September 2019 , CCTV, Surveillance & Remote Monitoring, Integrated Solutions
Organisations in the mining, energy and industrial, oil and gas, ports and terminals sectors can optimise security and business operations, whilst reducing risks and operational costs
Read more...
---
Cybersecurity for video surveillance systems
September 2019, Mobotix , Cyber Security, CCTV, Surveillance & Remote Monitoring
Video surveillance systems are increasingly accessible over any IP network, which has led to the rise of potential cyberattack.
Read more...
---
What are the cybersecurity issues in video surveillance?
November 2019, Axis Communications SA , Editor's Choice, CCTV, Surveillance & Remote Monitoring, Cyber Security
he importance of the data captured by surveillance cameras – and what can be done with it – has led to a new breed of cybercriminals, looking for insights to steal and sell.
Read more...
---
The safe city and its need for interoperability
November 2019 , Integrated Solutions, CCTV, Surveillance & Remote Monitoring
Interoperability continues to present one of the greatest challenges, particularly with video management systems, video recording devices and cameras.
Read more...
---
A platform approach to safer and smarter cities
November 2019, Milestone Systems , CCTV, Surveillance & Remote Monitoring
Selecting the right platform to manage the vast data collected from smart and safe cities is critical to the ultimate success of the project.
Read more...
---