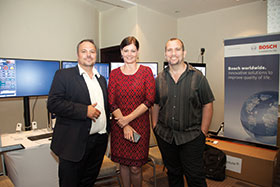 A risk management and intelligence platform
May 2016, CCTV, Surveillance & Remote Monitoring, Conferences & Events
Neahges Africa is a subsidiary of an international company and is focused on risk management on the African continent. The company's Kelly McLintock says Ges offers comprehensive solutions adhering to international best practices. Its integrated security services include mobile and fixed-site protection, community engagement plans, intelligence and analysis support, security assessments and technologies.
Ges Africa was an exhibitor at iLegal 2016 where the company was able to interact with visitors and explain the company's approach to risk management. Ges was also able to demonstrate a partnership with a locally developed situational awareness and IoT (Internet of Things) management solution, Synapse.
The solution assimilates client-owned technologies into a unified management solution. The integrated solution offers real-time situational awareness and event resolution ability by gathering intelligence from multiple sources through machine-to-machine communication, workflow integration and human interfacing. Synapse is designed to interface and operate at all tiers within operations.
Ges Africa also makes use of Capsule Technologies to ensure that the data the security and risk management industry relies on is kept in a failsafe and robust storage solution that can support the industry's demands. McLintock says Capsule brings next generation storage and server virtualisation concepts to an industry which is challenged by exploding requirements in storage processing power and network speed.
To round out its offering to clients, Ges also offers clients the technology and solutions required to capture information from edge devices in order to send them to Synapse for analysis. These include:
• BYOD (Cellphone pads or laptops).
• Cameras: Bosch /Axis.
• Access control readers and controllers.
• Radios.
• Alarm systems.
• Motor vehicles.
• Sensors.
• Meters.
McLintock adds that the GES/Synapse solution goes further than traditional security. Generally, any electronic devices that can transmit information can be used as a data source for Synapse to mine and analyse, feeding back actionable information on an organisation's risk posture.
For more information, contact Kelly Mclintock, +27 (0)82 805 8447, kelly@neahgesafrica.com