Securing your security infrastructure
May 2016, CCTV, Surveillance & Remote Monitoring, News, This Week's Editor's Pick
When considering implementing or upgrading a surveillance installation, it has become common for some service providers to offer a hosted control room where the security system is monitored from an off-site location. In some industries, safety considerations even demand that control rooms are located offsite, although in most cases it's a decision each organisation must make for itself.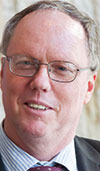 Dr Craig Donald.
The on-site/off-site decision is one that many security and facilities managers need to deal with, and one executive management often also have a hand in making. At iLegal 2016, Dr Craig Donald addressed the on-site/off-site debate by breaking down the primary decision factors companies need to take into account when considering which solution works best for them.
The term remote could mean having a control room in the same building or campus, around the corner, in another city or even in another country (although data laws may be a hindrance). It can be staffed with the client's own personnel, or by people employed and trained by the service provider.
Donald started his presentation by highlighting what a control room would consist of and what functions it would be responsible for. Remote surveillance can or claims to fulfil all these requirements, but does the client gain or lose when choosing the remote option.
On the infrastructure side, one issue to consider is the number of cameras and other devices the client wants to monitor. If you have a large number of cameras, remote monitoring would have to rely on selective viewing (or black-screen operations) as there would be enormous costs involved in transporting huge volumes of video continually.
When it comes to people, the decision is also a difficult one. When a company employs its own operators, it naturally has control over their training and performance. However, this also opens the door to collusion or intimidation, issues not at all unusual in the South African context. From this perspective, off-site operators are somewhat safer.
The remote operators are, however, disassociated and distanced from the client and this makes intimidation and collusion more difficult.
Donald ended his presentation noting that the optimal solution would probably be a mix of on- and off-site monitoring. On-site control rooms and operators have a far greater situational awareness and better response to events as they happen. They are also in a better situation when they need to provide testimony in court. And then there's the question of the PoPI Act, which makes on-site storage and control over data critical.
Off-site monitoring, on the other hand, adds a layer of integrity to operations because there is no link between operators and on-site staff. You're also likely to get a better price due to the rivalry between competing service providers, and auditing them can be handled independently without the feeling of betraying one's colleagues.
There is no correct answer. Some companies will favour financial factors in their decisions; other will prefer to have all their security personnel under their management and trained in a manner that best serves the company. The important factor is to weigh the options carefully before making a decision.