Partnerships succeed in fighting crime
May 2016, CCTV, Surveillance & Remote Monitoring, Integrated Solutions
The city of Cape Town has its work cut out for it when it comes to safety and security. Apart from the abnormally high everyday crime and violence which is normal in South Africa, the city also needs to deal with high levels of gang activity, which makes policing a tough task.
In fact, the amazing results Cape Town has produced in fighting crime (as noted in www.securitysa.com/54014n) may not have been realised if it wasn't for some forward thinking by the city's leadership.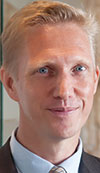 Alderman JP Smith.
The city's Alderman JP Smith, who serves as the Mayoral Committee Member for Safety and Security, took some time at iLegal 2016 to tell the attendees how Cape Town has made a dent in its crime statistics, assisted by the rollout of CCTV cameras by independent citizens and companies. JP noted that the city, while considering deploying CCTV cameras but limited in budget, noticed many private concerns had installed cameras for neighbourhood watches or other private operations.
Cape Town changed its bylaws to allow for the installation of private cameras and even erected poles people could use to place their cameras on. In return, the city gets to stream the feeds to the city's Traffic Management Centre – apart from their private use. The Traffic Management Centre has banks of screens from across the city and many people tasked with managing the feeds and dealing with crimes.
The result has been a citywide surveillance operation, which is still growing as a result of private and city installations, allowing operators to identify stolen or suspicious vehicles via licence plate recognition and track them across the city to give the police an accurate idea of where to find them. It naturally also assists with all other crimes, from muggings and vandalism to murder.
Of course, the process involved in fighting crime goes far beyond only using CCTV. The city makes use of a variety of human resources, from neighbourhood watch volunteers who patrol their areas and report any unusual activity, to paid volunteers who support the metro's police force in various operations. It also educates citizens in how to avoid common crimes like bag snatching.
And, in line with a common theme throughout iLegal 2016, the city is also focused on intelligence gathering operations. The Strategic Information Management Service is a team of skilled and experienced professionals who collect and analyse crime information to facilitate improved crime fighting. JP says this team is growing as it continues to get excellent results.
In addition, 2016 will see dashboard cameras and tablets being rolled out in the city's Metro Police cars. These will be connected to the surveillance system as well as other information sources to facilitate improved operations by mobile teams as well as better handling and direction of anti-crime activities.
One of the technologies the city is using to good effect is its gunfire detection solution, ShotSpotter, developed locally. This solution allows authorities to accurately identify the location of gunshots and dispatch teams to the required area immediately. This has resulted in a 100% response rate to gunshots in high-crime areas and an increase in community trust in the police.
JP also noted that drones are a vital tool in the fight against crime and the city would be engaging more of these devices for future operations. Drones have been through 8 months of testing, and have proven efficient for rapid deployment and awareness in tactical situations. And this is only the beginning.
He said the success Cape Town has achieved is due to partnerships developed along the way between all parties involved, private and public. Together, the city has achieved more than any other in the country reliant on a silo approach.