Megapixels in focus
May 2016, CCTV, Surveillance & Remote Monitoring, Conferences & Events, This Week's Editor's Pick
Megapixel cameras provide the potential for greatly increased quality of viewing. Their introduction to a system does, however, create technical and data challenges as well as new perspectives on what can be viewed and how to view specific areas.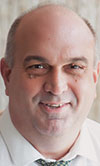 Leo Nardi.
Leo Nardi, technical manager at Justicia Investigations joined the presenters at iLegal 2016 to review his experiences at Toyota as the company engaged in a long-term project to upgrade its camera installations to megapixel IP systems. Leo started his presentation giving a brief overview of the evolution of CCTV cameras from the early 1940s to today.
He then described the project Toyota is engaged in to upgrade its ageing analogue cameras to IP, in part because of the age of the systems and the associated performance issues, and partially because the company wanted to improve the quality of its video images and increase the length of recording retention.
As an aside, he mentioned the 90/10 rule he has found when installing cameras: when using fixed cameras, organisations have a 90% success rate in achieving the results they require; when using PTZ cameras, they will find a 90% failure rate as the PTZ is almost invariably focused on a different area to where an event occurs and by the time the camera is pointing in the right direction the event is over.
In the IP world, Leo says there are many benefits to megapixels, from better resolution and improved video analytics that can be performed on the images. However, he has found that the technology is oversold. For one thing, the cost factor is not clear from the start.
In terms of costs, when you incorporate all the costs, including installation, networking, storage and so forth, these cameras have a higher price than most vendors tell you about. In addition, the analytical market also often promises more than it can deliver. There are good analytical engines out there, but it is a matter of testing to find the one that works in your environment – and the busier and dirtier the environment, the harder the task.
Then there's the question of storage. More megapixels requires more kilobytes and your storage system will need an upgrade if you have a large number of cameras, another cost issue. Yet another caveat is licensing fees. You can't buy a management platform outright, for example, you need to pay a licence fee per camera every year. His advice is to do your homework upfront and get all the cost details before making a final decision.
Customers must also keep an eye on integration claims. While the vendors may claim they are able to integrate easily with third-party systems, this is not always accurate unless the customer is able to do some work on the integration – which requires specialised skills.
That's not to say megapixels don't deliver. They certainly do, however, a successful upgrade requires careful planning. Leo suggests starting with in-depth site planning defining what you require, which will clearly show which cameras require high megapixel ratings and which need less resolution. You will also need to take your existing control room personnel on the journey, as they will be required to learn and run the new system. Similarly, your onsite CCTV technicians will need to have their skills upgraded unless you want to outsource to a third party for installation, maintenance and future upgrades.
It's important to engage all the role players in the project. There will be issues to resolve and the process will be much easier if everyone is on board and committed to the project from the start. The project at Toyota was undertaken in this manner and has delivered the results required.
For more information, contact Justicia Investigations, 0860 00 5111, www.justicia.co.za