printer friendly version
iLegal 2016 gets rave reviews
CCTV Handbook 2016 Conferences & Events, CCTV, Surveillance & Remote Monitoring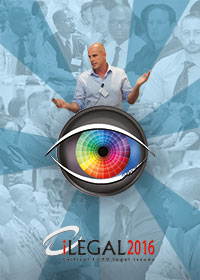 April 20th 2016 saw the latest iLegal conference taking place in Johannesburg. With presenters and visitors from around the country, iLegal 2016 was well supported, and according to attendees' comments, well worth the time to attend.
While the event covered a broad spectrum of topics, a short review of each will follow, there were some common themes that kept reappearing throughout the day. It seems the surveillance world has quickly moved from being the old physical security domain of guys with guns and barriers to control ingress and egress, to be a more intelligent guardian of safety and security.
The keynote presentation was focused on intelligence, specifically obtaining intelligence from your surveillance operations instead of just videos. Just as the IT world is making a noise about big data, the ability to sort through mountains of data and extract value, the surveillance world is on a similar path.
The difference in surveillance is that we not only rely on data – in this case video – for our information source, but also people, specifically the operators behind the scenes. The combination of technology and people offers organisations the best option to do more than look for video evidence after the fact. Well trained people and effectively designed, installed and maintained technology can create a proactive solution that still provides evidence, but also intelligence to prevent or mitigate dangerous events.
Apart from intelligence and people (people with effective training and the right aptitude), control rooms or nerve centres as they are likely to be called in future, are also a critical factor in tomorrow's surveillance world. Within the scope of the control room, we will see cloud and mobile technology being employed to assist operators and managers, and we can expect to see control rooms taking on more than security tasks. It's likely that your control room, whether on an estate, a mall or a business campus, will take responsibility for everything from surveillance monitoring to plumbing and even fielding calls from irate customers (to a limited extent).
ilegal 2016 was a full day of information overload, but the presenters outdid themselves in informing and educating. A new format, that of a panel of experts was a great success in trying to discover the legalities around drone use in South Africa. For the first time we also had someone talking about cyber security and how it impacts, or is impacted by security operations on the IP platform. The Internet of Things (IoT) may not be a common term in security as yet, but the industry is already a part of the whole concept.
Further reading:
The latest security trends at Securex South Africa 2023
Securex South Africa News Conferences & Events Training & Education
Security technology evolves at a blistering pace, so it's important to keep up to date with changing trends in order to ensure maximised safety of human and personal assets. The Securex Seminar Theatre, powered by UNISA, is the place to be.
Read more...
---
Elvey partners with HALO
Elvey Security Technologies News CCTV, Surveillance & Remote Monitoring
Elvey Group has partnered with HALO Europe to provide Africa's first body-worn solution with zero upfront costs. This includes an IP68-certified body camera and a 4G-connected device.
Read more...
---
Invisible connection and tangible protection via cloud
Dahua Technology South Africa Perimeter Security, Alarms & Intruder Detection CCTV, Surveillance & Remote Monitoring Products
Dahua Technology has launched its AirShield security solution that uses advanced, stable and reliable RF communication technology and cloud services, integrating alarm hubs, various detectors and accessories, with several software apps.
Read more...
---
The importance of the operator's frame of reference
Leaderware Editor's Choice CCTV, Surveillance & Remote Monitoring Security Services & Risk Management Mining (Industry)
The better the operator's frame of reference and situational awareness, and the more informed they are in dealing with CCTV surveillance in the mining industry, the more successful they are likely to be in surveillance.
Read more...
---
Enhancing surveillance on mines
Avigilon Technews Publishing Axis Communications SA Forbatt SA Hikvision South Africa Bosch Building Technologies Editor's Choice CCTV, Surveillance & Remote Monitoring Integrated Solutions Mining (Industry)
Smart Security approached a number of surveillance vendors to find out what the latest in surveillance technology is that can make a difference to security operations in mines, as well as general operations.
Read more...
---
Surveillance to improve worker safety
Axis Communications SA Mining (Industry) CCTV, Surveillance & Remote Monitoring Integrated Solutions
With substantial deposits of mineral resources, mining is critical for South Africa's economic growth and prosperity; however, mining can be dangerous, especially for the people working on the ground and in the shafts.
Read more...
---
Centralised VMS for multiple sites
Mining (Industry) CCTV, Surveillance & Remote Monitoring
Dispersed mining operation relies on AxxonSoft for centralised video management as well as device health monitoring and the reliable distribution of analytics to various camera brands.
Read more...
---
The conduit to fire detection compliance
Securex South Africa Conferences & Events News
To be held at the Gallagher Convention Centre in Midrand from 6 to 8 June 2023, Firexpo 2023 will include a line-up of trending technology and services, centred on ensuring the safety of a building's occupants.
Read more...
---
Transition to cloud for video surveillance accelerates
News CCTV, Surveillance & Remote Monitoring
Video surveillance systems are transitioning to greater use of cloud solutions according to a new report from Novaira Insights titled Cloud Trends in Video Surveillance – 2023 edition, which says the trend is accelerating.
Read more...
---
The importance of CCTV for internal perimeter protection
Leaderware Editor's Choice CCTV, Surveillance & Remote Monitoring Perimeter Security, Alarms & Intruder Detection
Constant violations of procedures governing access, unusual handling of goods, empty boxes or containers of product lying around or hidden behind other goods, unauthorised use of exit areas, and movement to unexpected perimeter areas can be a major issue.
Read more...
---