printer friendly version
Video surveillance trends and ­outlook for 2016
May 2016
CCTV, Surveillance & Remote Monitoring
Qognify compiled a list of the leading trends in the video surveillance market that we expect to see in 2016. In some cases, these trends aren't new, but their relevance and maturity in the market is such that they still made the cut.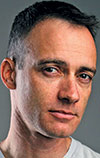 Uri Guterman.
You may not necessarily read about any surprises; you will though find the list compelling as we consider how the market will be impacted by them and the future innovations they bring. It will be interesting to see how they play out and the impact they'll have on future trends.
Integration between VMS and ACS
Intuitive integration between the two most common and active systems in a security centre seems to be a growing market demand, especially now that the access control systems (ACS) market is on an innovation trajectory with cloud and wireless solutions. Security operators need to follow procedures that combine tasks from both the VMS and ACS worlds. A straightforward integration makes this process more efficient and effective, saving the operator and thus the control centre valuable time.
Incident management
Video surveillance is more than just watching video, it's about taking the next step to manage an incident once identified. Security organisations work with operational procedures that are often performed using paper forms and even by memory, which can stymie communication, collaboration, not to mention contribute to human error.
By computerising, pre-configuring and when possible, automating tasks, security operations can create the necessary structure to improve the response itself, and its timing, while minimising the risk of human errors. Incident management solutions also allow organisations to capture all related and relevant information such as video footage, map extents and notes in a single record so that all stakeholders can have access to the same, accurate information based on their permissions. This not only enhances collaboration, it's very valuable for post-event investigation.
Video analytics
This is not a new one, and has been showing up on yearly trend lists for the past few years. It remains on our list as it continues to evolve and is becoming increasingly prevalent. Being more available and reachable in the market, manufacturers are introducing more cameras with embedded analytics capabilities. The challenge now will be to leverage the technology by correlating it with other information sources. We also see emerging concepts that utilise video analytics in an interactive process, rather than depending on its results alone.
Central storage
While VSaaS (video surveillance as a service) and available cloud solutions may not be relevant for high-end security customers, central storage is becoming an attractive option for many in the market. The important thing is to be aware of the pros and cons associated with central storage, and select the right solution to compensate for any drawbacks. We're seeing some in the market choosing central storage, even in highly distributed environments, and keeping local storage mainly for buffering purposes.
Panoramic cameras
Another growing trend are panoramic or 360° cameras. Camera manufacturers forecast increased demand for those cameras in the major security verticals. They are ideal for ­covering wide areas, and usually allow the selection of various view modes. Video surveillance systems are expected to support new camera models by integrating with their dewarping APIs for perspective correction, as well as support the different features they offer.
Further reading:
Why rehearsals and drills for crises and evacuation are so important
August 2019, Leaderware , CCTV, Surveillance & Remote Monitoring, Security Services & Risk Management
The rehearsal of concept (ROC) drill has been used extensively in the military, but is just as important when facing risks in organisations and institutions to protect people on the ground.
Read more...
---
Milestone partners prove their skills
August 2019, Milestone Systems , News, CCTV, Surveillance & Remote Monitoring, Training & Education
Within the span of one week in mid-May, the Milestone Learning & Performance group celebrated important benchmarks: 200 000 course registrations and tutorial views, and 10 000 certifications.
Read more...
---
ONVIF Hosts 20th Developers' Plugfest
August 2019 , News, CCTV, Surveillance & Remote Monitoring
ONVIF, the global standardisation initiative for IP-based physical security products, hosted its twentieth ONVIF Developers' Plugfest in early June in Tokyo.
Read more...
---
Licence plate recognition camera
August 2019 , Products, CCTV, Surveillance & Remote Monitoring
VIVOTEK has introduced a new licence plate recognition camera featuring built-in licence plate recognition software and edge-computing capability.
Read more...
---
Securing Savannah Hills Estate
August 2019, Rhyco Risk Projects , CCTV, Surveillance & Remote Monitoring, Perimeter Security, Alarms & Intruder Detection
Savannah Hills Estate in Midrand planned a security upgrade which was awarded to Rhyco Risk Projects. The project started in March 2019 and was completed in May 2019.
Read more...
---
10 things to consider when shopping for a VMS
August 2019, Genetec , CCTV, Surveillance & Remote Monitoring, Integrated Solutions
Today's video management systems (VMS) provide a wide range of tools and capabilities that help make security personnel more efficient by allowing them to focus on what really matters.
Read more...
---
How far are we really at with artificial intelligence?
August 2019, Axis Communications SA , Editor's Choice, CCTV, Surveillance & Remote Monitoring, IT infrastructure, Residential Estate (Industry)
Justin Ludik unpacks exactly how far AI has come and what it potentially can do for society and more importantly, surveillance.
Read more...
---
Enhancing security with AI
August 2019, Hikvision South Africa , CCTV, Surveillance & Remote Monitoring
Hikvision explains how residential estates can revolutionise their security strategies and outcomes with artificial intelligence.
Read more...
---
More than simply a camera
August 2019, Forbatt SA, Secutel Technologies , CCTV, Surveillance & Remote Monitoring, Residential Estate (Industry)
With the human element being the weakest link in all security solutions, Hi-Tech Security Solutions looks at the pros and cons of using body-worn cameras in estates.
Read more...
---
The importance of effective perimeter security
August 2019, Elf Rentals - Electronic Security Solutions, Stafix , Editor's Choice, CCTV, Surveillance & Remote Monitoring, Residential Estate (Industry)
Protecting the perimeter is critical for any residential estate; how does one go about making sure your perimeter is as secure as possible?
Read more...
---