printer friendly version
Solutions, service and support
April 2016
Access Control & Identity Management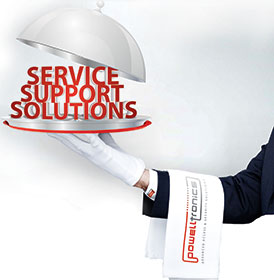 According to Powell Tronics MD, John Powell, the company has created a sustainable strategy that will see the company focus on the three critical areas of solutions, service and support during the coming year.
He says that the Powell Tronics business strategy has never been to merely sell boxed products, but rather to amplify the benefits of customised, customer-driven solutions. The three-pronged stratagem will apply to how the company deals with customers and suppliers, as well as how employees of the company interact with each other.
"In essence, we will apply this approach to all facets of the business. To this end we have invested in additional technical support personnel and we have already started a programme of promoting people in the company to provide higher levels of support. Combined with this, we are currently implementing systems that will help to manage and improve all of these solutions, support and service elements," Powell explains.
With four branches throughout South Africa and a highly motivated and knowledgeable team, Powell believes that the three pillars of excellence will be attained, to the benefit of all stakeholders. The company is launching a number of new products from suppliers Impro, Golmar and Morpho.
A recent innovation from Impro is the Access Portal range. Available in Lite (entry level), Basic (with free software for biometrics), Pro (for medium to large environments) and Enterprise (for large facilities such as airports and chemical manufacturers) versions, Portal sees a concerted move away from platform-based software.
Because Portal is web based, when adding additional stations, system managers can grant user rights to the software, with only a user name and password required to link into the server. Another advantage is that the product has standardised on the SQL database, allowing the provision of customised solutions and ready integration with other third-party software products using SQL.
Portal makes use of cluster controllers to cluster doors together. The intelligent controller allows easy migration by 'telling' the controller whether it is a door controller, entry level or higher level controller, simply by moving the dip switch into the required position.
The focus from Safran Morpho this year is the commercial launch of the SIGMA Lite biometric terminals, which complement the Morpho Sigma family. These devices have the world's number one fingerprint technology inside, providing 1:10 000 user identification in 1 second. They are characterised by their high-capacity flexibility and tough design.
Specifically designed to equip narrow mounting surfaces, such as glass/aluminium door mullions, turnstiles, or server rack doors, the MorphoAccess SIGMA Lite terminals are IP65 rated and vandal resistant (IK08).
Golmar's IP range of products, including the Nexa, provide superior door entry and monitor functions. Nexa is a new modular door panel which is both highly functional and aesthetically pleasing. Its lateral profiles not only make the panel more robust, but give the sensation that it is floating on the wall.
The Nexa enjoys a modular design and is geared around ease of installation. The internal modules, with detachable connectors, easy connections through the flat cables and pre-wired push buttons on digital systems will save effort, time and money for customers.
Powell says that the company is excited about the year ahead and looks forward to supporting the industry with best of breed access control products. "We are geared up and eager to engage with the market. Do not hesitate to contact us for any custom developments or project advice."
For more information contact Powell Tronics, 0861 787 2537, marketing@powelltronics.com, www.p-tron.com
Further reading:
Gallagher Security releases Command Centre v9
Gallagher News & Events Access Control & Identity Management Integrated Solutions
Richer features, greater integrations, with the release of Gallagher Security's Command Centre v9 security site management software designed to integrate seamlessly with various systems and hardware.
Read more...
---
Paxton's Net2 secures medicinal cannabis facility
Paxton Access Control & Identity Management Healthcare (Industry) Videos
Paxton's Net2 access control has been installed at Highlands Grow, a fully licensed industrial-scale cultivator, producing cannabis for medicinal and recreational use.
Read more...
---
Lock down your access control with Alcatraz AI
C3 Shared Services Healthcare (Industry) Access Control & Identity Management AI & Data Analytics
Alcatraz AI, represented in South Africa by C3 Shared Services, changes access control by harnessing the power of artificial intelligence and analytics at the edge, where facial recognition becomes the essential credential autonomously.
Read more...
---
Effective access control
Flow Systems Access Control & Identity Management Products & Solutions
Flow Systems has introduced its new Extra Heavy Duty Industrial Rising Vehicle Barrier, which provides a high level of protection. It is a traditional-looking control barrier with the benefits of high-level physical protection.
Read more...
---
Newport Aquarium replaces traditional locks and keys
Paxton Access Control & Identity Management Entertainment and Hospitality (Industry)
Newport Aquarium wanted to replace its old security system with an easy-to-use and high-security access control solution to keep the animals, visitors, and staff safe. The solution was Net2, a PC-based access control system that offers centralised administration.
Read more...
---
Securing easy access
Suprema neaMetrics Access Control & Identity Management
Securing access to hospitals and healthcare institutions presents a unique set of challenges, because these facilities operate 24/7, have highly 'open' access in public areas and require a strict level of security.
Read more...
---
Reliable mass notification
Access Control & Identity Management
The use of voice alarm and voice evacuation systems within the healthcare industry ensures a safer and more reassuring environment in the event of an emergency.
Read more...
---
Upgrading security at lifestyle estate
Turnstar Systems Access Control & Identity Management
Lifestyle estates are often located in out-of-town settings, and living away from the hustle and bustle of the city can be conducive to a relaxing lifestyle. However, it requires a high level of security to keep residents secure.
Read more...
---
Protecting our most vulnerable
Access Control & Identity Management
In a nation grappling with the distressing rise in child kidnappings, the need for innovative solutions to protect our infants has never been more critical. South Africa finds itself in the throes of a child abduction pandemic.
Read more...
---
New generation of cyber-focused controllers
Gallagher News & Events Access Control & Identity Management Products & Solutions
The C7000 gives users an opportunity to leverage their hardware and firmware to build a platform designed to catapult their organisation into the future, with cybersecurity baked in from inception.
Read more...
---