printer friendly version
Home is where the security opportunities are
April 2016
News
It seems that the surveillance market, despite research companies like IHS seeing the potential for an average growth rate of 20% until 2019, is looking for new markets. Almost every camera manufacturer is making products designed for the home market; you can see a brief review of two on the Hi-Tech Security Solutions website from Flir and Ingram Micro at www.securitysa.com/7366r.
However, the illusion, or perhaps the delusion still remains about what they can get out of a surveillance solution. Many people think that simply having a camera or two up will automatically make you more secure. Additionally, too many people think that a camera is a camera and as long as you have something stuck on the wall then everything is fine. This is one of the reasons why so many people still opt for cheap cameras that are basically useless.
The fact is, even visible camera placements are not a deterrent. The more intelligent criminals who plan their escapades carefully will know where the cameras are and often make a point of stealing the DVR or NVR while they are committing their other crimes. In other instances, they simply wear a cap, making even the highest resolution cameras high on a wall or on the ceiling useless.
On the other hand, the opportunistic criminals simply don't care. This applies to South Africa and anywhere else. They seem to know that half of the cameras people rely on to get a decrease in insurance premiums (if that actually ever happens), won't deliver the quality images that would assist in a prosecution. Moreover, they also know that the eventuality of their being caught and put through the system is pretty low.
In the home environment, cameras can be very useful. The problem is we would automatically rely on our 'usual' security service provider to do the recommendation and installation. And they would simply do a vanilla installation not designed specifically for your needs.
In the end, it all comes down to the old adage of giving your camera a job description. As lame as this may sound, it makes sense. You first need to know what you want to achieve from a security system – any security system – which includes the potential threats you will face, before you can decide what 'stuff' you need.
If you simply want a camera that shows you who's knocking on the front door, a cheap-and-nasty is all you need. If you want something that alerts you to motion, allows you to monitor your entire house whether you are at home or somewhere else, something that will help keep you and your family safe, you need to be prepared to spend a bit of money and ideally get professional advice.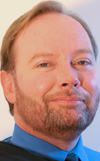 The concept of professional advice is also one to debate. Will a salesperson from a service provider give you the best advice to secure you and your family, or the best advice to ensure his/her commission? There again, who can afford an independent consultant?
Look out for the CCTV Handbook 2016, to be released with the May issue of Hi-Tech Security Solutions. For the first time we will focus on home security among the many other sections.
Andrew Seldon
Editor
Credit(s)
Further reading:
Online fleet management system
Issue 1 2020 , News
Fleet Domain's online Fleet Management Information System is reducing operating costs and improving safety for South African logistics firms.
Read more...
---
Digital insurance bundle for assets and devices
Issue 1 2020 , News
My CyberCare is a specialist provider of personal, and SMME online cyber insurance, cyber detection and cyber monitoring solutions for both local and global consumption.
Read more...
---
IDEMIA to supply Morocco's national electronic ID cards
Issue 1 2020, IDEMIA , News
IDEMIA will supply Morocco with national electronic ID cards and introduce a secured digital identity online services platform.
Read more...
---
Rockwell Automation to acquire Avnet
Issue 1 2020, Rockwell Automation , News
Rockwell Automation announced it has signed an agreement to acquire privately held Avnet Data Security, an Israeli-based cybersecurity provider with over 20 years' experience providing cybersecurity services.
Read more...
---
The instruments for investigation
Issue 1 2020, Technews Publishing , Security Services & Risk Management
Regardless of the reason for investigation, the investigation is only as good as the investigators.
Read more...
---
Do we really want simplicity?
Issue 1 2020, Technews Publishing , News
Everything today has to be simple, easy and fast. Even access to your bank account has to fit these adjectives and banks spend significant time and money trying to ensure their web and mobile interfaces ...
Read more...
---
Longse Distribution to become LD Africa
Issue 1 2020, LD Africa , News
Brendon Whelan, sales manager for Longse Distribution, announced that the company officially changed its name to LD Africa as of 20 January 2020.
Read more...
---
Three expos in one
Issue 1 2020 , News
Looking ahead to 2020 Vision: combined Securex South Africa, A-OSH EXPO and Facilities Management Expo 2020 promises to be even bigger and better.
Read more...
---
Security events you can't miss in 2020
Issue 1 2020, Technews Publishing , News
Hi-Tech Security Solutions will host a number of focused events in 2020 to highlight the latest in security technology and the operational benefits they deliver.
Read more...
---
David Shapiro to chair ESDA
Issue 1 2020, ESDA (Electronic Security Distributors Association , News
The Electronic Security Distributors' Association (ESDA), established in 1989, has elected David Shapiro as its chairperson for 2020.
Read more...
---